Posted on
Sun, Jan 6, 2013 : 5:54 a.m.
Detroit Symphony to celebrate Hill Auditorium's 'King of Instruments' organ
By Susan Isaacs Nisbett
Melanie Maxwell | AnnArbor.com file photo
With that sublime Celestial Lay
Can any Earthly Sounds compare?
If any Earthly Music dare,
The noble Organ may.
From Heav'n its wondrous Notes were giv'n,
(Cecilia oft convers'd with Heaven,)
Some Angel of the Sacred Choire
Did with his Breath the Pipes inspire;
And of their Notes above the just Resemblance gave,
Brisk without Lightness, without Dulness Grave.
Thus did Irish poet Nicholas Brady extol the organ in a poem that is part of part of a longer text English composer Henry Purcell set in his 1692 "Ode to St. Cecilia." Some hold that Cecilia, patron saint of musicians, invented the organ; Purcell devotes at least two numbers in the "Ode" to this "wond'rous machine."
Well, one of the country's most wond'rous of these machines resides precious close to home for Ann Arborites: the Frieze Memorial Organ, housed at Hill Auditorium.
The organ was built in Detroit in 1893 and displayed at the Chicago World's Fair: Columbian Exposition, which celebrated the 400th anniversary of Christopher Columbus's arrival in the New World. Shortly thereafter, the University of Michigan purchased the organ, and it was a centerpiece of Albert Kahn's design when Hill Auditorium was built.
Hill, inaugurated in May 1913, is celebrating its centenary this year. It seems only fitting that at least one of the concerts feting the hall's 100th birthday should feature the organ.
That's precisely what happens Sunday afternoon, Jan. 13, when three superb organists, including the U-M's James Kibbie, join with the UMS Choral Union and the Detroit Symphony Orchestra under the baton of Leonard Slatkin to showcase the instrument that so many of us appreciate only as part of the hall's visual splendor.
PREVIEW
The Detroit Symphony Orchestra
Who: Well-respected ensemble, Leonard Slatkin, conductor; with Peter Richard Conte, David Higgs and James Kibbie, organ; and the UMS Choral Union.
What: A concert to celebrate the Frieze Memorial Organ, Hill's "King of Instruments".
Where: Hill Auditorium, 825 N. University Ave.
When: Sunday, Jan. 13, 4 p.m.
How much: $10-$75, UMS Michigan League Ticket Office, and online at ums.org.
The two visiting organists are
Peter Richard Conte
and
David Higgs
. The concert, presented under
University Musical Society
auspices, includes James MacMillan's "Tu es Petrus," from 2010; the J. S. Bach/Stokowski Toccata and Fugue in d minor )"Fantasia," anyone?); Samuel Barber's "Toccata Festiva for Organ and Orchestra;" William Bolcom's "Free Fantasia on 'O Zion, Haste"' and 'How Firm a Foundation;'" and Aram Khachaturian's Symphony No. 3 in C ("Symphony-Poem").
Kibbie, a U-M professor of organ and a widely praised concert artist, happens to be, among other things, the curator of the Frieze organ. It's an unremunerated post that means "any work that is done on the organ, I approve," he said in a recent phone call. "I am responsible for maintaining its historic integrity." In this, he is aided by technician Jerroll Adams, a man he admiringly calls "relentless in dealing with the organ."
In fact, the concert will mark the completion of a three-year project to "reconsider every element in the organ," Kibbie said.
The last major rebuild of the organ was in 1955, and over the years, things have been "repaired in pieces," as needed, Kibbie said. But now, with this project, the entire instrument has been given the once-over.
"It's been some time since the organ left the factory that everything will work as new at the same time. It's like painting the Mackinac Bridge."
Kibbie said the Frieze Organ is a distinctly American instrument—a quality that has to do with not only the selection of stops and voices the builder chose, but how the stops are voiced. It is also a unique organ, one that bears the marks of the four major builders who have worked on it over the years. Parts of the current organ date to 1893, 1913 and 1928—that is, to before the 1955 rebuild, which took the instrument in yet a new direction determined by changing aesthetics in organ design.
Few university halls have organs as storied at the Frieze Organ, he added. One that comes close, perhaps, is the organ at Yale's Woolsey Hall. "But ours is considerably older than that," he said.
For organ fans, what makes the upcoming concert really special is the chance not just to hear the organ all spiffed up and "new," but the chance to hear it with orchestra.
"In a sense that's what makes this program a really big deal," Kibbie said. (Want to hear the organ at its best? "The balcony is great," Kibbie said. If you're on the main floor, try sitting about half-way back on one side or the other, but not the middle, he suggested. )
Though the organ was built, Kibbie noted, with the idea of playing Bach, "now aesthetics have changed, and now we don't think of the Hill organ as a Bach organ any more." The best repertoire for it, he said, is 19th and 20th century repertoire.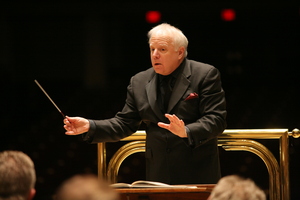 photo by Matthew H. Starling
Sunday's program tends to feature 20th century compositions for organ and ensemble, but dips its toes into the 21st century and offers works by two living composers, one of whom, Ann Arbor's own Pulitzer Prize-winner
William Bolcom
, may well be in attendance.
Kibbie will be playing not just the Bolcom, but also the MacMillan work, "Tu es Petrus," written in 2010 for a mass celebrated by Pope Benedict XVI at London's Westminster Cathedral. It's scored for chorus, brass, percussion and organ, and, with a text of "You are Peter, and Upon this Rock I will build My Church," look for that "rock" to inspire "a big block of sound," Kibbie said.
The MacMillan is new for Kibbie, but not so the Bolcom piece, which comes from a collection of gospel preludes for solo organ.
"That's the piece I put forward to the UMS," Kibbie said, "and I'm really looking forward to doing this." It's easy to see why, beyond the appeal of Bolcom's writing. "It was written," Kibbie said, "by a friend and colleague at the U-M, and commissioned by my frend and colleague Marilyn Mason," the doyenne of organ music at the U-M. Moreover, one of Kibbie's own students edited the collection.
"So I have a very personal connection to this piece," he said. But it won't take much for the audience to feel a connection, either.
"The fun of this piece is that the audience doesn't know where it's going," Kibbie said. It begins atonally, he said, with "little sections of 'O Zion, Haste' bubbling up and sinking back down. It's a bit of tough sledding, but out of that fog comes a rhythmic version of 'How Firm a Foundation,' and it builds to the biggest sounds the Hill Organ can produce."