Posted on
Sat, Oct 22, 2011 : 5:43 a.m.
Dublin's Gate Theatre presenting 2 Beckett works, courtesy of UMS
By Jenn McKee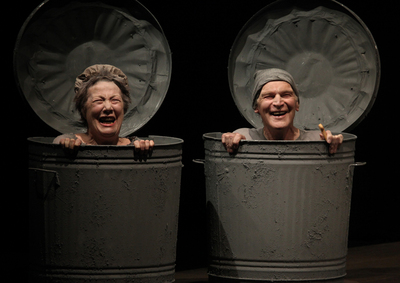 Michael Colgan
, artistic director of Dublin's Gate Theatre—staging Samuel Beckett's "Endgame" and "Watt" in Ann Arbor, presented by the
University Musical Society
—had an experience in the 1990s that reinforced his commitment to produce the Irish dramatist's work.
While bringing Beckett's complete dramatic works to New York City's Lincoln Center, he noticed a woman who came to every show and dressed elegantly in "basic Beckett black."
"At the last performance, I was thinking how envious I was of this man she was about to meet," said Colgan during a recent phone interview. "She had a bunch of beautiful flowers in her hand. And so I was going backstage, and she came up, tapped me on the shoulder from behind, … and she just said, 'Thank you. These are for you.' And I just thought, you know, 'Do more Beckett.'"
Colgan hardly needed this extra push, however, since he'd long been a Beckett devotee; had known the playwright while he was alive; and his theater company is currently considered a pre-eminent interpreter of Beckett's work.
But what did Colgan take away from the experience of working on all of Beckett's plays?
"At the time, (Beckett) didn't have great marquee value," said Colgan."He wasn't great on a billboard for making people rush to Ticketmaster. But the more we gave them, the more they wanted. It was an extraordinary thing. The work has such integrity that each play—none of the plays were written because a producer wanted your next play, or you were fulfilling a gap in your theater program. … Each play was written to its length and of itself because that's what the artist, the true artist, wanted.
PREVIEW
"Endgame" and "Watt"
Who: Gate Theatre of Dublin, presented by the University Musical Society.
What: Double bill performances of two Samuel Beckett works: "Endgame," an absurdist drama focused on a blind man who can't stand, his bickering parents (who live in garbage cans) and his servant; and "Watt," a one-man show, adapted by and starring Barry McGovern, based on Beckett's novel about a character who visits a reclusive man and becomes his manservant.
Where: Power Center, 121 Fletcher St.
When: Thursday, October 27 at 7:30 p.m.; Friday and Saturday, October 28-29, at 8 p.m.
How much: Tickets start at $18, available at 734-764-2538, www.ums.org, and the Michigan League Ticket Office, 911 N. University Ave.
" … And I think that we broke down the reverence (toward) Beckett, and that sense that we should kneel at the shrine when listening to it. Because it's very, very funny, and that's what I'm hoping, that when we go (to Ann Arbor), that people will realize. It's Beckett, but there's a lot of laughs in both these plays."
Beckett wrote "Endgame"—focusing on a blind man who can't stand; his bickering parents who live in garbage cans; and a servant who can't sit—in the mid-1950s, at the height of his career, while Beckett wrote his novel "Watt" earlier, during World War II, when Beckett was hiding in the South of France.
"Watt" tells the tale of a man who visits a recluse, only to become his manservant. Colgan's longtime friend Barry McGovern adapted and stars in the one-man show, after Colgan suggested the idea.
"I think Barry felt it couldn't be done, because there's different people, and there's different perspectives, it was a very difficult thing to do," said Colgan. " … He kept seeing the problems. … It's very hard to know who's who and what's what at any given time. And what I was seeing was that there were the great riffs, and these great litanies."
This gets to the heart of one of the things Colgan loves about Beckett, which is the way his work unabashedly revels in language; but he also deeply appreciates the wit and humor that's built into Beckett's works, and sees them as a bright spot in an economically dark time.
"In a time of such a body blow, and a time of … great shock to the body politic and to the nation, … I think it's not a bad idea to be looking at things to get a sense of who and what we are, and where we are, and where we've come from," Colgan said. "Beckett has suffered unfairly from the mantle of being bleak. As I've said, … there's great humor in Beckett. But I also think there's a great optimism. At the end of the great trilogy ('Molloy,' 'Malone Dies,' and 'The Unnamable'), where he says, 'You must go on, I can't go on, I'll go on.' The ultimate answer is that, in these difficult times, we do really need to feed our soul, and I don't think anyone can be pessimistic who writes that beautifully. … It's not about the fact that he's dealing with the dispossessed, or he is dealing with helplessness or hopelessness. It's about the joy of the language. The sheer magnificence of it. And I think that gives hope, and I think that's necessary now."
Jenn McKee is the entertainment digital journalist for AnnArbor.com. Reach her at jennmckee@annarbor.com or 734-623-2546, and follow her on Twitter @jennmckee.