concert preview
with video:

Acclaimed guitarist Duck Baker coming to Ann Arbor for solo concert

Posted on Thu, Oct 4, 2012 : 9:21 a.m.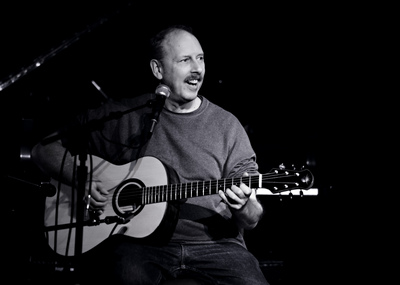 photo by Melanie Reyes

Master fingerstyle guitarist Duck Baker returns to Ann Arbor on Sunday for a solo acoustic concert at the Green Wood Center/First United Methodist Church Green Wood.

Baker's repertoire spans the "roots and branches" of American music—including traditional Irish and Scottish music, country blues, jazz and gospel.

"Duck Baker has been a seminal figure in bringing Irish traditional music to the guitar and we're proud to host him for his first area concert in almost two years," Ypsilanti resident Colleen Gavin, chair of the Detroit Irish Music Association, said in a press release. The association—a non-profit organization offering classes in Irish music, language and dance—is sponsoring the concert. Gavin and her family and friends are familiar fixtures at Sunday Irish music sessions at Conor O'Neil's, and at the annual Crossroads Ceili held each December at The Ark.

Baker's complex arrangements strive to maintain not only the melodic elegance of Irish music but also its drive and passion. Fellow fingerstyle virtuoso Tony McManus said, "Duck's involvement in the London Irish scene exposed him to some of the most significant players in traditional music - Raymond Roland, Bobby Casey, Roger Sherlock and his knowledge of the genre is both wide and deep. His gift is to absorb all this with the care and respect it is due and to use his talent to say something new with it."
PREVIEW
Duck Baker
Who: Master fingerstyle guitarist.
What: Acoustic roots music in a solo concert.
Where: First United Methodist Church Green Wood, 1001 Green Road.
When: 4 p.m. Sunday, Oct. 7.
How much: $18 at the door.
The same praise is echoed by celebrated guitarist Leo Kottke: "Duck has discovered a way to write which is purely and originally beautiful. I think he sets a standard for composition that everyone can aspire to, and that he's recognized his obligation to the composers and musicians before him by learning the best they've had to offer."
Baker was born Richard R. Baker IV in 1949 and grew up in Richmond, Va. His recording, performing and composing career began in the early 1970s, and he now has more than 20 albums and compact discs to his credit, including several solo and compilations of Irish and Scottish music, along with a wide range of instructional books and DVDs published by Mel Bay. He currently resides in England.
Since his first Ann Arbor performances in February 2010 and 2011, where he headlined first and second annual BreakFEST concerts at The Ark to raise money for the Breakfast at St. Andrew's daily meal program, Baker has maintained a busy recording and touring schedule. His newest releases include "When You Ask a Girl to Leave Her Happy Home," a ragtime collection recorded with Prairie Home Companion veteran Dakota Dave Hull, and "Amnesia in Trastevere" with the Duck Baker jazz trio.