Moxie Strings mix Celtic and Americana on new CD, set for release Saturday at Wolverine State Brewing show
Posted on Tue, May 15, 2012 : 5:49 a.m.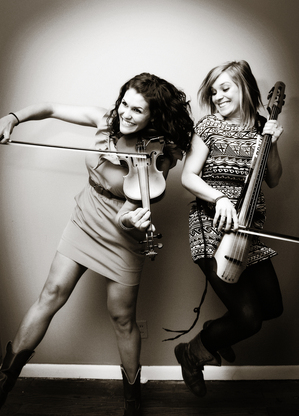 photo by Cristina Mezuk

When it comes The Moxie Strings, the name says it all.

"Drive, energy, fervor—we think it represents our sound and the two of us as people pretty well," said Diana Ladio, fiddle player.

Ladio's performing partner is cellist Alison Lynn. Although officially a duo, they sometimes join forces with percussionist Fritz McGirr, especially when performing on bigger stages.

The Moxie Strings, formerly known as String Cheese, will celebrate their new name and a new CD Saturday at Wolverine State Brewing.

"It started with just a name change, but at the same time we're releasing a new album and have revamped a lot of our tunes (and) we've been playing with a percussionist a lot. It's been an overall upgrade in addition to the new name," Ladio elaborated.

"It really is an American hybrid—kind of a melting-pot style of all I've learned," she said of the group's style. The new CD is about 80 percent original, with the rest made up of traditional tunes, interpreted Moxie-style. "It's a pretty good mix of Celtic and Americana," she observed, "with three slow tunes - most of it's pretty driven."

The CD was recorded in Grand Rapids, Lynn's hometown. Ladio, who also plays in the local group Dragon Wagon, hails from Chelsea.

Besides doing live shows, Ladio and Lynn can also be found in classrooms throughout Michigan and beyond, where they work to introduce new genres of music to high school and middle school string programs, preaching the importance of non-classical music in youth music education.

"The school clinics are something we're both passionate about," said Ladio. "There's a lot of other incredible music going on in the strings world, and right now teachers are stuck back in time, teaching the same kind of music that's been taught for the last century.
PREVIEW
The Moxie Strings
Who: Ann Arbor string duo Diana Ladio and Alison Lynn, with percussionist Fritz McGirr.
What: Celtic and Americana. Show marks the release of a new CD, as well as a new name for the group.
Where: Wolverine State Brewing, 2019 W. Stadium Boulevard.
When: 7 p.m. Saturday, May 19.
How much: Free. Info: www.wolverinebeer.com or 734-369-2990.
"We really believe strongly in introducing young string players to everything that's out there. We have classical music degrees, but are making our living playing something else. Somewhere along the line we had someone in our lives introduce us to the idea that we can do a lot more than just classical music. We would like to be that person in young people's lives now to introduce them to something new," Ladio added.
"We'll go in with our electric instruments and play our music and get them really hyped up and we'll probably teach them some improvisation stuff. It's that next step in musicality that classical music doesn't often take."
Besides teaching, and working on the new CD, The Moxie Strings played at the 2011 Top of the Park, the 2009 Ann Arbor Art Fair, and were featured artists in The Ragbirds' holiday show for the last three years. They have several dates coming up this summer and are hitting the festival circuit.
As far as the Wolverine State Brewing show goes, "we're inviting people to come around 7, and we're going to play the whole album top to bottom starting at 7:30," Laido said. "Then we'll probably take a break, then play a whole 'nother set of fun stuff."