Posted on
Fri, Apr 27, 2012 : 5:34 a.m.
Eagle-eyed Dale Fisher out with new book showing more images of Ann Arbor from the air
By Roger LeLievre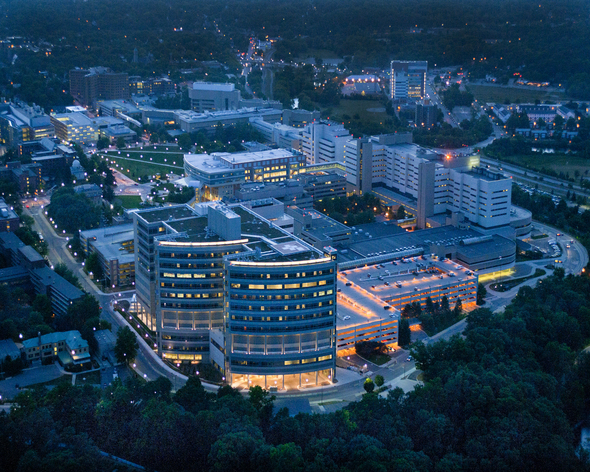 photo courtesy of Dale Fisher
If you've been around Ann Arbor any length of time, then you're probably familiar with
Dale Fisher
's work. He's the photographer who—working from a helicopter—captures stunning, eagle-eye views of many local landmarks, including Michigan Stadium.
His images have been featured on the cover of countless publications and hang in many local homes and businesses. Author of of several high-quality, coffee table-style books featuring his photographs, Fisher has published another, "Ann Arbor - Visions of The Eagle III."
"This is the biggest book I've ever done," he said, adding that the hard-cover volume runs 240 pages.
It's also his first book that incorporates both aerial and ground-level images. "I wanted to show the flavor of a full football day and that's hard to do from a helicopter," he explained, crediting Chuck Edwards and Shannon Culver for shots on the ground that show tailgate parties, concessions, the band and more.
Otherwise, he said, "I'm pretty much a one-man show."
Fisher, 79, grew up in Ann Arbor and now lives on a 200-year-old farm in Grass Lake, where 100 acres of woods, water and fields are home to his galleries as well as a reception and retreat center, available for weddings, classes and other events. From here he also operates the Michigan Center for the Photographic Arts, a non-profit program that teaches photography to third graders.
"I'm trying to make photographers out of those kids, to get them to see, to be aware of their surroundings," Fisher said.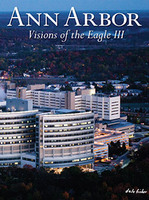 A large portion of "Visions of The Eagle III" covers Michigan football, and especially Michigan Stadium and its reconstruction. "I thought (at first) it was going to be awful," he said of the enlarged stadium. "But it's awful awesome. When you are in that stadium it gives you a sense of well-being and power.
"I've been a Michigan football fan since I used to sneak under the fence to get in there," he recalled.
He said the book was done to coordinate with the opening of the new Mott Children's Hospital at the University of Michigan, with a special edition of the book also available that features an aerial photo of Mott on the dust jacket. The back section of the book pays tribute in text and photos to the companies involved in Mott's construction.
Fisher began taking pictures as a youngster at Slauson Intermediate School and continued to pursue it at Ann Arbor High School. He found his calling as an aerial reconnaissance photographer while in the U.S. Navy. Upon his return home, he worked as a photographer at The Ann Arbor News, where he was always hustling to capture unique images and the credit lines "that helped put me on the map."
In the 1960s, and you could find Fisher traveling the country in a Ford pickup truck with a camper top darkroom, towing a rather lengthy trailer with his helicopter aboard. Nowadays, however, Fisher rents a helicopter when he needs to fly, and employs a pilot rather than trying to shoot and pictures and drive the aircraft at the same time.
"Flying is a full-time job. Taking pictures is a full-time job. Trying to do both is a good way to die," Fisher said.
Since any kind of plexiglass would interfere with the quality of the photography, Fisher's side of the chopper is open to the air. Rest assured, however, he is securely strapped in. "You adjust," he said. "You know nothing is going to happen."
Fisher estimated that he takes to the skies as often as once a week and said he has to get special permission when photographing Michigan football games from the air due to regulations restricting air traffic in the vicinity of the stadium on game days.
"Aerial photographs offer a different perspective. There is a whole different dimension—10-150 feet off the ground you find the most interesting things. … My intent is not to (fly) too high and lose the architectural personality (of what I'm photographing)," he explained.
Fisher made the switch to digital cameras several years ago as the quality of that format improved, and now does much of his shooting with a Canon D1S Mark III, 21.7-megapixel camera. His studio houses Epson printers that can output images up to 44 inches wide. The long process of transferring decades worth of photography from film to digital is an ongoing project.
He is currently working on the west side of the state, capturing images of the Grand Rapids area for an upcoming book. He'd also like to do a book on Michigan as seen from above.
"The state has never been photographed the way I want to do it," he said.
Dale Fisher will sign copies of "Ann Arbor - Visions of The Eagle III" on May 5 from noon-3 p.m. at the M Den, 303 S. State St. He will do the same at Nicola's Books, 2513 Jackson Ave., May 8 at 7 p.m. Find out more, and see sample images, at www.dalefisherphoto.com