Posted on
Wed, Aug 1, 2012 : 10:33 a.m.
Earthen Jar remains a reliable destination for tasty Indian vegetarian dishes
By Julie Halpert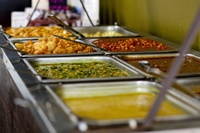 Jeffrey Smith | AnnArbor.com
Over the past two and a half years, when Fifth Avenue was closed for construction,
Earthen Jar
was one of the casualties, experiencing a 30 to 40 percent decrease in traffic, according to manager
Sim Sethi
. Since the street reopened, he's already seen an additional uptick of 15 percent.
"We can't wait until the students get back" to return to the normal brisk business, he said.
Earthen Jar has had impressive staying power, having been around for 15 years, thanks to a loyal customer base, Sethi said. Even before construction, parking in this area was difficult. Now, as you enter the restaurant, you have a perfect view of the sparkling new parking garage, so it's in an ideal position to benefit from the new abundance of parking spaces.
Sandwiched next to Jerusalem Garden, Earthen Jar is an unassuming place, the kind of restaurant you could easily pass without notice. The interior is equally low-key, with just a few tables and chairs. People are here clearly for the food alone, not the ambience. Surrounding the tables, against the wall, is a large buffet of Indian food.
Earthern Jar provides dozens of dishes, always served buffet-style, including salads, bean dishes, nan and samosas. All are vegetarian, with many vegan choices.
Each item is labeled as to the level of spiciness, though I found that most were spicy, even those that were noted as mild. Even the raita — the yogurt, cucumber and tomato sauce that I frequently turn to in Indian buffets to cool my palate — was labeled mild but had some spice, not enough to set my mouth on fire, but enough to provide a kick.
RESTAURANT REVIEW
Earthen Jar
311 S. Fifth Ave., Ann Arbor
734-327-9464
www.earthenjar.com
Hours: Monday-Saturday: 11 a.m.-8 p.m. Closed Sundays.
Plastic: Mastercard, Visa, American Express, Discover.
Liquor: None
Prices: Moderate
Noise level: Quiet
Wheelchair access: There is a separate handicapped entrance in the back of the building.
Once you finish going through the buffet line, the server weighs your plate, and you're charged $5.99 a pound. If you're a big indulger in this type of food, that can add up, but if you eat an average amount, it's a real deal, one that offers the chance to sample a variety of Indian food for one price.
Sampling so many different exotic dishes from an Indian buffet with a plethora of ingredients is one of my big challenges as a food critic. But these buffets also provide an opportunity to try dishes I otherwise might not order on a menu at a sit-down restaurant. Earthen Jar delivers in variety, veering from the traditional Indian staples like tandoori chicken and shrimp biryani with its focus on different ways to prepare vegetables.
It provides some inventive dishes that give new life to ordinary vegetables with the mixtures of sauces. My favorites were the less spicy dishes, specifically the shai paneer, made of mushrooms with homemade Indian cheese in a creamy tomato masala sauce.
The shahi korma sabzi, blended broccoli and mushrooms in a cream sauce infused with curry, was wonderful; the addition of tumeric provided an appealing taste to this delicious item.
Squash never tasted so good as in the sabzi tori, curried squash with onion, one of the few truly mild dishes we sampled. The same goes for the sag-dal, a dish that brought life to spinach. I preferred the more heavily seasoned curried potato salad over the regular potato salad, with an onion dressing that didn't provide much flavor.
In the baingan bhujia, tomato and curry brought a wonderful combination of sweet and spicy to eggplant, resulting in an unusual and appealing version of this vegetable. Another hit was the red lentils, called masoor, which start as yellow, then become red through the addition of spice. Served thick, like a sauce, they had the wonderful taste of lentil soup, in a heartier consistency.
Fried tofu suffered from being served lukewarm, without any sauce to add some needed moisture.
The mango lassi we sampled, made of soy, was refreshing and a great complement to the spicy food.
In addition to the items on the buffet, there is a refrigerator that houses some items that the owner will reheat if you crave them. We asked for samosas, but being chilled and reheated didn't serve them well. Instead of that crispy exterior, the outside was limp and tough.
Though it might sound strange, I would frequent Earthen Jar just for one of the best desserts in town: the banana pudding. Skip all the other packaged American baked goods like chocolate chip cookies, magic bars and brownies and head directly to the creamy pudding. Topped with banana slices and whipped cream, it is a heavenly end to a meal here.

Though there were a couple of misses in our meal, service was not one of them. Our host was gracious and congenial, greeting many customers who seemed like regulars, many of whom stopped by for food to go.
Earthen Jar offers one of the best Indian vegetarian buffets around, with plenty of solid entrees to please vegetarians and vegans — who may find themselves having a choice of only a few options on a typical Indian menu.
Julie Halpert reviews restaurants for AnnArbor.com.