Posted on
Fri, Apr 6, 2012 : 7:15 a.m.
Easter events in the Ann Arbor-Ypsilanti area
By Ann Dwyer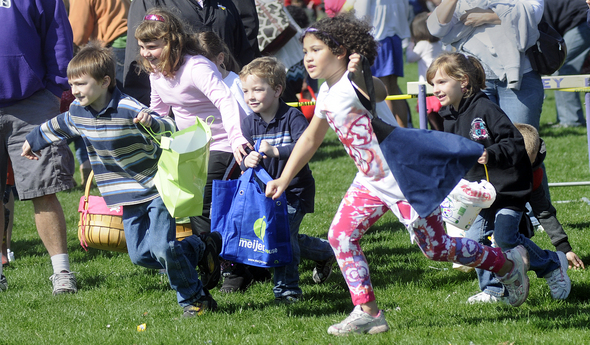 Jeff Schrier | MLive Media Group
SATURDAY
The "Annual Easter Eggstravaganza" will be held at Community Park in Dexter. 10 a.m. They will have an Easter egg scramble, photos with the Easter bunny, live bunnies and face painting. $2 in advance. $3 the day of the event. The park is on Ryan Drive, north of Busch's and the LaFontaine dealership, off of Ann Arbor-Dexter Road.
The Chelsea Kiwanis club will hold its "18th Annual Easter Egg Hunt" at the Chelsea Retirement Community. 9:45 a.m. There will be more than 2,500 hidden candy-filled plastic eggs. Prizes will be given in three age divisions (age three and under, ages 4-7, age eight and up). There will also be photos with the Easter Bunny. Free.The retirement center is at 805 W. Middle St., Chelsea. 734-475-9701.
There will be a "Peeps Party" at the Ypsilanti District Library on Michigan Ave. 10-11 a.m. Peeps are everywhere this time of year, and now they're at the library. You'll make Peeps necklaces and "peep"sicles. Free. The YDL is at 229 W. Michigan Ave., Ypsilanti. 734-482-4110.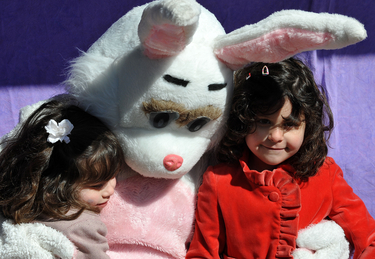 File photo | AnnArbor.com
The
Ann Arbor Jaycees
will hold their "Spring Eggstravaganza and Easter Egg Scramble" at Southeast Area Park. 11 a.m.-1 p.m. Activities will include games, pictures with the Easter Bunny, dancing, face painting and egg hunts where children can exchange their collected eggs for candy. The event is free but donations will be collected to benefit the American Cancer Society. The park is at 1351 E. Ellsworth Road, Ann Arbor.
There will be a "Bunny Storytime" at the Ypsilanti District Library on Whittaker Road. 10:30 a.m. Debbie Toundaian from the Great Lakes Rabbit Sanctuary will be returning with some of her furry friends. Be sure to bring your cameras for pictures after storytime and a craft. Free. The YDL branch is at 5577 Whittaker Road, Ypsilanti. 734-482-4110.
The Ypsilanti Free Methodist Church Community will hold an "Easter Egg Hunt." 10 a.m.-noon. There will be prizes, cotton candy, cupcakes, face painting, games, candy, Easter Bunny photos, and of course, the Egg Hunt for all ages! Free. The church is at 1800 Packard Road, Ypsilanti. 734-482-2055.
Saline's "10th Annual Eggstravaganza" will be held in downtown Saline. 11 a.m.-4 p.m. Kids start at Busch's and hop on over to participating businesses to pick up an egg. After visiting the businesses, drop the stamped list off at Mickey's Dairy Twist to enter a drawing to win one of four baskets filled with items donated from area businesses. Free. Busch's is at 565 E. Michigan Ave, Saline.
"Springfest" will be held at the Saline Recreation Center. 11:30 a.m. There will be a conventional egg hunt for ages 2-7, and a pool-diving egg hunt (1 p.m.) for ages 6-10. All ages can have "Lunch with the Bunny" at noon. Bring a basket. The SRC is at 1866 Woodland Dr., Saline. $7 per event in advance; $10 per event at the door. Preregistration is required. 734-429-3502.
SUNDAY
The Harvest Mission Community Church will present "An Easter Celebration" at the Michigan Theater. 10 a.m. Celebrate Easter with Harvest Mission Community Church, and experience a powerful encounter with God. Free admission. All are welcome. For more information visit www.hmcc.net. The Michigan is at 603 E. Liberty St., Ann Arbor. 734-668-8397.
The Mosaic Church will hold its "Annual Easter Egg Hunt" at the Morris Lawrence Building on the Washtenaw Community College campus. 9:15-11 a.m. There will be an egg hunt, inflatables and a free breakfast. Free. WCC is at 4800 E. Huron River Drive, Ann Arbor. 734-973-3300.