Posted on
Sun, Nov 27, 2011 : 5:48 a.m.
Eastern Michigan University theater staging 'Go, Dog. Go!'
By Jenn McKee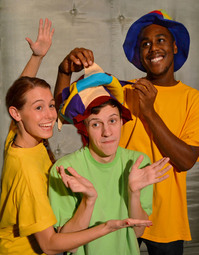 Photo courtesy of Eastern Michigan University Theatre
Despite the ubiquitous nature of
P.D. Eastman
's classic children's book "Go, Dog. Go!",
Patricia Moore Zimmer
—who's now directing a stage musical adaptation of the book at
Eastern Michigan University
—hadn't read it before deciding to direct the show.
"I'd heard about it, of course," said Zimmer. "But it's never too late."
The show—adapted by Steven Dietz and Allison Gregory, with music by Michael Koerner—follows the antics of several colorful dogs who drive cars, get jobs, play baseball, have parties, and wear hats (that aren't always appreciated).
"I love absurdist things," said Zimmer. " … And the playwrights have a note in the script that says they were trying to preserve (the book's) essential wondrous and loopy anarchy. And I just loved the idea of loopy anarchy."
While the show features singing and dancing, audiences shouldn't expect a typical musical.
"It is a play with a lot of movement, and song and dance, but it's not a musical in the sense of having the kind of through-line story that most musicals will have," said Zimmer. " … Another component that might not be readily apparent is that the show has a lot of what we call 'physical theater.' There are moments in the piece that spring from clown traditions. Not the clown of the big shoes and white face makeup sense, but traditional clown techniques that you might see Dick Van Dyke or Charlie Chaplin doing."
PREVIEW
"Go, Dog, Go!"
Who: Eastern Michigan University theatre department.
What: Stage musical adaptation of P.D. Eastman's classic children's book - by Steven Dietz, Allison Gregory, and Michael Koerner - that follows the antics of several colorful dogs who behave an awful lot like humans, driving cars, getting jobs, having parties, and wearing hats. Recommended for 5 and up.
Where: Quirk Dramatic Arts Building at East Circle Dr. and Best Hall in Ypsilanti.
When: Dec. 2 and 9 at 7 p.m.; Dec. 3-4 and 10-11 at 2 p.m.; Dec. 7-8 at 10 a.m.
How much: $15 ($12 for students, $7 for kids age 5-12). No babes-in-arms, please. 734-487-2282 or www.emutix.com.
Zimmerman said that a dramatist once noted that most fairy tales have about 6 minutes of playable action in them because, over the centuries, they've been honed and crystallized. Consequently, when contemporary artists adapt works like these, they tend to add to the original material and flesh out minor points.
"But these ('Go, Dog. Go!') playwrights didn't do that," said Zimmerman. "The words in the play are the ones in the book. … Young kids are clearly at a stage of life where sensory elements have a huge impact, so sound and visual things are primary. And just as in the book, the words are important, but they aren't the centerpiece."
So while parents, when first introduced to the book, may be baffled by the book's seeming randomness (I'll confess that I was), kids have loved it now for generations.
And the chaotic nature of "Go, Dog. Go!" "is really one of the things I love about it," said Zimmerman. "Children are not bound by same logic we are. That's one of their great gifts to the world."
Jenn McKee is the entertainment digital journalist for AnnArbor.com. Reach her at jennmckee@annarbor.com or 734-623-2546, and follow her on Twitter @jennmckee.