Posted on
Thu, Jun 2, 2011 : 7:56 a.m.
Eastern Michigan University Theatre tries to win 'The 25th Annual Putnam County Spelling Bee'
By Jenn McKee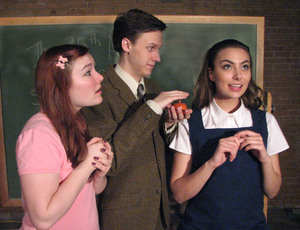 Photo courtesy of EMU Theatre
Though generally not a huge fan of interactive theater—I much prefer to be a quiet spectator rather than a participant—I make an exception for "The 25th Annual Putnam County Spelling Bee," hoping, each time I see a production of the popular, Tony Award-winning musical comedy, that I'll be picked to be part of the middle school spelling bee that unfolds onstage.
So far, I've had no luck. But Eastern Michigan University's theater department is currently giving local spelling nerds like myself one more shot at glory. (Yes, the three audience members that are chosen at each performance are all eventually eliminated, and are the butt of some improv mockery along the way, but it still all looks like fun to me.)
This little one-act musical that could earned its way to Broadway in 2005, and as soon as rights for the show were released, an explosion of regional and community theater productions followed. But this doesn't worry Ken Stevens, director of EMU's production.
"It is the kind of show that people will see more than once, and there are always new audiences for shows that have such strong audience appeal," said Stevens—who also noted that the show's improv elements make each performance a little different.
Elements that contributed to the show being so often-produced are its simple, public-school gymnasium setting; its relatively small cast (for a musical); and its comedy, which manages to be both tender-hearted and sharp.
"Like all really good humor, (the show's comedy) is subtly thought provoking," said Stevens. "It reminds us of the uncertainty and turmoil of adolescence. It also comments on issues like childhood neglect and our cultural fixation on winning."
Plus, its most poignant moments have the potential to produce a tear or two.
This is largely because the young characters involved in the spelling bee each find their way into the audience's hearts. There's an Asian girl who's being raised as an achievement machine; an eccentric, offbeat boy from a large family; a stridently liberal, desperate-to-please girl with two dads; an arrogant boy with severe allergies who spells words out on the floor with his foot; a sensitive girl whose mother has left the country to live on an ashram in India; and a Boy Scout (and former champion) who finds himself, well, unfortunately distracted by a girl in the audience.
PREVIEW
"The 25th Annual Putnam County Spelling Bee"
What: Tony Award-winning musical (best book) about a handful of misfit kids who compete in a middle school spelling bee. Conceived by Rebecca Feldman; music and lyrics by William Finn; book by Rachel Sheinkin; and additional material by Jay Reiss.
Where: Sponberg Theatre on EMU's campus in Ypsilanti, at the intersection of East Circle Drive and Best Hall.
When: June 3-4, 9-11 at 7 p.m., with one matinee on June 5 at 3 p.m.
How much: $15 ($12 for students, $7 for children 12 and under). 734-487-2282 or www.emich.edu/emutheatre.
"(The characters) can certainly be played as geeks and nerds," said Stevens. "There are laughs in that, but I think that those laughs can stifle audience empathy, and in doing so, make the show less rewarding. We have made a conscious effort to exaggerate the personality types only to the point that (they are) humorous, so audiences can recognize their own adolescent awkwardness. To that extent, we were all misfits. I suspect that most folks will acknowledge that it is not a state of mind that is exclusive to adolescence."
And while some may argue that the very passion that drives these characters is a point of obsolescence - with the advent of spell-check (and other technological safety nets, do we need to emphasize spelling in kids' lessons any longer? - the kids' unabashed worship of words, their power, and their history is undeniably endearing.
Or, as Stevens put it, "There is a certain allure to being engaged with something that technology has made obsolete."
Jenn McKee is the entertainment digital journalist for AnnArbor.com. Reach her at jennmckee@annarbor.com or 734-623-2546, and follow her on Twitter @jennmckee.