Posted on
Wed, Dec 12, 2012 : 7:19 a.m.
'EBird' gathering her local music family for holiday show at The Ark
By Jennifer Eberbach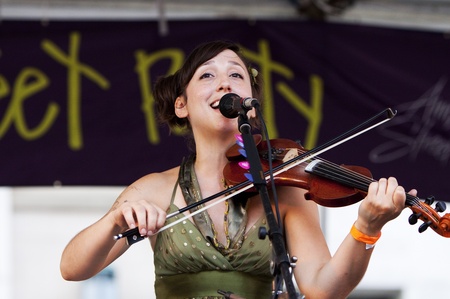 Local musicians gather at
The Ark
, each December, for a holiday concert that has become a local tradition. For the fifth year, the
"E-Bird and Friends Holiday Show"
promises to be a family-friendly treat for live music fans. On Dec. 15, bands and solo artists will perform a mix of traditional holiday songs, covers of popular songs, and a few original songs that are all inspired by Christmas or wintertime.
EBird is the event's organizer, Erin Zindle, lead singer and multi-instrumentalist of popular Ann Arbor band The Ragbirds. Beyond rallying her friends in the local music scene, she takes a very hands-on approach to the event. On one hand, she acts as curator, making sure featured acts choose a good variety of songs that fit the show's theme. She also contributes a lot creatively by writing song arrangements for the show.
Not only does the show bring together a diverse group of talented musicians, Zindle thinks it is also a great chance for them to get creative with it. "Collaborating around a common theme really gives us a chance to be creative and write interesting arrangements in diverse styles," she says.
The lineup changes each year, but some of the show's traditions stay consistent. "I've got a great house band that does it every year. Bassist Brennan Andes, Dan Piccolo on drums, and Mike Boyd on guitar. They learn so many songs and keep it so tight. And the Ohh Girls (Shelly Smith, Jenny Jones, Elizabeth Royce) as backup singers, they have been in the show for a few years now. The Moxie Strings (Diana Ladio and Ali Haraburda) are also in the show every year," Zindle says.
This year's show includes many "staples" of the Ann Arbor music scene, according to Zindle: "I have three members of the Appleseed Collective (Andrew Brown, Katie Lee, and Sophie Tulip) and two from the Macpodz (Brennan Andes and Ross Huff). And Jetty Rae is wonderful. Peter Madcat Ruth is one of the best harmonica players in the world and we are really lucky to have him in Ann Arbor. Laith Al- Saadi is one of my favorite guitarists and singers anywhere.
"Chris Buhalis is another Ann Arbor folk scene staple and just a solid guy and musician. Tyler Duncan (Ella Riot/My Dear Disco) and Dan Bennett (NOMO)—it's a brilliant cast," she says of this year's lineup. And MC for the night, comedienne Shelly Smith (also performing with Ooh Girls), is a close friend. Zindle is also joined by fellow members of The Ragbirds, Randall Moore, TJ Zindle, Loren Kranz, Evan Holodnick, and Brian Crist. It should be quite a gathering.
PREVIEW
EBird & Friends Holiday Show
Who: Ragbirds leader, along with the rest of the band, plus many special guests including Laith Al-Saadi, Jetty Rae, Peter Madcat Ruth, members of the Macpodz, and more.
What: A mix of traditional holiday songs, covers of popular songs, and a few original songs inspired by the season.
Where: The Ark, 316 S. Main St.
When: 8 p.m. Saturday, Dec. 15.
How much: $16.
An annual tradition at the show, everyone will join in for traditional Christmas song "Mary Had a Baby," as well as an encore Zindle is planning, at the end of the show. Another collaboration added to the show this year will be first-set finale "La Rama," a traditional Mexican Christmas carol, which will be performed by a group of vocalists.
The impulse to start the annual show 5 years ago was "a natural extension" of her longtime love of gathering with family and friends to sing Christmas songs. When she was growing up, her large extended family would gather in her parents' living room on Christmas Eve for a family sing-along.
"For me as a child, it was a very shaping experience. It was my first time experiencing music in a community sense. And it was the only time I would make music with my family when I was growing up," Zindle recalls.
"That experience took hold in me and I have always wanted to recreate it. I have this Ann Arbor family of musicians that keeps growing and changing. The impulse to start the show was that I wanted to bring my family's tradition to my new family and also get really artsy and creative with it too," Zindle says.
Zindle has always had the instinct to coordinate folks at such gatherings. "I remember at family sing-a-longs, there were different lyric books and there were never enough for everybody. Trying to get everyone on the same page, literally, was really difficult. So I got the instinct one year to make a single family songbook and give everyone a copy. I would print all of the verses to make the experience last longer. I was always trying to organize it!," she laughs.
25 songs featuring 2 dozen local musicians, this year, share Zindle's holiday tradition with the masses. And she says the musicians who have participated over the years tell her "it's a magical event" for them as well, she says. A chance for local musicians to enjoy a gathering of their local music family, EBird and Friends Holiday Show is also a chance for anyone to gather the whole family for a fun holiday tradition.