Posted on
Sat, Oct 27, 2012 : 11:21 a.m.
Edgefest returning to bring boundary-pushing jazz to Ann Arbor
By Will Stewart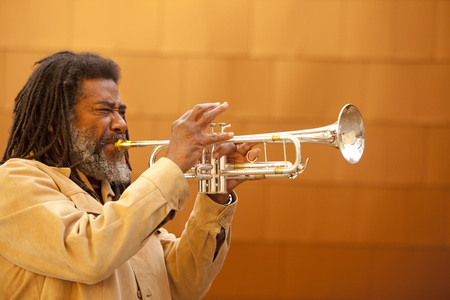 NOTE: Organizers have announced some alterations to the Edgefest schedule will be necessary due to Hurricane Sandy, including the postponement of Fred Van Hove's concert slated for 7 p.m. Wednesday. "Due to weather related issues surrounding Hurricane Sandy, the Edgefest festival line up has been altered. Some artist's performances may be delayed. However, in the spirit of improvisation, the festival will continue as details on our artists develop," the announcement reads. Details will be available on the KCH website.
Each year as October winds down, something very special happens in and around the Kerrytown Concert House.
Celebrating its 16th anniversary this year, Edgefest pulls together some of the most unique, compelling and gifted musicians and composers for a four-day, multi-venue celebration of avant jazz, modern classical and improvisational music.
"It's like an organic family of musicians and music lovers that emerges every year for a week," said Concert House founder Deanna Relyea. "
Each year for the past several years, organizers have identified a general theme for the Edgefest, providing a loose framework for the music that's presented during the event. This year's theme is "Worldly Measures" and brings together artists who are in the midst of revisiting their own cultural and ethnic backgrounds through their music.
As such, Edgefest will visit everything from trumpeter Wadada Leo Smith's opus, "Ten Freedom Summers," which explores his childhood memories of the civil rights movement; to saxophonist Rudresh Mahanthappa's Indo Pak coalition, which blends reeds, guitar and table to explore southern Indian through a free-jazz prism; to reedman Marty Ehrlich's reinterpretations of traditional Jewish music with his Fables trio.
"We thought this was an interesting way to showcase these remarkable musicians, who in their own unique ways have incorporated their heritage into their music," Relyea said. "In addition to representing many different cultures, different generations will be represented from some of the heroes of the music to some of the younger stars, who are just beginning to emerge."
In all, some 20 acts featuring dozens of musicians and composers from around the world—and from right here in our own back yard—will participate in this year's Edgefest.
PREVIEW
Edgefest
Who: Wadada Leo Smith, Rudresh Mahanthappa, Marty Ehrlich and many other respected musicians.
What: Annual festival of experimental and avant jazz.
Where: Kerrytown Concert House, 415 N. Fourth Ave.
When: Oct. 31-Nov. 3. For a full schedule, check the KCH website.
How much: Cost for individual events varies; festival passes available for $135. More information at the KCH website.
Most notable is Smith, a legendary figure in improvisational jazz, who has collaborated with such giants as pianist Anthony Braxton, drummer Jack DeJohnnette and guitarist Henry Kaiser, among many, many others.
Last year, Smith released "Ten Freedom Summers, four-disc, 19-composition piece that explores the struggle for African-American freedom. By turns mournful and exuberant, the piece is a remarkable document of this transitional period of American history as seen through the eys of someone who lived through it.
The piece will be performed in two parts, Nov. 2 and 3, by Smith's quartet, which features David Virelles on piano, bassist John Lindberg and drummer Pheeroan akLaff.
Smith said he composed the suite over the past 34 years, although many of the pieces were written during the past several years.
"I've always thought about the meaning of my music, how I would like for it to find its meaning in society," he said. "So, when I began my research for Ten Freedom Summers and began to write the music, I experienced a deep sense of how much I personally had been touched by these people and events—they had shaped my life as a young man growing up in Mississippi.
"Knowing that their stories were also my story, it was easier to carry that cultural element into my composing."
Smith has called "Ten Freedom Summers" his "defining life's work" and it, likewise, has been hailed everywhere from Downbeat magazine to the British Broadcasting Corporation as his masterpiece.
Its inclusion on the Edgefest program is yet another indication of the festival's emergence as a premier showcase for serious, contemporary music.
"We're a breeding ground, but at the same time, we attract established people who are playing the biggest festivals of the world," Relyea said of Edgefest. "Edgefest has put the Concert House on the lips of musicians around the world.
"Everyone wants to play Edgefest."
In addition to his two Concert House performances, Smith will kick off Edgefest on Oct. 30 with a free performance at Encore Recordings, perform with the University of Michigan Creative Arts Orchestra at St. Andrew's Episcopal Church on Nov. 3, and will lead the traditional Edgefest parade through Kerrytown that afternoon.
"He said, 'I'm coing out to do anything you want - I'd love to do this and love to do that.'" Relyea said. "So he's our person in residence and we're very excited about it.
In addition to his performance, Smith will spend time with jazz students at Scarlett Middle School and Community High School.
"I don't think they know what they're in for," she said. "But it'ssomething they'll remember for a lifetime."
Among the other notable acts performing during this year's Edgefest pianist Fred Van Hove, who will appear in a on Oct. 31 with reedman Ab Baars and violinist Ig Henneman. Billed as Double Dutch Treat after the performers' Dutch heritage, the appearance marks one of the first-ever U.S. performances by Van Hove, also a legend in creative improvisational music.
"When word got out that Fred would be playing Edgefest the phone definitely started ringing," Relyea said.
Another highlight should be the return of frequent Edgefest artist violinist Jason Kao Hwang, whose music combines jazz, classical and new music. Hwang and his Edge Quartet will be joined on Nov. 1 by Relyea and her husband, reedman Piotr Michalowski to perform the Midwest premiere of Hwang's piece, "Lifelines."
"Jason is just a genius," Relyea said. "We're very, very excited to be performing with him."
Relyea said Edgefest enjoys widespread support from local merchants and small businesses, as well as generous support from the National Endowment of the Arts, which makes the festival possible.
Meanwhile, she said this year's event is shaping up to be one of the best ever.
"Every night has a grand attraction," she said. "It'st's a really going to be an interesting and intense experience."
For complete schedule information, including descriptions of each act, click here.