Posted on
Sun, Oct 16, 2011 : 5:39 a.m.
Edgefest returning to town, this time exploring classical roots of jazz
By Will Stewart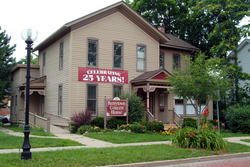 The standard 15th anniversary gift is crystal.
So, as Edgefest celebrates its own 15th anniversary, organizers and performers are looking into their crystal balls and gazing back at the music that informs the creative improvisational music upon which the festival is based.
"We wanted to look at how classical music influences the composers of this kind of music that uses improvisation," said Kerrytown Concert House founder Deanna Relyea, describing this year's Edgefest theme, "Blending Out: Exploring Our Classical Roots."
"So 'blending' refers to blending of jazz, new music, avant creative music and classical music," she said. "And 'out' means taking the music to other places."
This year's Edgefest, unquestionably one of the musical high points of the year in Ann Arbor, runs from Oct. 19-22.
Anyone who is familiar with Edgefest knows that the festival has attained an international reputation for presenting cutting-edge improvisational composers and performers, who challenge the limits of jazz.
What casual listeners might not grasp, however, is how deeply rooted these artists are in classical forms.
"We know that these performers and composers move music forward," Relyea said. "Its not just moving jazz music forward—it's moving everything that's come before it forward, too.
"These are artists who gather everything together and move it all ahead."
PREVIEW
Edgefest
Who: Countless top names in avant-jazz.
What: Annual celebration of musical experimentation, this year with a classical theme.
Where: Kerrytown Concert House and elsewhere.
When: Tuesday-Saturday.
How much: Tickets to Edgefest are $10-$15 for individual ticketed events, with a limited number of student tickets ($5) available for most performances. An Edgepass ($135) is available at 734-769-2999 or online, which allows for admission to all events, as well as a special dinner with our Edgefest artists. A Saturday daypass is available for $50.
So it makes perfect sense that Relyea, working closely with Edgefest founder
Dave Lynch
, has tailored this year's festival to fit this avant-meets-meets classical theme, complete with piano-violin duets, re-imaginings of he work of Georges Inescu, and a survey of John Cage's works for prepared piano.
According to Relyea, finding artists to support the theme wasn't hard.
"So many artists working in this realm are classically trained and virtuosos on their instruments," she said. "So whatever they put their fingers to and their hearts into is going to be special."
Featuring nearly 20 acts in all, it's impossible to do justice to each of the performers gracing this year's Edgefest. But the Kerrytown Concert House website has a comprehensive list of the artists, with descriptions of each one.
The value of exploring the connections between avant jazz and classical music wasn't lost on the National Endowment for the Arts, which, after opting out of last year's Edgefest, is back to underwrite this year's performances.
"Their support is crucial," Relyea said, adding that without the funding, this year's festival would have to have been drastically scaled back. "It makes it possible, really."
Saxophonist and composer Tony Malaby kicks off Edgefest on Oct. 18 with a free performance at 7 p.m. at Encore Recordings.
Violinist Mark Feldman and pianist Sylvie Courvoisier are a duo in life as well as on stage. The couple, who perform on Oct. 19, have appeared at Edgefest in the past, but Relyea said they were a natural fit for an encore performance, given this year's nod to classical music.
"Anyone who comes to the Concert House for our piano and violin recitals should check them out," Relyea said. "When you hear them play, you can draw line to Bartok and other classical composers.
"It's very romantic and very unique and very special."
Another Edgefest veteran, Ned Rothenberg, who performs with the Mivos Quartet, also was a natural fit, Relyea said. Rothenberg will perform the Midwest premiere of his piece "Clarinet Quintet #1" with the string quartet.
"The piece is clearly in the tradition of Brahms and Mozart," Relyea said. "But there are these wonderful moments of improvisation that take it to another place."
Also on Thursday, pianist Lucien Ban and bassist John Hebert will lead a nonet in their "Enesco Re-Imagined" piece, which reconstructs the 20th Century Romanian composer's work in an avant-jazz setting.
On Friday, woodwind master and composer Vinnie Golia performs with an electric ensemble, including the extraordinary pianist Tad Weed. And n Saturday, Edgefest takes over St. Andrew's Episcopal Church for a performance by Golia leading the University of Michigan Large Ensemble.
Golia is a true giant in the realm of creative improvisational music and Relyea said bringing him to Edgefest is a huge artistic triumph.
"Vinnie is a hero to anyone who is part of this world of improvising and we're very, very excited to have him here as part of Edgefest."
Also on Saturday, U-M professor and pianist Steve Rush will perform a solo recital Cage's "Sonatas and Interludes for Prepared Piano." Cage, the modern classical composer, perhaps best best exemplifies the connection between classical music and creative improvisational music.
"He is beyond a doubt the person who makes these pieces his own," Relyea said. "It's going to be a spiritual experience.
Edgefest concludes with a performance by the Rova Saxophone Quartet, which blends classical themes with searing, soaring brass improvisations.
"This is the premier saxophone quartet of the world," Relyea said. They've been around for decades and they have performed works by a lot of the leading contemporary-classical composers, but they're also compose for themselves.
"It'll be just a real moment."
Actually, it will be five days of electric and eclectic moments as Edgefest brings together classical and avant music.
"The idea of Edgefest, and of the Concert House for that matter, is to offer a deeper and wider experience of music and its possibilities," Relyea said. "This is very close to our hearts.
"In fact, it's what we're all about."
For more information, see the Edgefest page on the Kerrytown Concert House website.