Posted on
Wed, Mar 9, 2011 : 5:08 a.m.
Eilen Jewell bringing her distinctive sound - and a tribute to Loretta Lynn - to The Ark
By Kevin Ransom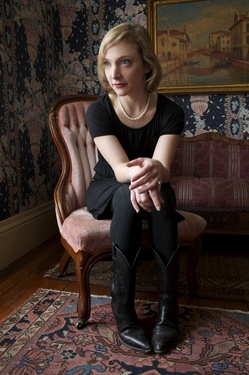 photo by Jennifer Lucey-Brzozao
Eilen Jewell would seem to be on a roll. Her 2009 release, "Sea of Tears," won rave reviews, partly on the strength of Jewell's oft-brooding but cathartic songs about abandonment, lost love, wounded hearts and mortality — but also due to her seductive vocals.
And then there's her band — a crack outfit that had previously been known for its facility with country-folk / Western-swing styles — but, on "Sea of Tears," also tapped into its affinity for vintage R&B, early British Invasion tunes, garage-rock, rockabilly, Chicago blues and surf-guitar reverb.
Then, last summer, Jewell and her mates released an equally winning and well-received album, "Eilen Jewell Presents Butcher Holler: A Tribute to Loretta Lynn" — a down-home homage to the music of that country-music icon. For that project, the band also used "Butcher Holler" as the name of the group, something they sometimes like to do as a side project when playing clubs in their Boston home base.
Next up came Jewell's appearance at the Ann Arbor Folk Festival in January, where she and her band were a big hit.
And, on the heels of those successes comes their next effort — a new album that's already in the can and is slated for a June release.
"I see it as sort of a blend of our first record, 'Boundary County,' and 'Sea of Tears,'" Jewell says in an e-mail interview from Jönköping, Sweden. (She and her band were in the middle of their recent tour of Scandinavia.) "The slower, more mellow songs are even more sparse, more pared down, and our raucous songs are even more raucous. It's an unusual mix. It's pretty dark, but it is also more tongue-in-cheek at the same time.
"It has a similar mix of styles as 'Sea of Tears,' with some classic country thrown in too. It's an eclectic blend that that has come to typify my songwriting style. I think it's hard to categorize," says Jewell, who brings her band to The Ark on Saturday.
PREVIEW
Eilen Jewell
Who: Versatile roots-music singer-songwriter and her agile, accomplished band.
What: A nimble and heartfelt mix of Western swing, rockabilly, country, R&B, Brit-Invasion, garage-rock, folk and blues. They'll also do some Loretta Lynn songs..
Where: The Ark, 316 S. Main St., Ann Arbor.
When: Saturday, 8 p.m.
How much: $15 Tickets available from The Ark box office (with no service charge); Michigan Union Ticket Office, 530 S. State St.; Herb David Guitar Studio, 302 E. Liberty St.; or Ticketmaster.com.
The band finished recording the disc in December, and Jewell wrote most of the new songs "in a little cabin in the mountains of Idaho last summer, with no electricity or running water, so nothing to distract me for many miles. It was a great indulgence. Every writer should have the joy of solitude like that."
As for the "Butcher Holler" record, that project's genesis began in '07, "when we were listening to Loretta's music a lot. We had the 'Honky Tonk Girl' collection playing in the van non-stop, and I found myself absorbing the lyrics through osmosis," recalls Jewell. "Without really trying, I had memorized the lyrics to a few dozen songs, just from singing along for hours on the road." At the time, she and her group were on the ascent in Boston, "and we began filling our local bars to an uncomfortable level, so we decided to form ourselves into a side project, call ourselves something else entirely, and start appearing anonymously, just for fun. It was really so that we could go back to our old haunts and see our pals back in Boston again, without the pressure of a big show. So the obvious choice was a Loretta Lynn tribute band."
They chose the Butcher Holler moniker, of course, because that's the name of Lynn's hometown in Kentucky. A few months later, "we had the great honor of being her opening act at the Calvin Theater, in Northampton, Massachusetts," says Jewell. "That really solidified my admiration for her. When we met her, it felt to me like meeting a long-lost friend.
"Here was this country music legend, who had done so much to break down so many barriers for women in country music, who had countless hit songs in her repertoire, and yet she was just as humble and sweet as could be."
That's when the band decided to record the tribute to Lynn. "It seemed a great way to say thank you to one of my heroines for being such an inspiration," says Jewell. "Butcher Holler" was released on July 27 — the 50th anniversary of Loretta's first recording, "Honky Tonk Girl." The disc includes hits as well as some lesser-known songs from Lynn's late-'60s / early-'70s period, including "Ain't Woman Enough (to Take My Man)," "Don't Come Home Drinkin' (with Lovin' On Your Mind)," "You're Lookin' At Counry, "Another Man Loved Me Last Night" and "I'm a Honky-Tonk Girl."
When recording songs by other artists, especially a giant like Lynn, Jewell likes to "stay faithful to the original recording, to some extent — but I don't see the point of mimicking a song that has already been done. I also want the song to sound like me, so it follows that it has to be a bit different from the original. But I don't want to try so hard to add novelty to it that I lose the inherent integrity of the song. So the trick is always to walk that fine line in between."
On "Butcher Holler," she and her mates definitely succeeded in that respect. The songs capture the essence of Lynn's originals, but Jewell injects the tunes with the sultriness inherent in her voice, while the band flexes it country-swing talents.
As for Saturday's show: "We'll do mostly originals, maybe 95 percent, with a handful of Loretta tunes tossed in," says Jewell. "And since we have the new record coming out in the summer, we'll be trying out a few of those still-unreleased songs as well."
Kevin Ransom is a free-lance writer who covers music for AnnArbor.com. He can be reached at KevinRansom10@aol.com.