Posted on
Tue, Oct 12, 2010 : 5:53 a.m.
Ypsilanti's Elbow Room seeks to broaden musical scope as new management takes over
By Roger LeLievre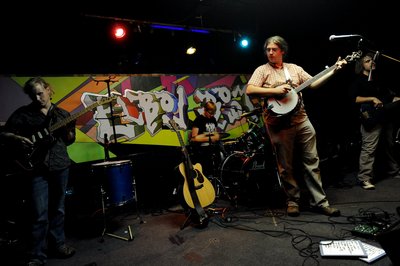 Melanie Maxwell | AnnArbor.com
Not much has changed at Ypsilanti's Elbow Room bar, now under new management, and for fans that may be just fine.
There's been some painting, a new mural graces the wall behind the stage, a new sound system has been installed, and classic record album covers line the wall behind the bar.
What's different, said Ryan Sparks, one of three individuals (the others are John Dunn and Ryan Cavanaugh) now charged with running the Elbow Room, is the venue's approach to live music.
"We're looking to book all kinds of music, all styles," said Sparks. Previously, the Elbow Room concentrated mostly on harder rock.
ELBOW ROOM
Location: 6 South Washington Street, Ypsilanti.
Hours: Open 7 nights a week, 9 p.m.-2 a.m.
Nightly schedule: Thursday: Hip-hop; Friday-Saturday: Live music; Sunday: Dubstep (a subgenre of electronic dance music). Monday-Wednesday: TBA, with open mics to fill in (drum kit available).
Events: For now, the best way to find out what bands are booked is to "friend" the Elbow Room on Facebook and hope updates have been posted.
Now, though, more hip-hop, electronica, bluegrass, punk, folk and rock acts will be on the bill, with open mic sessions to fill in any gaps, as the bar's schedule — admittedly still a work in progress — begins to fill up, he added.
The goal, Sparks added, is to offer live music seven nights a week.
Although a change in management (Andy Garris, who previously ran the bar decamped to the nearby Savoy in June) prompted some confusion over the summer — with phones disconnected and the Elbow Room's website taken over by individuals who may or may not have been associated with the Savoy — Dunn said there are no hard feelings.
"It's not an issue with Andy. I feel great about it," said Dunn, who hopes someday to buy the business from owner Marion Campbell. "For him to be right up the street is all right with me. (The Elbow Room) was good before, and I don't want to change it."
The appeal of the Elbow Room goes deeper than offering just the chance run his own business," Dunn added.
Melanie Maxwell | AnnArbor.com
"I was born and raised here and I couldn't let the bar be vacant, or have it be run by someone that didn't like it," he said, explaining that a longtime friendship with owner Campbell led to an offer to put his mark on the South Washington Street fixture.
Fans of the funky watering hole will probably be delighted no big changes are in store, other than tweaks in the bar's musical direction.
"I liked the way it was before, under Andy," Sparks said. "We have pretty much the same style. We're trying to open it up (musically) to get more people. We don't want to discriminate against any kind of music."
The new team isn't daunted by a lack of management experience. "We've all worked in bars — it's definitely a learning experience, " added Sparks.
Roger LeLievre is a freelance writer who covers music for AnnArbor.com