Posted on
Sat, Feb 23, 2013 : 5:55 a.m.
Electronic music powerhouse Tiesto returning to EMU
By Jennifer Eberbach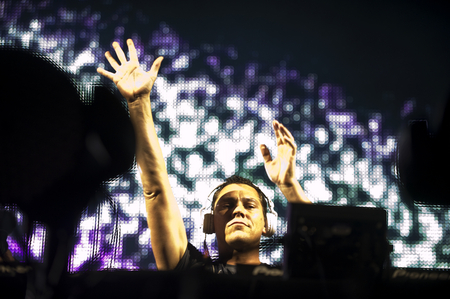 Joseph Tobianski | AnnArbor.com file photo
Tiesto
, one of the biggest electronic dance music DJ out there, is returning to Ypsilanti.
Eastern Michigan University's Convocation Center will surely become one big dance party when Tiesto and special guests Tommy Trash and Quintino roll into town Wednesday.
Tiesto was originally scheduled to visit Ypsilanti with Dada Life in October, 2012. However, EMU announced that a back injury caused him to have to cancel the show.
The Grammy-nominated DJ has been making house, trance, and other styles of techno music since the late '90s. Along the way, he has accrued millions of fans who dig his solo albums and releases, high-energy live performances, and ever-growing list of collaborations and remixes of major artists.
View a photo gallery of Tiesto's previous appearance at the Convocation Center for a taste of what the crowd might expect from the upcoming show.
PREVIEW
Tiesto
Who: Big-name DJ.
What: Dance/electronica.
Where: EMU Convocation Centr.
When: Wednesday, Feb. 27 at 9 p.m.
How much: $30-$40. Tickets available from emutix.com.
The Dutch DJ, whose real name is Tijs Michiel Verwest, came to EMU last time to promote the first of his Club Life collections, "Club Life Vol. 1: Las Vegas." He released the second in the series, "Club Life Vol. 2: Miami" last year.
Back on the tour route after a summer residency in Ibiza and then his back injury, Tiesto is hitting cities across the U.S. on a new installment of his "Club Life College Invasion Tour."
Tiesto could not be reached for an interview, but you can keep up with him on his Twitter account and tour website to find out how the tour is going.
With a large online following, his radio show "Tiesto's Club Life," is podcast each week free on iTunes. His officaltiesto Youtube channel features videos of his performances and episodes of "In the Booth," a behind-the-scenes look.
Doing it big is his M.O. After his previous appearance at EMU, he went on to perform a record-breaking DJ set at the Home Depot Center, in Los Angeles. 26,000 people in the crowd was reportedly the largest DJ set in U.S. history.
As big as that crowd was, it paled in comparison to the millions who watched him perform at the opening ceremony of the 2004 Summer Olympics in Athens. He was the first DJ to ever get the prestigious gig.
Now considered an electronic music classic, Tiesto's 2000 remix of Delerium's "Silence" featuring Sarah McLachlan helped propel his career forward. The electronic music powerhouse has since received numerous critical accolades for his solo work and collaborations with big names such as Three 6 Mafia, Sigur Ros, Nelly Furtado, The Yeah Yeah Yeahs, and Deadmau5, just to name a few.
In 2007, his third studio album "Elements of Life" was nominated for "Best Electronic/Dance Album" by the Grammy Awards. It was followed by Kaleidoscope, in 2009, which topped music charts around the world. More recently, DJ Magazine named him the 3rd most popular DJ in their "100 Popularity Poll" (he has been at the #1 spot several times). And along the way, the MTV Music Awards, Billboard, Mixmag, and other trend setters have praised him.
Beyond his own DJ career, Tiesto produces other electronic music artists through his record label, Musical Freedom. This month, "Musical Freedom Radio" debuted as a brand new iTunes podcast.
Tiesto's upcoming performance with Tommy Trash and Quintino at the EMU Convocation Center promises to be a blast of danceable electronic jams along with visually stimulating light and video projections. Wear your best shoes for dancing and throw those glow-stick-wielding hands in the air for this one.