Posted on
Wed, Mar 28, 2012 : 5:08 a.m.
Folk Festival hit Elephant Revival back in town to rock The Ark
By Kevin Ransom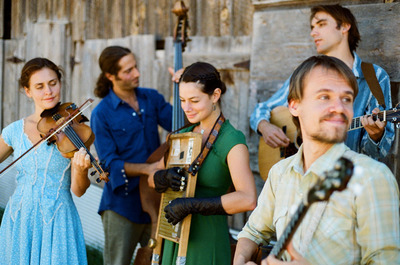 Elephant Revival, an indie acoustic ensemble from Colorado, have been around for a few years, and have released two albums. But when they took the stage in January at Hill Auditorium for their appearance at the Ann Arbor Folk Festival, they were still largely unknown to local audiences.
But their rousing, entertaining, energetic and hard-to-classify performance left an indelible impression on the crowd, and some fest-goers proclaimed that the group was one of the surprise hits of the festival.
That was just a 25-minute set, though, so those who were left wanting more (to borrow an old-show-biz credo) can catch an entire set when the group comes to The Ark on Saturday.
Regarding their "hard-to-classify" quality: The group does indeed draw on a giddy array of styles, and is not shy about stirring them all into the mix, sometimes within a single song. Their repertoire is inspired by such far-flung influences as traditional folk, Scottish/Celtic fiddle tunes, the blues, psychedelic excursions, mournful Appalachian ballads, rustic old-timey music, endearingly shambling indie rock, twangy Americana, world-beat grooves, vintage 1940s - 50s-era jazz and even an occasional hip-hop beat.
"I like that we're writing original music, but that all of us are also tapping into the different kinds of music we love, and the music we want to play, and what feels right to us - to our ears and hearts and minds," says Bridget Law (fiddle / vocals). "For us, it's definitely not about about being pigeonholed into a genre, it's about making the music that wants to be made.
And, says Law, the casting of a wide musical net is unconscious, for the most part. "It hardly ever happens that someone says, 'Hey, here would be a good place for a Celtic fiddle part,'" says Law. "Although, that does happen occasionally.
PREVIEW
Elephant Revival
Who: Eclectic, Colorado-based ensemble.
What: A giddy mix of trad-folk, Celtic fiddle tunes, blues, psychedelia, Appalachian ballads, old-timey music, indie rock, Americana, world-music and vintage jazz.
Where: The Ark, 316 S. Main St.
When: Saturday, 8 p.m.
How much: $15. Tickets available from The Ark box office (with no service charge); Michigan Union Ticket Office, 530 S. State St.; Herb David Guitar Studio, 302 E. Liberty St.; or online from MUTO.
Given their eclecticism, when Revival ambles onto a stage, "the goal is to have a collective, unifying musical experience, for both us and for the audience," says Law from Nederland, Colorado, her hometown and the group's home base (although the rest of the band members come from other parts of the country).
Those other band members, by the way, are: Bonnie Paine (lead vocals, washboard, djembe, musical saw), Sage Cook (electric banjo/guitar, acoustic guitar, mandolin, viola, vocals), Dango Rose (double-bass, mandolin, banjo, vocals), and Daniel Rodriguez (acoustic guitar, electric banjo/guitar vocals).
"What I love about music is that it gives both the musician and the listener a space to go into, within themselves, to reflect and listen, and take it in, and hopefully take something positive away from that experience—I think there's s lot of power in that, and we try to tap into that."
And the vibe of the group's show can change from night to night. "We don't write up our set list until after we go out and look at the room and the crowd," says Law. "We want to feel the vibe in the room, and try to get a sense of what type of experience we, and the audience, are ready to have.
"We can rock the house and just play upbeat stuff all evening, or go out and integrate some of our quieter, more sensitive ballads, and play them a delicacy and a sense of the space between the notes."
The range of the group's influences is not the result of each player bringing one particular musical expertise to the whole, and then synergizing that. That is, it's not like one member is "the Celtic-music gal," and one is the "psychedelic rocker," and one is the "vintage jazz head."
"No, each of us are just all really open to a lot of different kinds of music, so each of us appreciate all of those styles, although some of us are more experienced in some styles than the others," explains Law. "Like, my playing the fiddle, and having been to Scotland, has exposed me to more Celtic fiddle tunes than the others, so I guess that is something that I would bring to the table more than the others."
Of course, taking so many different styles, then combining and re-combining them, doesn't make it easy for the record company to market them to a specific audience.
"Yeah, that's a challenge, but if we really had to choose, we wouldn't choose to just play folk, or just indie rock, or just Celtic—although, we could make a record that's just a folk album, or just a rock album, or just a Celtic album. We've sort of gone through different phases in terms of what we call the music we make, and right now, we're just calling it 'folk music that rocks.'
"That seems right to us now, because it's folk music in that the songs are lyric-driven, with powerful intention and meaningful lyrics, and we use elements of traditional music. So, we are playing folk music, but we definitely rock it—we play very percussively."
The group's last album, "Break In the Clouds," was released in 2010, and the band recently spent a few days in the studio, laying down nine tracks for its next release—or releases.
"We're not sure yet how we want to release these. We might release it as two separate EPs, with the first out this summer, so that our fans can have new music sooner. But we're not sure yet how much the record company is going to be involved yet, so it may turn out that it's a single album, in which case it probably won't be out until the fall."
As for the new music itself, "we still have one group of folk songs, and then a second group of darker folk songs with a rock edge," she says -- which was also the case on "Break in the Clouds."
"But it's very acoustic-sounding, and we recorded it mostly live, wheras 'Clouds' was more layered—we used overdubs when we recorded that one."
Law doesn't anticipate that the group will go back in and add more layers to the new tracks, via overdubs. "No, we wanted to lay them down quick, and in a really organic fashion, to capture the immediacy of the music we were creating. What we hear now on those tracks is pretty much how they're going to sound when the record comes out. We think it's all there."
Kevin Ransom is a free-lance writer who covers music for AnnArbor.com. He can be reached at KevinRansom10@aol.com.