Posted on
Thu, Nov 11, 2010 : 11:57 p.m.
University Opera Theatre presents a refreshing 'Elixir of Love'
By Laurel Firant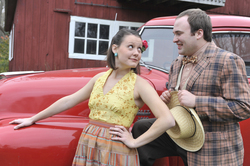 photo by Peter Smith Photography
Set in an Italian vineyard during the 1950s, the University Opera Theatre's production of Gaetano Donizetti's "The Elixir of Love" was a well-balanced blend of artistry and light-hearted comedy Thursday night at Power Center.
Sung in Italian with projected translations, the comic opera in two acts was written in 1832, with a libretto by Felice Romani. The plot revolves around a young peasant named Nemorino, who, on the advice of a con man named Dr. Dulcamara, drinks a purportedly magical elixir to try to win Adina, the girl of his dreams. Adina, meanwhile, has eyes only for Belcore, the head of the local garrison, and the elixir is only wine. But plot twists and turns eventually lead to a happy ending.
Director Joshua Major's production has a light touch well suited to the opera and its young cast, including sets by Jeff Bauer that prominently feature a 1950s red pickup truck.
Tenor Kyle Matthew Knapp sensitively mixed wit with musical talent in the role of Nemorino, once again showing the excellent comic timing he displayed last year as Basilio in U-M's production of Mozart's "Marriage of Figaro." He delivered the famous aria "Una Furtiva Lagrima" with tender elegance, and anchored the production with lovely singing that often was quite poignant.
Lighting up the stage with her bright presence, Amy Petrongelli brought her pure, refined soprano voice to the role of Adina. She showed a wide range in her acting and, at times, exuded a remarkable sense of joy when she sang.
Steven Eddy burst into the opera with a comic punch he sustained in the role of Belcore. The strong baritone gave a solid performance and broadly acted the part, drawing appreciative chuckles from the audience for his humorous touch. Rolling onto stage behind the wheel of the vintage red truck, bass Nicholas Ward also made a spectacular entry in the role of Dr. Dulcamara. Resplendent in his purple-plaid suit, he sang with an engaging, commanding ease throughout the production. And, the fact that she was on crutches didn't diminish soprano Ariel Halt's presence and fine, brilliant soprano voice in the role of Gianetta (Adina's friend). At times, and to the delight of the audience, she deftly turned the crutches into comic props.
Conductor Martin Katz led the University Symphony Orchestra in a spirited performance overall that was only slightly marred by a few intonation problems in the strings and a little stumbling by a trumpet. And, the chorus infused their scenes with lively energy and sang well throughout.
Christianne Myers combined subtle colors with great attention to detail in her costume designs reminiscent of the Italian countryside. The sets were evocative, especially when a beautiful projection of the moon was added during the aria "Una Furtiva Lagrima." Unfortunately, the first act opened with a set malfunction as a large canopy in center stage became unhooked, but it didn't disrupt the scene.
As the cast took their bows, the audience gave them a standing ovation, cheering enthusiastically.
The U-M's University Opera Theatre's production of Donizetti's "Elixir of Love" is sung with two alternating casts and continues Friday and Saturday at 8 p.m. and Sunday at 2 p.m. at U-M's Power Center (121 Fletcher Street). Post-performance discussions will be held Friday and Saturday. Tickets are $18 and $24, $10 for students with ID, at the Michigan League Ticket Office, 734-764-2538 and online at http://www.music.umich.edu.