Posted on
Thu, Dec 8, 2011 : 2:19 p.m.
Ellen DeGeneres asking followers to go to Walgreens in Ann Arbor - but she won't be there in person
By Bob Needham
Since last night, Ellen DeGeneres has been teasing followers of her talk show's Twitter account about a "big day" today in Ann Arbor.
Around noon today she asked followers to get a toy and "get ready." And now she's tweeted more details, writing: "Ann Arbor! You can be on my show, help a kid in need, & win big. @Walgreens. 7:30pm. It's a win win win. Wear your favorite holiday outfit."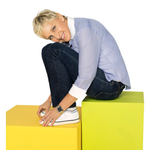 A manager at Walgreens said that DeGeneres won't be there in person, but will appear via a live video feed for the event, whatever it turns out to be. The Ann Arbor crowd is expected to be filmed for the show.
An earlier tweet today, addressed to a follower who lives in Ann Abor, specified, "Then I better see you at @Walgreens at 2355 Jackson Ave in your favorite holiday outfit." The store is just east of the Maple Road intersection.
At 3:30 p.m. today, she added: "Amazing things are gonna happen at @Walgreens at 2355 Jackson Ave in Ann Arbor, MI today! See you there at 7:30pm. Remember to bring a toy!"
The first tweet, last night, read, "If you live in Ann Arbor, Michigan and you aren't following me, I would start now, and get a good night's sleep. Tomorrow's a big day."
The show, which airs at 10 a.m. weekdays on WDIV (channel 4 in Detroit), did not mention the Ann Arbor event on today's episode.
Staff reporter Danielle Arndt contributed to this report.