Posted on
Tue, Apr 23, 2013 : 1:01 p.m.
Elmore Leonard to kick off Midwest Literary Walk in downtown Chelsea
By Ann Dwyer
He's given us Raylan Givens in "Justified," "3:10 to Yuma," "Get Shorty," and other great novels, short stories and screenplays. Now Detroit-based writer Elmore Leonard will be headlining the Midwest Literary Walk in downtown Chelsea with his son, Peter, an acclaimed writer of suspense thrillers.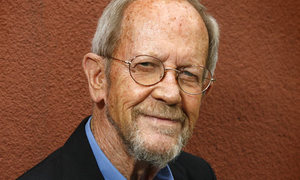 Also reading at the event will be Michael Brian Ogden, resident artist at the Purple Rose Theatre Co.; local poet Lonnie Hull DuPont, accompanied by singer, songwriter, and composer Doug Howell; poet and novelist Jack Driscoll; poet and nature writer Michael Delp, and Ojibwe poet and Native American linguistics expert Margaret Noori.
11 a.m. Purple Rose Theatre (137 Park St.) - Elmore Leonard and Peter Leonard
Noon Chelsea Alehouse (420 N Main St #100) - Michael Brian Ogden and Lonnie Hull DuPont
2 p.m. Back to the Roots (115 S. Main Chelsea) - Jack Driscoll and Michael Delp
3 p.m. Back to the Roots - Open Mic. Local poets and writers are invited to read their work. Please limit your reading to three minutes.
4 p.m. The River Gallery (120 S Main St.) - Margaret Noori and M.L. Liebler & Coyote Monk
Saturday, April 27, 2013. 11 a.m.-5 p.m. Free. The featured authors' books will be available for purchase at the River Gallery throughout the day.