Posted on
Sat, Oct 29, 2011 : 5:22 a.m.
EMU Convocation Center ready to host Bob Seger, continuing its development as vital concert venue
By Bob Needham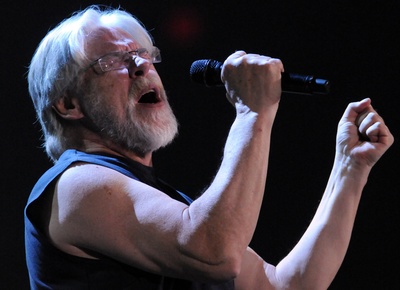 Cory Olsen | The Grand Rapids Press
NOTE: Come back to AnnArbor.com tomorrow for an interview with Bob Seger, covering his time growing up in Ann Arbor; plans for the EMU concert; his catalog coming to iTunes; and more.
The Eastern Michigan University Convocation Center hosts an especially noteworthy event on Wednesday: The long-awaited concert return of Bob Seger to Washtenaw County.
Seger, who grew up and started his career in Ann Arbor, hasn't performed in this immediate area in many years, heightening the anticipation for the EMU show.
But the Seger concert is just the latest in a substantial string of high-profile entertainment happenings at the Convocation Center, which also serves as the home of EMU basketball and hosts a wide range of other events. A combination of factors—including a fairly new, regularly updated facility; a dedicated staff; and aggressive pursuit of big names has turned the Convocation Center into one of the county's top concert venues.
Always intended as a multipurpose facility, the Convocation Center—which opened in 1998—hosts things like high school graduations (17-18 a year) and job fairs as well as sporting events and concerts. It's the latter, though, that have really drawn some attention: Names like Jay-Z, Bob Dylan and Dave Chappelle have played the Convocation Center in recent years.
Deadmau5, Wiz Khalifa and Kathy Griffin are among other big names at the Convocation Center; shortly after the Seger concert, rapper Lupe Fiasco and comedian Russell Brand are on the schedule.

Marcy Szabo has worked as assistant director of the Convocation Center and EMU's Pease Auditorium since November 2004. As the person who oversees scheduling for both facilities, she's in charge of booking their outside events.
Eight years working for the former concert giant Clear Channel gave Szabo both an understand of the business and valuable contacts that have helped at the Convocation Center. It also doesn't hurt to have a longstanding relationship with the Prime Social Group, an up-and-coming promotion company with roots in this area (now based in Columbus).
PREVIEW
Bob Seger & the Silver Bullet Band
Who: Heartland rocker from Ann Arbor. Frankie Ballard opens.
What: Homecoming show in what could be his final tour.
Where: EMU Convocation Center, 799 N. Hewitt Road, Ypsilanti.
When: Wednesday, 7:30 p.m.
How much: $73. Tickets are available online or by phone at 734-487-2282. Information: 734-487-5386.
Szabo and the rest of the staff make a conscious effort to attract events that will interest the broader community as well as those that will appeal to students. Asked about particular highlights, she says, ""The legends are the legends. To me, having Bob Dylan here was amazing. Jay-Z was a big deal for me; that was a hard one to get."
Szabo is aggressive in pursuing touring acts. But ultimately, the facility has to measure up. She said the appeal of the Convocation Center includes "a great building at an affordable price," a friendly and helpful staff, and a good ticketing system. With a concert capacity of about 9,500, it's also a good in-between size for larger acts.
Outside events at the Convocation Center are designed to make money, of course; the proceeds get funneled back in to keep the venue up to date with technology and other needs, Szabo explained. New bleachers were installed this year.
Seger comes home
The Bob Seger concert is a particularly exciting event for the Convocation Center, given the singer's local ties. Despite the familiarity of online ticket buying these days, Szabo said there were still about 50 people lined up in person at the Convocation Center box office the morning tickets went on sale.
She said when Seger's management toured the Convocation Center, the fact that the facility sits in Washtenaw County was a definite plus. "They really wanted to make this a homecoming show," Szabo said.
Seger has a history at EMU, having played its old Bowen Fieldhouse in the 1970s. "It's really exciting for us here on campus" to have him return, Szabo said.
Bob Needham is director of entertainment content for AnnArbor.com. Reach him at bobneedham@annarbor.com or 734-623-2541, and follow him on Twitter @bobneedham.