Posted on
Tue, Apr 2, 2013 : 5:56 a.m.
EMU grad Jawan Jackson in 'Motown: the Musical' on Broadway
By Jenn McKee
Photo provided by "Motown: The Musical"
Eastern Michigan University
grad (2011)
Jawan Jackson
was living in Ann Arbor, and teaching acting to high school students in Ypsilanti, when he learned he'd been cast as Temptations bass singer
Melvin Franklin
in
"Motown: The Musical"
on Broadway.
"I got the call December 14, and on December 15, I was looking online for a place to live (in New York)," said Jackson, who moved to Harlem in early January. " … I still had the lease on the Ann Arbor apartment, but my family came together and paid for it."
Jackson's fairy-tale adventure began when he saw an audition call for the show on a casting website. Three (Detroit-based) auditions later, he got the part.
"I didn't find out really, until the end, what role I'd got," said Jackson. " … I just auditioned blindly and hoped to be part of the ensemble."
A native Detroiter, Jackson grew up listening to Motown music.
"My first introduction to it was Marvin Gaye, through my grandmother, who wanted me to sing like Marvin Gaye," said Jackson. "The first time I heard him, he was singing the National Anthem, and my grandmother said, 'If you sing like him, baby, you'll be able to do anything.' But then my voice changed and I thought, 'Let's try something different.'"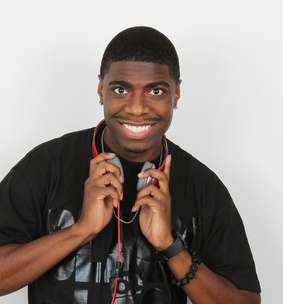 Jackson sang in church as a child, and later pursued vocal lessons privately. Dancing, meanwhile, was never part of the picture, so Jackson found himself playing catch-up, in order to master the Temptations' crisp, precise choreography for "Motown."
"All my dance training has come through this experience," said Jackson. "When I auditioned, they said, 'Do you know how to dance?' And I said, 'I can club dance. I can keep a rhythm.' But in terms of choreography, I'd never done that before. So I kind of had a boot camp experience once I got here. But I think I've got it together now."
Was he nervous about starting from scratch, in terms of dancing? "I was, and that's why, during the rehearsal process, when we had break time, whether it was a lunch break or a 10-minute break, I'd jump in front of the mirror and practice, … or I'd be dancing in the bathroom, to make sure I stayed caught up with the steps," said Jackson. "I didn't want to be the only one not getting it."
Though Jackson always liked performing, he'd also dreamed of becoming an animal trainer, and consequently majored in biology at EMU. During a yearlong Disney internship, Jackson volunteered his free time to work with animals, and the experience pointed him in a whole new professional direction.
"Working at Disney inspired that transitional period for me to acting, because I got to do what thought I wanted to do, which was work with animals like sharks, and I found out it's not for me," said Jackson. "I wanted something safer, so I pursued acting when I went back to school, and took an improv class with someone who became my mentor (Jessica 'Decky' Alexander) and really hit the ground running."
While rehearsing for "Motown," Jackson's first time in full costume, with hair and makeup, was special.
"It just made everything real," he said. "It was like, this is it. Like confirmation that I'm really here, I'm really doing it. It was definitely one of the most memorable experiences for me."
"Motown: The Musical" opened in previews on March 11 (the show officially opens April 14), and Dr. Dre was in the crowd. But Jackson didn't learn about Dre's presence until after the performance.
"I was running on pure adrenaline," he said. "So I wasn't nervous. More excited that I'm here, having my Broadway debut." (Two of Jackson's co-stars, Sydney Morton and Jesse Nager, are U-M graduates with Broadway credits already on their resumes.)
The show's been sold out each night, according to Jackson, and the audience response has been "incredible." The show—with a book by Berry Gordy, Jr.—tells the story of Detroiter Gordy's journey from featherweight boxer to big-time music mogul, launching the careers of Diana Ross, Michael Jackson, Stevie Wonder, Smokey Robinson, Marvin Gaye and more.
Jackson explained that the show uses Motown classics to tell the story of Gordy and the founding, and evolution, of his iconic music label.
"Berry Gordy is at every show," said Jackson. "He's a big part of this process, answering questions any of us have. … He's been very helpful, playing a key role to make sure the story is told right, and that it's done right. He's been very hands-on."
An upcoming "Motown family night" performance will gather several surviving Motown performers and their families, and Jackson looks forward to meeting the artists in person. But beyond "Motown," Jackson aims to stay in New York to further develop his career as a performer.
"Definitely," said Jackson. "This is what I've wanted to do all my life, since I was 11 years old, and now I'm here, I want to optimize the opportunity and use it to my advantage. … I'm crossing my fingers that I'll get some more acting gigs from this experience."
Jenn McKee is the entertainment digital journalist for AnnArbor.com. Reach her at jennmckee@annarbor.com or 734-623-2546, and follow her on Twitter @jennmckee.