Posted on
Thu, Apr 12, 2012 : 9:47 a.m.
EMU theater department presents Frank Loesser's classic, 'Guys and Dolls'
By Jenn McKee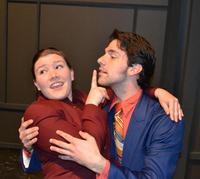 Photo courtesy of EMU Theatre
In recent years, EMU musical theater professor
Phil Simmons
has been pushing the envelope with student productions ("The Rocky Horror Show" and "Reefer Madness"), but he's now directing
Frank Loesser
's beloved, Tony Award-winning classic, "Guys and Dolls."
"In light of having my last 2 shows being what they were, I thought maybe it was time for a family-friendly, rated-G production," said Simmons.
Loesser's irresistible score, paired with Abe Burrows and Jo Swerling's book, work in tandem to tell the story of Nathan Detroit, who runs a floating craps game in New York City in the 1940s; Adelaide, Detroit's long-suffering, nightclub performer fiancée of 14 years; Skye Masterson, a high-rolling gambler who can't resist a bet; and Sarah Bown, a teetotalling leader of the Save A Soul mission, who takes a trip with Skye and falls in love.
PREVIEW
"Guys and Dolls"
Who: Eastern Michigan University theatre department.
What: Frank Loesser's classic 1950 musical about gamblers in New York and the women (or "dolls") who love them.
Where: Quirk Theatre, at Best Hall and East Circle Dr. in Ypsilanti.
When: Friday-Saturday, April 13-14, and Thursday-Saturday, April 19-21 at 7 p.m.; and Sunday, April 15 at 2 p.m.
How much: $15 ($12 for students, $7 for kids 12 and under). 734-487-2282 or www.emutix.com.
"This is a show where, you know it's a classic, but sometimes you forget what great pieces of music are in it," said Simmons. "From the moment the overture the starts, you hear 'I've Never Been in Love Before,' 'I'll Know,' 'If I Were a Bell,' 'Sit Down You're Rocking the Boat,' and 'More I Cannot Wish You,' and you just go, 'Oh, yeah. These are amazing songs.' As director, even when I'm otherwise having kind of a crappy day, I'll come in and hear them again, and you just can't help but grin from ear to ear."
Using the 1992 Broadway revival of "Guys and Dolls" (which starred Nathan Lane, Faith Prince, and Peter Gallagher) as inspiration, Walker set out to make the show's characters, which can sometimes come across as cartoon-y, more real.
"I sat down with the actors three or four times to say, 'Stop looking at this as a song we all know, and instead think of it as a conversation,'" said Simmons. "With the dialogue, I had them take it out of context and do it as a scene. I told them to make it real, no matter how cheesy it might seem."
Not a huge gamble perhaps - but we can leave those to the Skye Mastersons of the world.
Jenn McKee is the entertainment digital journalist for AnnArbor.com. Reach her at jennmckee@annarbor.com or 734-623-2546, and follow her on Twitter @jennmckee.