Posted on
Sat, Jul 13, 2013 : 3:23 a.m.
Encore scores big with scaled-down version of 'Les Miserables'
By Jenn McKee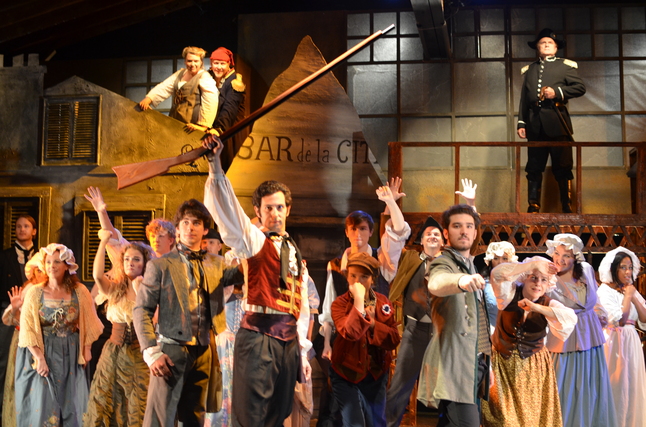 I'll start with a confession: because I'd only previously seen "Les Miserables" in a Broadway theater, or in Broadway-like venues that host touring companies, I had a pretty hard time imagining this epic musical in a small blackbox space like Dexter's
Encore Theatre
.
But leave it to Encore co-founder (and Broadway performer, currently cast in "Mamma Mia") Dan Cooney to find a way to make it all work.
Based on Victor Hugo's novel, the three hour show spans several years, telling the story of Jean Valjean (J. Michael Bailey), a man who served 19 years in prison for stealing bread for his sister and starving nephew. Yearning for a fresh start, he breaks parole, inspiring lawman Javert (Stephen West) to tirelessly hunt him down.
Valjean eludes him for years, however, becoming a business owner and mayor who comes to raise an orphaned young girl, Cosette (Erika Henningsen), as his own daughter. When she grows up and falls for a young revolutionary, Marius (Elias Wygodny), Valjean puts himself in harm's way - and back in Javert's sights - to ensure the couple has at least a chance at happiness.
One inevitable problem with a big show in an intimate space is that the double and triple casting feels more in-your-face, and this can be distracting. ("All those women who work in the factory are prostitutes, too!" "Hey, those guys who just died at the barricade are dancing at Marius' wedding!")
But such things are easy to forgive when the director (Cooney) and the music director (Tyler Driskill) have done their jobs so well, and when there's a truckload of high caliber vocal talent on the stage.
Bailey, upon singing his first lines, makes you sit up and take notice. With a rich, clear, gorgeous voice, Bailey anchors the production with raw emotional power, making Valjean a gentle bear of a man. (His achingly beautiful rendition of "Bring Him Home" on opening night just might have made me misty-eyed. Maybe.)
The young actors playing the love triangle roles were uniformly terrific, too. Wygodny and Henningsen - musical theater students at U-M - convey sweetness and warmth, together and individually, while knocking their songs out of the park; and as the overlooked Eponine, Madison Deadman gives her best, most affecting performance yet.
Zach Barnes (Enjolras), meanwhile, is a charismatic, featured standout as revolutionary leader Enjolras, and Jeff Steinhauer and Marlene Inman-Reilly have a raucously good time playing a married pair of sleazy innkeepers.
The production - with just one intermission - uses recorded music instead of an orchestra, which mostly works out fine. However, sometimes, when a number went slightly off-kilter, you could sense the actor(s) rushing to get back in the pocket; and when the ensemble arrived from different areas of the theater for the final number, actors struggled to hear each other across the expanse and stay together.
Minor qualms aside, though, Driskill has generally done phenomenal work as music director, with attention to detail (like dynamics), clarity, and balance (the men's chorus on "Drink With Me," to name just one lovely example).
Cooney, with stager/choregrapher Barbara Cullen, works some nifty visual and logistic magic, keeping things spare, and keeping things moving, while never losing sight of the story. Set designer Toni Auletti provides a two-level set, complete with an oft-climbed bridge at the center, that suggests a number of buildings without making it feel too crowded; Sharon Urick offers appropriate, unfussy costumes; and Daniel C. Walker's lighting design plays no small role in the production's ability to transport you to another time and place.
As I mentioned in my preview of Encore's production of "Les Mis," this is one of at least three chances locals will have to see the beloved musical performed live in the coming year. (Ann Arbor Civic Theatre and U-M both have it on their 2013-14 schedules.) But Encore, with the first production out, has already set the bar pretty high.
Jenn McKee is an entertainment reporter for AnnArbor.com. Reach her at jennmckee@annarbor.com or 734-623-2546, and follow her on Twitter @jennmckee.