play preview
Encore Theatre presenting 'Nunsense'
Posted on Sat, May 12, 2012 : 5:54 a.m.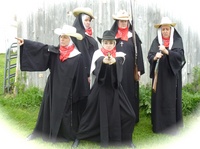 Photo courtesy of Encore Theatre

A line of greeting cards isn't usually the launching pad for an award-winning, off-Broadway smash hit musical comedy; but then "Nunsense," now being staged by Dexter's Encore Musical Theatre Company, isn't your typical show.

With a book, music and lyrics by Dan Goggin (who created the satirical greeting card line), "Nunsense" first hit the stage in the form of a Manhattan cabaret (called "The Nunsense Story") that packed in crowds for 38 weeks before being translated into a fully-realized musical.

That off-Broadway production premiered near the end of 1985 and ran for 10 years, making it the second longest running off-Broadway show in history.

"Dan Goggin … based it on real nuns he knew when he was growing up," said Encore director Barb Cullen. "So I'm sure the cards were fun and like the characters themselves."

The show focuses on a handful of Little Sisters of Hoboken nuns who are among the survivors of Sister Julia, Child of God's cooking snafu, which has killed most of the sisters in the convent. Though the survivors have since flourished with a greeting card company, they've spent enough money to come up short for the last four burials, leading them to stage a fundraising variety show.

Cullen has been involved in several productions of "Nunsense" during her career, but her first brush with the show had her playing Brooklyn-tough Sister Robert Anne.
PREVIEW
"Nunsense"
Who: Encore Musical Theatre Company.
What: Award-winning off-Broadway musical smash - spawned from a series of greeting cards - which focuses on a handful of surviving nuns from a Hoboken-based missionary, who stage a variety show after a batch of tainted vichyssoise poisons the rest of the order.
Where: Encore Theatre, 3126 Broad St., Suite A in Dexter.
When: Thursday at 7 p.m., Friday at 8 p.m., Saturday at 3 and 8 p.m., and Sunday at 3 p.m., May 17-June 10.
How much: $28 ($25 for seniors and youth). All tickets for the Thursday, May 17 preview performance cost $18. 734-268-6200 or http://theencoretheatre.org/Encore/Tickets.html.
"I didn't grow up Catholic, and the first time I did the show, the only person involved who was Catholic was the director," said Cullen. " … So she decided to take us to her church to talk to the nuns one on one, and experience a little of their everyday lives, and where they lived."
Cullen considered this a crucial, eye-opening experience in terms of how she viewed "Nunsense."
"Of course (nuns) do most of the things we do, but we don't think about them doing things like playing basketball or roller-skating," said Cullen. "We think they spend all their time doing church work, and they do that a lot, but the rest of the time, they spend their time like everyone else does. When you grow up in a religion like (Catholicism), you eventually come to realize that (nuns) are just like us. And that really brings out the comedy, when you see them in that different light."
"Nunsense"'s enduring worldwide success, in the decades following its premiere, seems to indicate that the show is here to stay, thanks to those most familiar with nuns.
"A lot of my friends who are Catholic talk about it and say, 'Oh, my gosh, that is the funniest show, and it brings back so many memories,'" said Cullen. " … Actually, when I did the show before, the nuns came, and they enjoyed it more than anyone. They see themselves. And instead of being appalled, they really embrace it."