Posted on
Sun, Nov 18, 2012 : 5:03 a.m.
Encore Theatre wishing you 'Plaid Tidings'
By Jenn McKee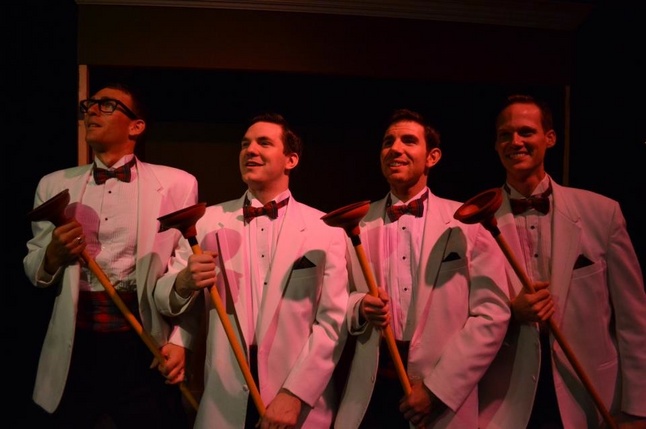 Photo by Diana Obradovich
Though the holidays are often a stressful time, you can temporarily inject some harmony into your life by way of "Plaid Tidings," now opening this week at Dexter's
Encore Theatre
.
The show features the same, deceased,1960s doo-wop group that was introduced to audiences in the popular show, "Forever Plaid." In that show, four young men—Jinx, Sparky, Smudge and Frankie—were on their way to what was to be their breakout first performance when a bus full of Catholic school girls crashed into their vehicle, killing the Plaids. And while "Forever Plaid" offered the squeaky clean Plaids the chance to perform the concert they never got to stage in life, "Tidings" brings the singing group to earth one more time—but the Plaids have to figure out why.
"They see the stage, and see the mics, so they decide they're supposed to do another show," said director/choreographer Barb Cullen. "But they did their one perfect show. How do you top that? Well, as they're going through numbers and starting their show, suddenly all this Christmas stuff comes out of their mouths, and they're not sure why."
PREVIEW
"Plaid Tidings"
Who: Encore Musical Theatre Company.
What: Members of the deceased 1960s doo wop group the Plaids aren't sure why they've returned to Earth for another posthumous performance, but a phone call from the heavenly Rosemary Clooney lets them know that they're needed to put a little harmony into a discordant world.
Where: Encore Theatre, at 3126 Broad St. in Dexter.
When: Thursday at 7 p.m., Friday at 8 p.m., Saturday at 3 and 8 p.m., and Sunday at 3 p.m., November 23-December 23. (Preview performances November 23 and 24.)
How much: $18 for the first two preview performances, on November 23-24; $26-$32 ($24-$29 for youth and seniors) for regular run performances. 734-268-6200 or www.theencoretheatre.org.
This happens during songs like "Mambo Italiano" and "Day-O," among others. And while you might be skeptical of theatrical sequels, "Tidings" has been widely embraced as a worthy addition.
"It definitely has a lot of similar things in it that people loved from the first one, which is really fun, but it all revolves around Christmas," said Cullen. "And musically, it does some things that are really clever. I think a lot of times, with sequels, you feel like maybe the writers didn't spend enough time with it. But with this one, it's really fun. There are great little arrangements and funny things that happen."
Show creator Stuart Ross premiered "Forever Plaid" Off-Broadway in 1990; and while that original production did well, and launched productions all over the world, Ross resisted calls to write another Plaids play for more than a decade. (He thought sequels were for movies.)
Then, after 9/11, the Pasadena Playhouse approached Ross about the possibility of creating a holiday edition of the show, and Ross decided the country could use some joy and cheer. So the first version of "Plaid Tidings" appeared on stage near the end of 2002.
Those who saw Encore's previous production of "Forever Plaid" will recognize Sebastian Gerstner as Sparky, but the other Plaids (Brian Thibault, Rusty Mewha, Kevin Rose) are new.
"These guys are all great," said Cullen. "We knew we definitely wanted Sebastian, if he was available, and the other 3 guys are great, too. Rehearsals have been really fun. … The second act is really different from the first act. The first act has the same structure as 'Forever Plaid,' but the second has some very different things—there's a tap and a rap number—so these guys face quite a challenge in terms of movement and dancing."
The second act's treats also include a three minute version of "The Ed Sullivan Show"—with the Rockettes, the Chipmunks, and the Vienna Boys Choir—and the Plaids accompanying Perry Como in song.
"When you purchase the ('Plaid Tidings') script, you also purchase a DVD that is a video of Perry Como singing," Cullen said. "These characters have watched 'Perry Como's Christmas Special' every year, their whole life, so they just know the choreography of the background singers on the tape. It's really cute."
Jenn McKee is the entertainment digital journalist for AnnArbor.com. Reach her at jennmckee@annarbor.com or 734-623-2546, and follow her on Twitter @jennmckee.