theater preview
with video:

Encore Theatre adapts 'It's a Wonderful Life' into a musical, with help from Kathie Lee Gifford

Posted on Thu, Nov 18, 2010 : 11:05 a.m.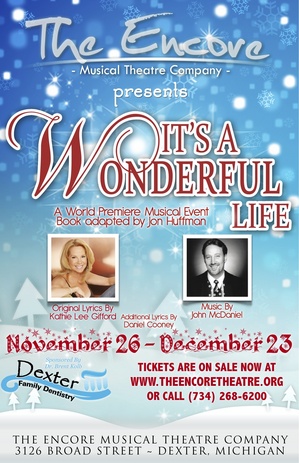 How do you stay faithful to an iconic, beloved movie like "It's a Wonderful Life" while putting your own stamp on it? The creators of a new stage musical adaptation — now getting a workshop production at Dexter's Encore Theatre — think they've found the answer.
"You can't reinvent the wheel," said Jon Huffman, who adapted the book for the musical. "You have to give audiences — they're coming to see (the movie) they watch every year, but to see the live version of it. So you've got to give them the moments we all remember. … I think I have the easiest part in all this."
The hard part, in Huffman's estimation, concerns the show's music, created by composer John McDaniel and lyricist Kathie Lee Gifford (yes, that one), with additional lyrics by Encore co-founder Dan Cooney. (Broadway veteran performer Cooney had worked on other projects with Gifford and approached her with the idea of working on the show.)
There have certainly been lots of previous attempts to translate "Wonderful Life" into a stage musical. But in Huffman's estimation, the overriding problem with most of them is that they're rendered boring by virtue of grand, operatic aspirations.
"It's a simple story about a man living in a small town," said Huffman. "We didn't want to do what everyone else had done, obviously, and we wanted the music to be organic and integral to what's going on. We didn't want to force the music anywhere where it didn't belong, and I think that's what we've done."
So which scenes in the film did seem to cry out for a song?
"There are moments in the story that are almost inherently musical," said Huffman. "When you think about some of the moments in the movie, like George standing on the bridge, trying to decide what to do, and George in the bar, asking God for guidance while people around him are celebrating Christmas — these moments just lend themselves to music. And that's what we've tried to do. To take moments that are naturally musical rather than forcing a more operatic theme upon the piece."
PREVIEW
What: World premiere musical production, based on Frank Capra's classic 1946 film, that was created specifically for The Encore Musical Theatre. With lyrics by TV star Kathie Lee Gifford, music by Grammy and Emmy Award winner John McDaniel, and a book by Jon Huffman, with additional lyrics provided by Dan Cooney, "Wonderful" tells the story of George Bailey, who's visited by a guardian angel that shows him what the world would be like if George had never existed.
Where: Encore Theatre, 3126 Broad Street in Dexter.
When: November 26-December 23: Thursdays at 7 p.m., Fridays at 8 p.m., Saturdays at 3 and 8 p.m., and Sundays at 3 p.m., with some additional performances.
How much: $28 (seniors and young people 17 and under, $25).
Info: 734-268-6200 or Encore Theatre website.
Of course, Frank Capra's 1946 classic film, starring Jimmie Stewart and Donna Reed, tells the story of George Bailey, whose lifelong goals are thwarted by the fortunes of his family's business. When that business is jeopardized, George begins to wonder if the world would be a better place if he'd never been born " and soon, his guardian angel-in-training, Clarence, arrives to show George whether or not that's true.
"It' works in any time period you watch it in," said Huffman. "It's a story about a guy who has big dreams, but lives a pretty ordinary life. And while he never manages to make those gigantic dreams come true, he comes to realize that the life he's leading pretty darn wonderful. That's what makes people respond to it. I don't think anyone watches the movie or the live version without going 'Wow, things aren't too bad. … We may have hardships, but I have people I love, and people who love me, and we're together, and life could be a whole lot worse."
So what might the future hold for this original stage musical adaptation of "Wonderful Life"?
"I think with any new piece, the goal is to let the world see it," said Huffman. "It's why we do what we do. We want to entertain as many people as possible. This year, what we'll do is get the show on its feet, see how audience responds, add here, tweak something there, subtract a few things. And by next year, hopefully we'll have an even better show."
Here's a clip of Gifford talking about "Wonderful Life" on The Today Show.