Posted on
Tue, Dec 18, 2012 : 5:11 a.m.
Pair of Blind Pig shows will celebrate 'End of the World' (or not)
By Kevin Ransom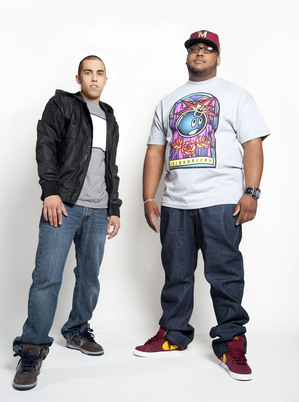 If the world really does end on Dec. 21, a lot of people are going to go out dancing. Or, at least, they'll go out rocking.
For those who've been living under a rock the last few years, some believe that, according to the Mayan calendar, that is the date the world will end. Maya history scholars and other academics scoff at that interpretation, and other Mayan writings contradict the Dec. 21 doomsday scenario.
But that hasn't stopped many clubs and other concert venues from planning various End of the World parties / shows for the 21st—or, just to be safe, the 20th.
One of those is the Blind Pig in Ann Arbor.
The Pig is actually hosting two End of the World parties / concerts—one on the 20th (Thursday) and one on the 21st (Friday). They were organized and booked by two different individuals who are active on the Ann Arbor rock 'n' roll scene.
PREVIEW
"End of the World" Concerts
Who: First night, local bands Absofacto, Celsius Electronics, FLASHCLASH and Wild at Heart; second night, The Nothing, The Pussy Pirates, Paper Mice and Suicide By Cop.
What: Multi-band shows to party as the world ends. Or not. (Both shows ages 18-plus.)
Where: Blind Pig, 208 South First Street, Ann Arbor.
When: Thursday and Friday, Dec. 20 and 21, doors at 9:30 p.m. both nights.
How much: Thursday, $5/$8; Friday, $7/$10. Info: 734-996-8555.
One is Matthew Altruda, who does the logistics for the Sonic Lunch series and hosts a radio show,
"Tree Town Sound,"
on WQKL-FM, 107.1. He's also the event coordinator and multimedia specialist for the Bank of Ann Arbor. Altruda booked the Thursday show.
The Friday show was organized by Jef Porkins, a manager and bartender at the Pig who also books other shows around town—plus, he plays bass in Suicide By Cop, the local punk band that's on the bill for Friday's show.
"I booked this show three years ago," says Altruda of the Dec. 20 party. "My birthday is the 21st, and I thought, 'Oh, I'm an apocalypse baby, so if it really is going to be the end of the world, I want to have a dance party to celebrate it.
Altruda says he doesn't really believe that we'll all have to kiss our butts goodbye on Dec. 21, but "I think it's cool to celebrate things like this from the past, and have fun with them."
The line-up for the Thursday, Dec. 20 show includes local acts Absofacto, Celsius Electronics, FLASHCLASH and Wild at Heart.
The Friday, Dec. 21 show will feature a double reunion. Local bands The Pussy Pirates and The Nothing are both reuniting for this show, after splitting up four and eight years ago, respectively. In addition to Suicide By Cop, the Friday lineup also includes Paper Mice.
On Thursday, "we'll have an end of the world theme, sort of like a New Year's Eve event, with a countdown, and we'll have a lot of video projections and a ton of lights," says Altruda. "Carlos Garcia, of Celsius Electronics, works for the University of Michigan, and he specializes in video projection, so he'll bring in a lot of cool state-of-the-art stuff.
"He'll be projecting images like fire and earthquakes and other apocalyptic images, plus footage of historic events, and the struggles of man, sort of like having history flash before your eyes before the end," says Altruda.
Altruda assesses Absofacto as "sort of like Radiohead meets electronica. I found out about them when Paste magazine did a piece about '10 artists in Michigan you should know,' and I was blown away. Absofacto is the brainchild of singer-songwriter-producer Jonathan Visger, who is accompanied onstage by a guitarist and "a lot of computers and samplers. This will be his first full live set—he's known mostly by the tracks he has put up on his website."
Celsius Electronics, meanwhile, is a "two-piece experimental electronic hip-hop act," describes Altruda. "They don't do many live shows around here, just a few a year, so this is a good chance for Ann Arbor fans to catch their live act."
FLASHCLASH bills itself as a "band from the future," and the members never break character. Their shtick is that they're time travelers, from 1000 years in the future, and they write songs "from the future," and their stage show is "very visual, with a lot of lights, and they like to leave the stage and interact with the crowd," says Altruda. "And the music is very upbeat electro-pop."
And Wild at Heart is "a conglomeration of local musicians who just like to have fun and party, but their music is very dark, psychedelic electronica, so they're perfect for this show."
As for Doomsday itself—the Friday, Dec. 21 show—Porkins got the idea for the reunion theme when he was trying to decide what to do to set the gig apart from the many other End of the World shows and parties that will be going on those two days.
"So, I contacted people from both The Pussy Pirates and The Nothing, hoping one of them would come through, because some of the former band members now live out of state, and I figured they would be coming home to visit family and friends for the holidays," he says. "And to my pleasant surprise, they both said yes."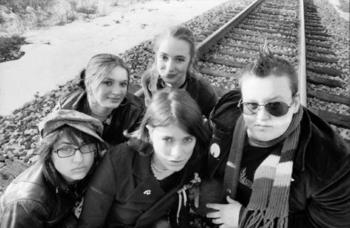 The singer—and one of the two sax players—for The Pussy Pirates is Jessica Bratus, who is now in the local band Scissor Now!, which also includes drummer Kevin Sanchez, formerly of The Nothing.
"The Pussy Pirates were a great jazz-punk band," says Porkins of the all-female ensemble. "The music was very progressive-sounding and dark, and they used unusual time signatures and chord progressions and instrumentation. It really appealed to the punk audience, but it was also high-energy and danceable."
The Nothing created music that is "difficult to describe in a nutshell," says Porkins. "It was also progressive, and complex, and driving, and engaging, and they also used odd time signatures. It's not dance music, but it will compel you to move. Many times, I would be walking through the audience, and I'd see people with their mouths open, who were totally blown away by them."
The booking of The Paper Mice also reveal Porkins' taste for complex music. "The bandleader is a music instructor at Columbia College in Chicago. I'd also use the term 'progressive' to describe their music. A piece will start with a groove on the bass or drums, and then the rest of the band kicks in, and suddenly, they're playing in a completely different time signature—this is the most technical music you can still dance to. They embrace precision and chaos at the same time."
As for Porkins' own band, Suicide By Cop: "We're influenced by the Jesus Lizard, the Ramomes, Motorhead….It's dark, aggressive, technical punk.' Every Halloween, the band dresses up as a famous band and performs a whole set of their music. This year, they were the Sex Pistols, and performed the Pistols' seminal "Never Mind the Bollocks" album. In past years, they've done full sets of songs by Minor Threat, the Ramones and Black Flag, among others.
And the apocalypse theme? "Our lead singer, Chuck Rock, has a big tattoo on his leg that includes the 12-21-12 date, and he really has the gift of gab, so he'll probably expound on that at some length, related to the End of the World theme. And we'll also be performing a medley of cover songs having to do with that theme.
"And the other bands have also been tossing around the idea of playing some clever covers related to the whole notion that it's the End of the World."
Other local End of the World-themed events include a Black Jake & the Carnies concert at The Ark; Robert Spalding Newcomb's Winter Solstice Concert at Kerrytown Concert House; an End of the World Solstice Party and Holiday Hoopla with Kevin & the Glen Levens at Wolverine State Brewing Co.; and three straight End of the World parties (Thursday-Saturday) at Necto.
Kevin Ransom is a free-lance writer who covers music for AnnArbor.com. He can be reached at KevinRansom10@aol.com.