Posted on
Tue, Jul 2, 2013 : 10:51 a.m.
Energetic Dale Jones takes comic aim at many targets, including himself
By Roger LeLievre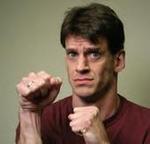 If you catch Dale Jones this weekend at
Ann Arbor Comedy Showcase
, you may leave wondering where he gets all that energy and just how he manages to twist his face into all those funny expressions.
His show touches on many themes and is filled with self-deprecating humor. "I got picked on as a kid, and there was a bit of that sense of if I picked on me, than no one else would," Jones has said.
He has been perfecting his machine-gun-style delivery since 1993 and says Abbott and Costello, Buster Keaton, Jerry Lewis, Tim Conway and Don Knotts were his primarily influences. In addition to his training at Second City, Jones has been all over TV and in the movies (if you don't blink you might see him in "Out Of Time" with Denzel Washington).
This is his first time at the Ann Arbor Comedy Showcase.
Dale Jones performs at Ann Arbor Comedy Showcase, downstairs at 314 E. Liberty St., Friday and Saturday at 8 and 10:30 p.m. Tickets are $12 (advance)-$14 (door). Detatils at www.aacomedy.com or 734-996-9080.