Posted on
Thu, Feb 14, 2013 : 10 a.m.
Energetic Elephant Revival coming back to town for two-night gig at The Ark
By Roger LeLievre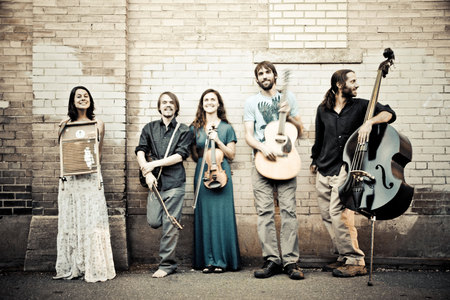 The first time
Elephant Revival
came to town was for the
2012 Ann Arbor Folk Festival
, where their energetic early set really got the crowd going. When the band came to play The Ark last March, the show sold out. So, given the Colorado quintet's apparent popularity here, it's no surprise their next local appearance will be a two-night stand.
The group, which mixes elements of Gypsy, rock, Celtic, alt-country and folk, will perform at The Ark Sunday and Monday nights.
Dango Rose, the group's double-bass, mandolin and banjo player, took a break from a recording studio in Seattle to talk up the upcoming shows, the new CD and to acknowledge a surprise new fan—New York Times columnist Paul Krugman.
Twice now, Krugman has recommended the band to his readers, saying on Jan. 25 in a blog post linking to the band's video for the song "What Is Time," "if this doesn't make you smile, something is wrong with you."
Rose said the welcome publicity has had an interesting side effect.
"It's like the first time in my family—all my relatives—they finally have a respect and appreciation for what I'm doing now that Paul Krugman gave a shout out. I've been validated … It's kind of funny.
PREVIEW
Elephant Revival
Who: Colorado quintet making its third Ann Arbor appearance.
What: An energetic mix of Gypsy, rock, Celtic, alt-country and folk.
Where: The Ark, 316 S. Main St.
When: 7:30 p.m. Sunday, Feb. 17 and 8 p.m. Monday, Feb. 18.
How much: $20. Info: www.theark.org or 734-761-1800.
"He's going to come out to our show in New York City on March 3. I hope to meet him—he seems like an amazing guy," added Rose. "I'm going to send him a little e-mail and thank him."
Friends in the media aside, Rose was anxious to talk about the new album, due this fall and as yet untitled.
"I think there's an evolution—I think we're evolving to the next step," Rose said. "It feels as if we're doing a good job of crafting our songs and creating a very well-crafted album that really shows all the elements of the music we create and what we do. … We're always changing and always growing as individuals and I think that comes across in our creative process and our songwriting and what we create together in our live performances and recordings."
Besides Rose, the other members of Elephant Revival are Sage Cook (banjo, guitar, mandolin, tenor banjo, bass and fiddle); Bridget Law (fiddle, octave fiddle); Bonnie Paine (washboard, djembe, musical saw, stompbox); and Daniel Rodriguez (guitar, banjo, bass). All share vocals and write songs. Paine delivers additional beats via footstomps on plywood, her stockinged feet doing near jigs as her hands, encased in antique leather gloves, rub silver nickel against corrugated metal.
Last November, the group released "It's Alive," a seven-song EP. Rose said fans can expect tunes old and new at the Ark shows.
"We've got the new stuff off 'It's Alive.' Also in our live repertoire we're working in a bunch of the new stuff from the new album, as well as some new stuff that's not on either of them, plus stuff from our first couple albums," he said.