Posted on
Sun, Dec 9, 2012 : 10:22 a.m.
Enjoy oysters at the Roadhouse; and Shawn Colvin returns to The Ark this week
By Ann Dwyer
THEATER
This is your last week to catch the The Purple Rose Theatre Company's presentation of "Superior Donuts." Regular performances for the duration of the run are Wednesdays through Saturdays at 8 p.m. with Wednesday and Saturday matinees at 3 p.m. and Sunday matinees at 2 p.m. This comedy-drama set in one of Chicago's most diverse neighborhoods explores the unlikely friendship between a burned-out donut shop owner and his idealistic new employee. $22-42. Buy tickets by calling 734-433-7673 or online at www.purplerosetheatre.org. 137 Park St., Chelsea.
MUSIC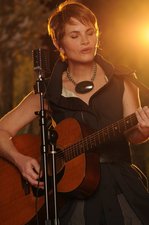 photo by Traci Goudie
Singer-songwriter Shawn Colvin will return to
The Ark
on Wednesday. 8 p.m. This South Dakota-born folk-rocker puts herself under the microscope and then backs off and boils it all down to a set of memorable pop hooks. Her recent "Live" album won a Grammy nomination for Best Contemporary Folk Recording. $42.50. Purchase tickets at
www.theark.org
. 316 S. Main St., Ann Arbor. 734-761-1800.
SOCIAL
Ladies won't be shopping, they'll be "Women Making Connections" at the Girls Night Out Holiday Party at the Wolverine State Brewing Co. 5:30-7:30 p.m. Eat, drink and meet Liz, Paula, Carol, Angil, Peggy and Cindy, all local authors. Receive an autographed book of your choice with registration. Don't be shy, there's beer after all. $25. Register at http://womenmakingconnections.com/register?utm_source=Copy+of+December+invite+2012&utm_campaign=December+invite&utm_medi. 2019 W. Stadium Blvd., Ann Arbor. 734-369-2990.
FOOD
Enjoy fresh seafood at the 13 Mile Apalachicola Oyster Dinner at Zingerman's Roadhouse on Wednesday. Working with the 13 Mile Brand and Buddy Ward and Son's Seafood, the Roadhouse has created a menu featuring the different flavors of the oysters, said to be some of best tasting in the country. 7 p.m. $50/person for food, $25/person for wine. Make a reservation here. 2501 Jackson Ave., Ann Arbor. 734-663-FOOD.
ART
Why would you insist on going to crowded malls—or even worse—making your gift recipient go there to return items when you can get cool stuff from local artists? The Two Twelve Arts Center is holding their "Holiday Sale" this week. Moday-Saturday, 10 a.m.-6 p.m. Affiliated artists will be selling a variety of original work. Find the perfect gifts for everyone on your list. From pottery mugs and bowls, jewelry, painting and fiber art. Prices to match all budgets, so you have no excuse. No admission charge; price of purchases. 216 W. Michigan Ave., Saline. 734-944-ARTS.