calendar of events
best bets:

Storytelling, a fundraising feast, jazz in the courtyard, a carnival and more on tap this week

Posted on Sun, Jun 17, 2012 : 3:03 p.m.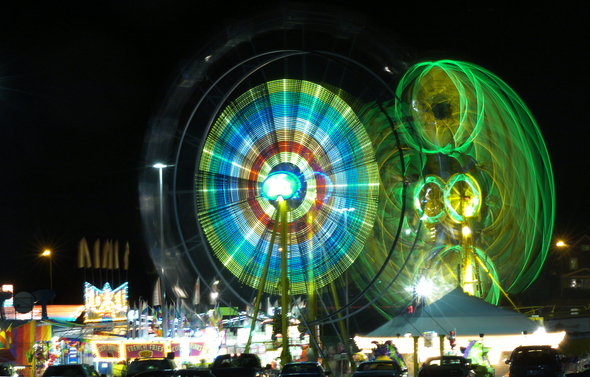 File photo | AnnArbor.com
OUTDOORS
There will be a "Five Mile Well-Being Walk" at the Polo Fields Golf & Country Club on Monday. 8 a.m. to 10:30 a.m. All participants will receive a personal free pedometer. Re-energize at four rest stops with bottled water, Powerade Zero, snacks, and a special prize from Walgreens. Free. Sign up online at www.twallfoundation.org to receive the free pedometer. The Polo Fields are at 5200 Polo Fields Dr., Ann Arbor. 734-998-1555.
FILM
The "EMU Campus Life Summer Film Series" continues at the Student Center Auditorium on the EMU campus on Tuesday. 6 p.m. This week, see "21 Jump Street " (R). Jonah Hill and Channing Tatum star as bicycle cops assigned to an undercover unit to infiltrate a drug ring that is supplying high school students synthetic drugs. Free and open to the public. The SCA is at 900 Oakwood St., Ypsilanti. 734-487-1157.
STORYTELLING
"The Moth: Live Storytelling" returns to Circus Bar & Billiards on Tuesday. Doors open at 6 p.m., stories begin at 7:30 p.m. Circus will be open after the show. Moth shows are renowned for the great range of human experience they showcase. Each show starts with a theme, and the storytellers explore it, often in unexpected ways.This week's theme will be: Education. $5 at the door. Circus is at 210 S. First St., Ann Arbor. 734-332-9900.
FUNDRAISER
The Ann Arbor Meals on Wheels will hold their "Annual Feast" at Metzger's German Restaurant on Wednesday. 11:00 am.-9:30 p.m. Metzger's will donate a portion of the day's profit to Ann Arbor Meals on Wheels. For more information, call Meals on Wheels at (734) 998-6686. Metzger's is at 305 N. Zeeb Road, Ann Arbor. 734-668-8987.
ENTERTAINMENT
The Ann Arbor Jaycees will hold its "61st Annual Summer Carnival" at Pioneer High School starting Wednesday. Wednesday: 6 p.m.-11 p.m. Thursday and Friday: 4 p.m.-11 p.m. Saturday: 1 p.m.-11 p.m. on Sunday: Noon -8 p.m. From the Tilt-a-Whirl to elephant ears, this is a fun-filled family event. Unlimited ride wristbands cost $20. There is a minimum ticket purchase of $5 for admittance after 9 p.m. and no admittance after 10 p.m. Carnival hours and ticket prices are subject to change. PHS is at 601 W. Stadium Blvd., Ann Arbor. 734-994-2120.
MUSIC
The "Gandy Dancer Courtyard Jazz Series" returns on Wednesday. 6-9 p.m. This week see the Ben Jansson Quartet. Along with the regular menu, there will have a Courtyard Menu, which features mid-priced sandwiches and appetizers. No cover. The Gandy Dancer is at 401 Depot St., Ann Arbor. 734-769-0592.
MUSIC
The Ann Arbor Civic Band will start its "Summer Concert Season" at the West Park Band Shell on Wednesday. Enjoy great music in the great outdoors. This week's theme will be "It's Summer Time." William Gourley conducts. Free. West Park is at 215 Chapin St., Ann Arbor. 734-994-2780.