Posted on
Sun, Dec 16, 2012 : 8:13 a.m.
Take in a Christmas Cabaret, and The Moth returns this week
By Ann Dwyer
ENTERTAINMENT
Enjoy top-notch entertainment from people who know what they're doing at "Silver Bells: A Christmas Cabaret" at the Performance Network Theatre on Monday. 7 p.m. This family-friendly event will feature all the standards and new favorites you love from this special season in a lighthearted romp through a winter wonderland a la the holiday specials of yesteryear. $15 for adults, $7 for students, and kids 8 and under get in free. Information and reservations can be found online at www.performancenetwork.org, or by calling 734-663-0681. 120 E. Huron St. Ann Arbor.
MUSIC
It's "A Holiday Concert Tradition" when the Ypsilanti Community Choir and the Washtenaw Community Concert Band join forces at Pease Auditorium on the EMU campus on Tuesday. 7:30 p.m. Doors open at 7 p.m. WEMU's Linda Yohn hosts this 28th annual celebration of the season. The program concludes with the combined band and choir (and audience) singing Handel's Hallelujah Chorus. Get more information by calling 734-481-9285. Admission is free. College Place and West Cross Street, Ypsilanti.
STORYTELLING
"The Moth: Live Storytelling" is back at Circus Bar & Billiards on Tuesday. Doors open at 6 p.m., stories begin at 7:30 p.m. Each show starts with a theme, and the storytellers explore it, often in unexpected ways. Each story is true and every voice is authentic. This week's theme is Aftermath. $5 at the door. 210 S. First St., Ann Arbor. 734-332-9900. Read about it here.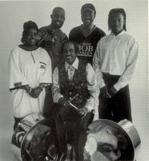 MUSIC
The Trinidad Tripoli Steelband will bring a taste of the tropic to The Ark on Tuesday. 8 p.m. They've opened for Liberace, performed for Queen Elizabeth, received the Golden Medal of Merit from President Ronald Reagan, and won the "bomb" prize at Trinidad's national Panorama steel band competition. $15. 316 S. Main St., Ann Arbor. 734-761-1800.