Posted on
Mon, Apr 1, 2013 : 5:24 a.m.
Acclaimed Esperanza Spalding playing Michigan Theater this weekend
By Kevin Ransom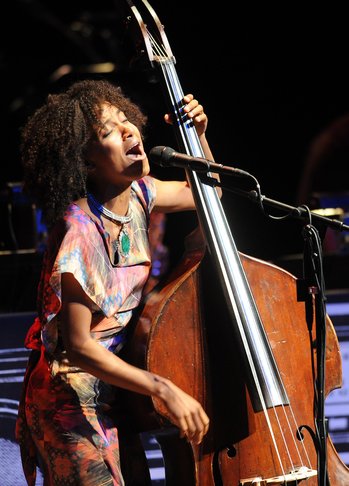 Angela J. Cesere | AnnArbor.com file photo
It's been a very good couple of years for
Esperanza Spalding
. In 2011, Spalding—an extremely talented jazz bassist, composer and singer whose music also draws on rock, soul and other styles—shocked the music biz when she won the Grammy Award for Best New Artist.
That was surprising on two levels: One, Justin Bieber was also nominated in that category, and, as we know, the Grammys often care more about popularity than artistry. And, two, she was the first jazz artist to ever win that award.
Then, in 2012, Spalding's "Radio Music Society"—her most eclectic recording so far—debuted at No. 10 on Billboard's jazz chart and soon leapt to the No. 1 position, and also received critical hosannas.
Fast-forward to this February, and Spalding was again a Grammy winner. She won the Best Jazz Vocal Album award for "Radio Music Society" and—along with her longtime teacher and mentor, trumpeter Thara Memory—also won in the Best Instrumental Arrangement Accompanying Vocalist(s) category for the song "City of Roses."
Spalding comes to the Michigan Theater on Saturday for a show presented by the University Musical Society. On this tour, she's fronting an 11-piece band.
In '11, Spalding's Best New Artist win was on the strength of her 2010 release, "Chamber Music Society," which was a sophisticated integration of jazz and classical music.
But "Radio Music Society" was a more robust, energetic effort that mixed jazz, soul, pop, funk and R&B. Her studio-session band included some very hot players—drummers Jack DeJohnette, Terri Lyne Carrington and Billy Hart, as well as the critically lauded saxman / composer Joe Lovano and guitarists Jef Lee Johnson and Lionel Loueke. And for backing vocals, she tapped into the talents of Leni Stern and Gretchen Parlato.
PREVIEW
Esperanza Spalding
Who: Young bassist, composer, singer and multiple Grammy Award winner.
What: Mix of jazz, R&B, funk, pop, soul and hip-hop.
Where: Michigan Theater, 603 E. Liberty St.
When: Saturday, April 6, 8 p.m.
How much: $40-$60. Tickets can be purchased by calling 734-764-2538, in person at the Michigan League Ticket Office, 911 N. University Ave; or online.
One of her inspirations for fusing jazz with those other genres was to give the masses greater access to jazz. She also likened it to listening to the radio in a car, coming across a song you like, and then changing stations until you find another one, and so on—and, in the process, discovering new music.
On "Radio Music Society," as Spalding and her session band deftly navigated through those different forms, they combined them in new and intriguing ways. The lead-off track, "Radio Song," stirred Latin and pop into the mix, while, on "Crowned and Kissed," the band synergized a buoyant bass line, an easy-swinging rhythm from drummer Carrington and punchy horns to craft a heady brew of jazz, funk and hip-hop.
Besides Spalding's own songs, "Radio Music Society" featured two infectious cover tunes: "I Can't Help It"—written by Stevie Wonder and recorded by Michael Jackson—and Wayne Shorter's 1980s-era instrumental, "Endangered Species," for which Spalding then wrote lyrics.
On "I Can't Help It," Lovano's sax rendered the airy melody in supple fashion, and "Endangered Species" evoked the knotty, intricate jazz-rock fusion that Shorter cooked up with Weather Report in the '70s.
Spalding's fusion of genres conjures the '70s in another way: Back then, radio was not as rigidly formatted as it is today, so listeners could hear an eclectic mix of styles on free-form stations.
Spalding hired a film crew to shoot videos for most of the songs on "Radio Music Society," and made them available as digital downloads for those who buy the album. The videos are also on the DVD that comes with the CD's deluxe edition. The videos were shot in a number of locales, like New York City, Barcelona and Portland, Oregon, where she grew up.
Spalding is not yet sure whether her decision to add rock, soul and and funk elements into her brand of jazz has succeeded in delivering jazz to the mainstream.
"I don't know (if it did)," Spalding told the Los Angeles Times. "That was the quest, but … the main guiding light of any project is to make beautiful music that we're happy with and want to share. Unfortunately, the songs don't really line up with the formatting rules of mainstream media — they're all too long, and they all don't have obvious-enough hooks, and there are too many instrumental sections, etc., etc.
"So again, it's doomed to very few radio stations, actually, not mainstream radio. But I heard from someone who came to a concert that they heard 'Radio Song' in their car and they had the experience that 'Radio Song' was describing (hearing a new song that will 'keep you grooving'), and when I heard that I felt like, OK, mission accomplished."
Spalding likes to use a culinary analogy when discussing her fusioneque instincts.
"The music I'm most aware of comes from jazz, so I've used that, but I've incorporated music and players I think are really enjoyable and fun to share," she told the Austin Chronicle. "That's all mixed up into this cake, but you don't have to know what's in it. You just have to know if you like it. Once you know, we can talk about the flavors. You can say, 'What did you put in this?' And I can say, 'It's this.' Then you can go and use it in your cooking. I want to expose more people to this spice, so I've wrapped it in this great big cake."
Kevin Ransom is a freelance writer who covers music for AnnArbor.com. He can be reached at KevinRansom10@aol.com.