Posted on
Wed, Sep 19, 2012 : 11:09 a.m.
Exotic spices and secret family recipes in authentic Somali food at Samosa House
By Kim Bayer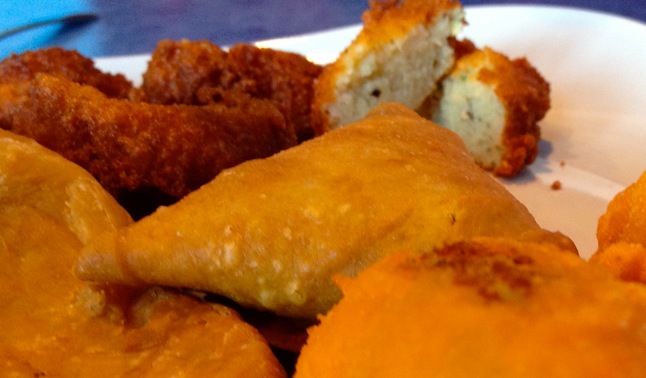 Kim Bayer | AnnArbor.com Contributor
Born in Mogadishu, Somalia, Amina Hassan has owned Samosa House restaurant on Washtenaw Avenue with her sister, Hawa, since November 2011. She says that in high school she used to make her family's Somali samosas for Red Cross fundraisers, and friends told her, "You need to do this every day." So when she started thinking about a name for her new place, "it had to be something with samosas."
Although the name is the same and the common influences are apparent, Somali samosas are different from Indian samosas. The smaller tri-corner Somali version is deep-fried golden brown with a shatteringly crisp wrapper. The wrapper dough, called foliyo, is rolled out as thin as a veil, and Hassan says they make it by hand with just flour, salt and water.
Inside a hot, crispy samosa is a savory filling of grated potato and carrot with peas, flavored with curry, onion and a tiny hint of jalapeno. The vegetarian version has coconut, and others have ground beef, chicken or lamb. No pork is served at Samosa House, and all of the food is halal.
Hassan says that in Somalia, a popular way to eat samosas is stuffed inside deep-fried vanilla mandazi bread and eaten for breakfast with a cup of cardamom-scented tea. She says that fish and beef samosas were the most popular
RESTAURANT REVIEW
Samosa House
1785 Washtenaw Ave., Ypsilanti, MI
734-340-6121
Hours: Monday-Saturday 10 a.m. - 10 p.m.; Sunday 11 a.m. - 8 p.m.
Plastic: Mastercard, Visa
Liquor: None
Prices: Inexpensive
Noise level: Quiet
Wheelchair access: Yes
types in Somalia, but "when the war started, people couldn't afford meat and started making veggie. You only make that when you don't have enough money to use beef. But here, veggie and lamb are what most people order." Maybe it's not traditional, but they make a delicious appetizer, served with a spicy tamarind sauce.
Another appetizer on the Samosa House menu with a familiar name but a deliciously novel preparation is the falafel. The Somali version is a blend of six different beans, including black-eyed peas, garbanzos, lentils and three other beans of which Amina Hassan says: "I don't know the name in English." Deep-fried until crisp, the inside of these small disc-shaped treats is amazingly light and fluffy, flecked with peppers and delicately spiced with curry and onion.
Hassan says that they make their own curry mixture in-house. It's a secret recipe that her mother has developed and still makes herself. Hassan doesn't know what she puts in it.
The spicy potatoes are another delicious appetizer that uses the secret spice mix. Curry-scented mashed potatoes are formed into a dainty egg shape, dipped in a spicy lemon and saffron batter, and deep-fried.
Mandazi bread, among the many traditional, house-made Somali breads, is a saucer-sized disc of of what tasted like deep-fried brioche. Crisp outside, fluffy and slightly sweet inside. Other traditional house-made breads include chipati, anjeero (similar to Ethiopian injera, but smaller and thinner), and muufo, which Hassan says is "like a cross between cornbread and pancake. It tastes like cornbread, but looks like pancake."
For drinks, a traditional malted (but non-alcoholic) beverage called Laziza is served alongside Somali coffee and spiced chai tea, and huge fruit smoothies.
Hassan says that the several Somali curries on the menu are mainly cream based, whereas many Indian curries are tomato based. Hassan says, "We make it with everything fresh." The beef curry included large chunks of potato, carrot, tomato, and green pepper, with cilantro and small chunks of beef bathed in a mild, creamy curry sauce. We ordered it with a side of dark basmati rice pilaf, redolent with spices including clove and cumin.
Somalia is a predominantly Muslim country with almost 2,000 miles of coastline along its outer boundary. Part of the Horn of Africa that juts out on the East African coast; Somalia's northern boundary looks out at the Gulf of Aden and to the east is the Indian Ocean. To its west Somalia borders Kenya, Ethiopia and Djibouti. The food of Somalia reflects the influences of its many neighbors, trading partners and invaders.
For example: Somali-style spaghetti. Hassan explained that in the 1920s, "Somalia was conquered by Italians, so we have a lot of bread, spaghetti and cheese in our food." I wanted to order the Somali-style spaghetti, but since they were out of it, Hassan recommended the creamy spinach with chicken cutlets served on pasta as a popular substitute.
In this dish, spinach in a creamy sauce with small peas and carrots is served on top of thick spaghetti noodles. Alongside are golden brown chicken cutlets, breaded and fried with a delicate crust. The chicken was flavorful and juicy with tart, lemony flavors that Hassan said come from marinating a long time. The spaghetti was a bit overcooked to the western palate, but the overall dish was delicious with smooth and crunchy textures, and delicate, creamy, tangy and spicy flavors.
Hassan's parents were in the restaurant business for 30 years and she says, "The recipes my parents used are very traditional, what people eat every day. And we make the same food here."
Recently painted periwinkle-blue with textile-based art on the walls and new hardwood floors, the Samosa House space was previously home to the Red Sea Ethiopian restaurant. It is still oddly proportioned and some of the tables awkwardly positioned. But the welcome is warm.
Currently, Hassan's sister and partner, Hawa, is finishing her bachelor's degree, so Amina Hassan plays the roles of hostess, chef and server. Because each dish is made individually by hand, the wait can be long. However, I was glad to be be able to try the family-style food of an entirely new (to me) cuisine that was clearly made with care and attention. The exotic spices in many of the dishes, the delicate touch with the fryer, and the handmade breads were especially appealing.
It seems a good number of customers sidestep the question of waiting by calling ahead for a take-out order. However, that deprives them of the opportunity of sipping cardamom spiced chai tea, and talking with and enjoying the warm hospitality of Amina Hassan.
Kim Bayer is a freelance writer and culinary researcher. Email her at kimbayer at gmail dot com.