Posted on
Mon, Oct 24, 2011 : 5:31 a.m.
Expect to sing along as Kim & Reggie Harris offer uplifting traditional folk tunes at Green Wood series
By Roger LeLievre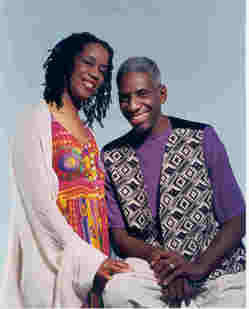 If there's anyone who knows how to get an audience going, it's
Kim and Reggie Harris
. The husband-and-wife duo have been honing their traditional, gospel-flavored act for more than 30 years.
The pair will play at the First United Methodist Church Green Wood's ongoing coffeehouse / concert series on Friday night.
"We come from the great folk tradition; the churches we grew up in were certainly participatory experiences as far a music was concerned," said Reggie Harris, who spoke to AnnArbor.com from his home in New York state, where he and his neighbors were still cleaning up from the destruction of Hurricane Irene.
"In every performance that we do, there's going to be opportunities to sing, opportunities to participate. … We talk a lot about things that tie into the songs. We love to tell stories so we'll do that too."
PREVIEW
Kim & Reggie Harris
Who: Husband-and-wife duo are acclaimed singer/songwriters and educators.
What: Inspirational folk and gospel music often dealing with the civil rights movement. Part of the Green Wood Coffee House concert series.
Where: First United Methodist Church Green Wood, 1001 Green Road.
When: 8 p.m. Friday, Oct. 28.
How much: $15. Info: 734-665-8558.
No strangers to the Ann Arbor area, they have performed at The Ark (most recently as part of a Phil Ochs tribute night) and Green Wood before. Born and raised in Philadelphia, the couple's early exposure to the diversity of musical styles and genres was nurtured in the schools and churches of their youth.
"We started out basically as performers who wanted to do our songs and have people listen to them," said Harris. "Over the years, we've just really come to embrace more of our legacy, but also you just see what music does for groups of people when they are singing together. It really becomes about something else, about community building, empowerment."
As a result of their CDs "Steal Away" and "Get On Board" and materials developed in their work with the Kennedy Center, they have earned acclaim in historical and educational circles for their contributions to the resources and knowledge base on the Underground Railroad and the modern civil-rights movement.
Harris agreed that the fight for social justice continues.
"If you look at history, particularly around issues of freedom and civil rights, I guess we are very slow learners as a people," he said. "We love doing the songs to open the window for conversation."
Change doesn't come overnight, he added.
"It is sort of a glacial pace. But if you look at the world since I was growing up, there really have been a lot of changes. They have come very hard-fought, but the world is a very different place," Harris said. "The powers that be try to hold on to their power. But I think you have to acknowledge what has been accomplished and move from there."
The couple is passionate about using music to inform and educate, and has for years worked closely with the Kennedy Center helping teachers link with the arts and use the arts in their classrooms.
"It's all about educating and using the arts to do that," Harris said. "There is no culture that doesn't teach through the arts. … We have another generation coming along that doesn't have that same baggage. That's one of the things I love times when we go into schools. We mention some of the things that tie into the history of where America has come from and the kids are incredulous that this was even an issue. That's were I get the most hope, when I work with young people and see that the world for them is different.
"We use the music as a background so we can get them thinking about it so they can change what needs to be changed," he added.
Harris said the Green Wood ticketholders should come ready for some audience participation. He also said to expect songs from the duo's upcoming CD, "Resurrection," as well as tunes dealing with the Underground Railroad, songs by Phil Ochs (one of their heroes) and a tune by the late civil rights advocate Matt Jones, "Tree of Life."
We still have a long way to go on it," he said of the new CD. "We'll do four or five of the new songs, plus (songs from) all the records and a couple of new stories. We try to surprise. People should come and bring their voices. They are going to have a good time."