Posted on
Sat, Nov 5, 2011 : 4:42 a.m.
U-M Opera Theatre presenting Verdi's comic masterpiece 'Falstaff'
By Susan Isaacs Nisbett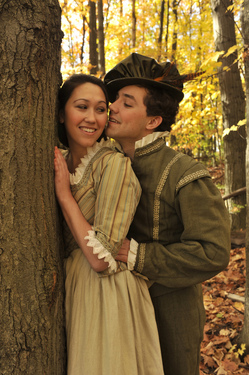 photo by Peter Smith Photography
"A very special work" is how University of Michigan music professor
Joshua Major
describes Verdi's "lyric comedy" "Falstaff." Directing the show for second time for the University of Michigan University Opera Theatre—he also oversaw a 2000 production here—Major says his goal is to do even greater justice to an opera he considers "one of the greatest accomplishments of mankind."
The University Opera Theatre presents four performances of the opera, with alternating casts, Thursday through Sunday at Power Center for the Performing Arts. The opera is presented in Italian with English supertitles. Doctoral student Oriol Sans conducts the University Symphony Orchestra. Sets are by Vince Mountain, with costumes by Jeff Bauer and lighting by Andrew Lott.
What is it that makes "Falstaff" unusual?
Well, for one thing, it's a comedy, and Verdi wrote only two of those. The first was near the beginning of his career, "Un Giorno di Regno," which was his second opera. He did not return to comedy until he was nearly 80, for his last opera, "Falstaff."
The work was light-years away, stylistically and dramatically, from Comedy No. 1. "It's an extraordinary work of art, so rich with invention," said Major. "I hope that when I'm 80, I'm as inventive as Verdi. There is nothing superficial there, nothing false. I appreciate that even more as I come back to the piece and as I have matured."
The accomplishments of the opera are substantial. Take the libretto, for example. It doesn't take too much brushing up on your Shakespeare to know that it wouldn't be an easy thing to craft a deft and nimble libretto from multiple Shakespeare plays. Yet that is precisely what librettist Arrigo Boito, working with Verdi, did, condensing the bard's "The Merry Wives of Windsor" and incorporating aspects of "Henry IV, Parts I and II" into a phenomenally integrated script.
PREVIEW
"Falstaff"
Who: U-M University Opera Theatre.
What: Verdi's "Falstaff."
Where: Power Center for the Performing Arts, 121 Fletcher St.
When: Thursday, 7:30 p.m.; Friday and Saturday, 8 p.m.; Sunday, 2 p.m.
How much: $20 and $26, $10 for students with ID (limit, 2 tickets). League Ticket Office, 734-764-2538, and online at tickets.music.umich.edu.
Stylistically, the opera also treads new ground.
"It's mostly a conversation," said music professor Martin Katz, who conducted the show in 2000, with Major directing. "There are few arias that can be pulled from the context of the opera. This poses a challenge for the performers, as each note and gesture is dictated by the words, which is stylistically different from most operas. It's part of Verdi's genius that he alone created this unique style. 'Falstaff' sounds completely different from his other works. He found a whole new musical language for comedy."
Shakespeare's Sir John Falstaff is the centerpiece of the opera, which follows him as, short of drinking money, he plots to woo two wealthy married women—who, naturally, discover his trickery and decide to have the better of him. That they do, but Falstaff, in some sense, emerges unscathed.
"I think Falstaff is a great character," said Major. "We make a mistake and think he is a fool. I think he is a man who does foolish things, and we all do foolish things. He's very poetic, he does some foolish things; he misreads and misunderstands; he's old and broke and wants to know that he's not dying. He's having a sort of midlife crisis. The more I work on the piece, the more the merry wives border on being mean: they're The Mean Girls of Windsor. They go quite far trying to teach this guy a lesson, and I think in the end, they get what they want. Men are made fools of.
"But Falstaff says something profound and beautiful at the end—'Were it not for the salt I give your lives when you laugh at me, your life would be really boring.' In other words, you've all laughed at my expense, and if it were not for me, your lives would be very dull, so be grateful.
"I think it's a profound sentiment, this idea that we need foolishness and that we have to have a sense of humor about ourselves and accept that we all behave foolishly."