Posted on
Mon, Nov 8, 2010 : 11:11 p.m.
'Family Guy's' Cherry Cheva and Alex Borstein address big crowd at the library Monday
By Jenn McKee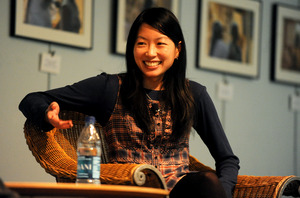 Photo by Angela Cesere
Local fans of the Fox animated comedy "Family Guy" packed into the
downtown library
's multipurpose room on Monday night to see writer/producer (and Ann Arbor native)
Cherry Cheva
and voice actress
Alex Borstein
(Lois).
A never-before-seen clip from a new, upcoming episode kicked things off, but most of the 90-minute presentation consisted of Cheva and Borstein answering audience questions.
Early on, a questioner asked how they each came to have a career in television.
"I wasn't really allowed to watch TV as a kid that much, so that just made me more obsessed with it," said Cheva, a Huron grad who studied psychology at Yale before earning a law degree from New York University. " …Writing is not a practical career. … It's one of those things like acting, where it's like, only do it if you really can't think of anything else to do.
"And at the time, law school was something else that me and my parents could think of for me to do. So I went, and while I was in law school, I started writing TV spec scripts. … (I) didn't take the bar exam, and I moved to L.A. and got a job at an agency answering phones."
Borstein explained that after she earned a degree in rhetoric, she was working as a copywriter in advertising when she started pursuing improv and sketch comedy, ultimately landing a role on "MadTV." "'Family Guy' is … animated, but it's like sketch comedy, because it's a lot of short, quick gags, and things we pass in and out of," said Borstein.
When asked about one of her most famous "MadTV" characters, Miss Swan, Borstein explained, "Miss Swan is based on my grandmother. I can't even say 'based.' It's a direct rip-off. … Lois' voice is actually based on a cousin of mine that lives in New York. She'd probably die if she knew that."
(Here's Borstein as Miss Swan on "MadTV.")
For many years, Borstein was also a writer on "Family Guy," and the two women discussed the advantage of having voice actors in the writers' room to try material out on the spot; otherwise, writers are left, when making a pitch for a gag, doing their best impersonations of each character.
Cheva and Borstein also talked about how there's a nine month lag before each episode airs, because like "The Simpsons," the show's animation is done in Korea. Consequently, "Family Guy" writers generally steer jokes away from current headlines, unless they're pretty sure of the story's staying power.
"There are some things you know you can always do," said Borstein. "We know we can always put a Lindsay Lohan joke in because, it doesn't matter if she's sober now. She'll be messed up again."
One fan in the crowd wanted to know why the Griffin family's teenage daughter, Meg, bore the brunt of so much hostility.
"I think it started because, truth be told, when ('Family Guy' creator Seth McFarlane) developed the show, he was 25," said Borstein. " … They had no female writers on the staff. So Lois and Meg, the women on the show, were written like cardboard cutouts. (The writers) had no idea what a woman would sound like. … I think it was born out of (them) hating her. And one day, somebody wrote something where Peter was totally mean to her for no reason, and everyone laughed so hard. So it kind of was born out of the male longing to understand the female."
The women spoke about the show's legal issues, including a lawsuit filed by Carol Burnett. ("It was like, 'Come on. Of all people,'" said Borstein.) Generally, though, the people parodied on "Family Guy" want to be in on the joke.
"Marlee Matlin actually contacted Seth saying, 'Dude, if you're going to slam me, have me do me,'" said Borstein. " … A lot of times we take people up on it."
"For the most part, people are good sports about it," said Cheva.
Of course, fans of the show know that some of its fast-flying pop culture references are obscure, and in regard to choosing them, Cheva said, "If Seth likes it, it's right. We all just draw from things that we remember from childhood, or from now."
"Sometimes, we'll all agree to do something, even though we know one percent of the population is going to possibly get it," said Borstein. "But it's still worth it, because sometimes that extreme is just as funny as everyone knowing what it is. Apparently, after the 'Shipoopi' song aired, it was like the number one Googled word. … So it's kind of cool when it forces people to learn some new crap they don't need to learn."
And despite the media attention splashed on the supposed "South Park" feud with "Family Guy," neither Borstein nor Cheva had even seen the "South Park" episode that mocked "Family Guy," and according to Cheva, "I don't think if those three guys (McFarlane and 'South Park' creators Matt Stone and Trey Parker) saw each other in a bar, that anything would actually go down."
Regarding the voice acting process, Borstein discussed how, when making the first episodes, all the "Family Guy" actors got together to record it like a radio play, but the results were "disastrous."
"It took hours," said Borstein. "A lot of people had other things on their schedule. It was really hard to coordinate times. And it wasn't effective. It didn't really add a lot to it."
"People are always like, oh, you're so lucky, it's the easiest job in the world. And it is. It doesn't take as much time, you don't have to wear makeup, you're not in wardrobe. But in some ways it's harder, because you're not getting the opportunity to rehearse anything, work on a scene, actually work against somebody."
One audience member asked about the show's potential longevity.
"Seth feels like 'The Simpsons' has worn out its welcome, and he makes no secret of that," said Borstein. " … He feels that you go out while you're still on top. But people still love it, and people still want to watch the episodes. So it's a tough question to answer. How long is too long? And how do you know when you've jumped your own shark? It's hard to tell."
Shortly before wrapping up the program - and giving patrons the opportunity to have their copies of Cheva and Borstein's book, "It Takes a Village Idiot, and I Married One," signed by the authors - the women took a question about how much material gets blocked by the networks and various censors. The answer, of course, is a lot, with Borstein noting that a sexually vulgar term they wanted to use in one instance was changed to "Muddy Ramirez."
"We created our own disgusting term, and it's even, I think, funnier for that reason," said Borstein. "Sometimes (censors) force you to be a little more creative, … and sometimes I'm actually glad they're there. They stop you from doing … the easier, dumbed-down, common demominator joke."
Jenn McKee is the entertainment digital journalist for AnnArbor.com. Reach her at jennmckee@annarbor.com or 734-623-2546, and follow her on Twitter @jennmckee.