Posted on
Wed, Jun 19, 2013 : 5:49 a.m.
Family of the Year bringing a summery California vibe to downtown Sonic Lunch series
By Roger LeLievre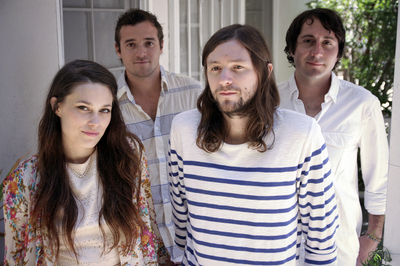 When California folk-pop group
Family of the Year
plays the
Sonic Lunch
series downtown Thursday at noon, it will be a special occasion for co-founder Sebastian Keefe.
"It's my birthday," he said, almost like a footnote to a conversation about the band's recent string of accomplishments. And how old will he be? "Somewhere between 18 and 40," he finally allowed (a May story in Interview magazine pegged him at 28). Besides drummer/vocalist Sebastian Keefe, Family of the Year consists of his brother Joe Keefe (vocals/guitar), Jamesy Buckey (guitar/vocals) and Christina Schroeter (keyboards).
Keefe said the band, which formed in 2009, spent a summer living "like a big family" in an old warehouse (and) we started to act like a family. … But we dug the name out of an old song that Joe had written and it had a good ring to it … we didn't want to have something too obscure and we felt there was a pretty good basis for relating to that."
In 2009, Family of the Year was picked out of 700 artists by Ben Folds and Keith Lockhart to open for Folds and The Boston Pops at Symphony Hall, a big deal for the Keefe brothers, who were born on Massachusetts' Martha's Vineyard. They've also hit the road with Edward Sharpe and The Magnetic Zeros in support of FOTY's debut album, "Songbook," played at the 2012 Lollapalooza and been named an MTV Artist of the Year.
PREVIEW
Family of the Year
Who: California folk-pop band.
What: Melodic male/female vocal harmonies and folk pop-style lyrics offer a feel- good summer sound, presented by the Bank of Ann Arbor's Sonic Lunch series.
Where: Liberty Plaza, corner of S. Division and E. Liberty streets.
When: Noon Thursday, June 20.
How much: Free. Info: www.soniclunch.com
Recently the band was on "The Tonight Show," and snagged the top spot on USA Today's adult-alternative airplay chart. Considering that the group will play several festivals including Lollapalooza and Summerfest this year—just a few of the gigs on a busy touring schedule the next few months—Keefe agreed things are really starting to happen for the group, which early on received comparisons to The Beach Boys.
"This is definitely a really exciting summer for us. I can definitely feel all the hard work that we and a lot of other people have put into this starting to turn into something," he said.
FOTY's latest CD, "Loma Vista," released last summer and featuring the acoustic single "Hero," has been getting positive reviews from the likes of Rolling Stone and Spin, and the group has found a fan is Aerosmith's Steven Tyler, who likened Family of the Year to "the Mamas and the Papas on acid."
The comparison leaves Keefe a bit perplexed, but he's still happy to have Tyler as an admirer.
"We just took it as some form of a compliment," said Keefe. "I feel more like it's Mamas & the Papas with a bottle of wine, personally. It's very flattering that he knows that we exist."