Posted on
Tue, Mar 12, 2013 : 6:42 p.m.
Family Ties At The Blind Pig
By Elisha Israel
This past Friday, March 8th, I stopped into The Blind Pig to catch sets by Blasfame and Loto, Hi-Potent-C, Nickie P., Tru Klassick and Duke Newcomb. The show was hosted by Clavius Crates and DJ'ing for the night was provided by DJ Cataclysmic, both representing The Branch Out Collective.
First to perform was Blasfame (pronounced Blasphemy), with support provided by Loto.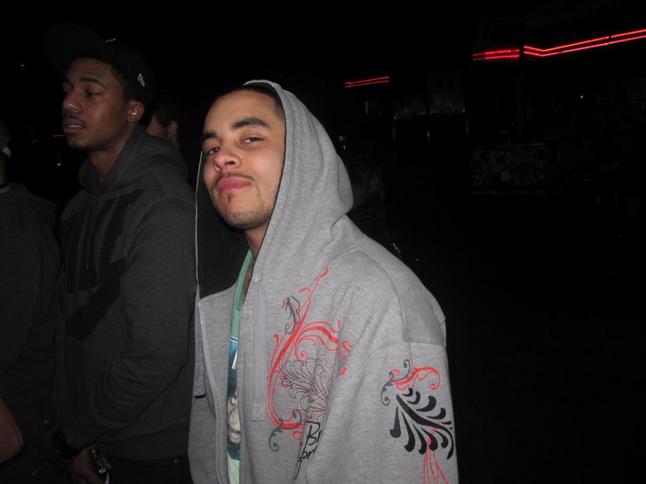 Blasfame, also known as Kevin Sherman, and Loto, known as Chavonna Bigham, are both solo acts but collaborate frequently with each other. "We live our lives, we stay real, we talk about it and we make it sound good," said Bigham when I asked for a description of their artistic style.
The two of them are influenced by artists ranging from Lauryn Hill and Sade to Lupe Fiasco and Kendrick Lamar. Both are rappers as well as singers.
"I've been rapping since I was 13," said Sherman. "And then the singing, I just fell into." Bigham added, "I've been singing since I can remember….I have seven brothers and they all freestyle, they wouldn't let me out of the car until I freestyled."
Bigham has a project due for release on May 17th called Disorderly Conduct.
The next act to perform was Hi-Potent-C.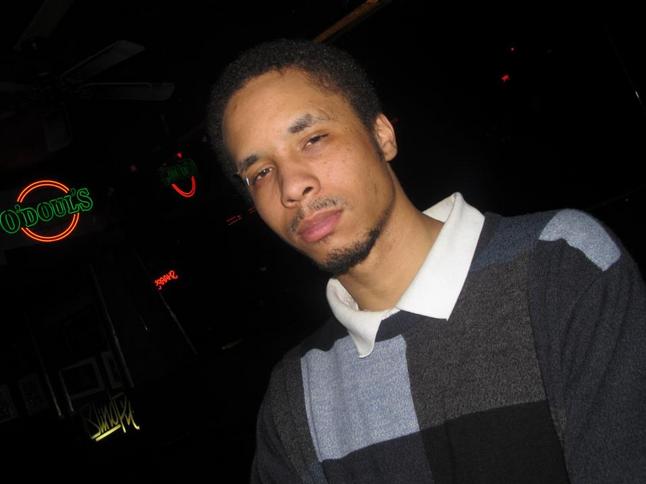 Born Corderill Mayberry, he was born and raised in Ann Arbor. "[I've] lived in quite a few different cities but I always end up in the 734 somehow," said Mayberry.
When I asked him how he describes his music, he responded by saying, "I refer to it as logical quality music, or food for thought… I just feel like a lot of hip hop/rap these days promotes garbage…It's all negativity that is counterproductive to a good lifestyle. Even though I may be guilty of committing some of these actions from time to time, I try not to promote it in my music."
Mayberry is heavily influenced by Eminem, as well as Notorious B.I.G., Tupac Shakur, Big L, Kendrick Lamar and Mos Def.
"I say an overall theme that comes out in my bars would be to make the most out of life, not in the cliche manner, but more like, you never know when your time's up," said Mayberry. "You also never know what kind mark you're going to leave, so you should do your best to leave a good one if that's what you value."
If you would like to find Hi-Potent-C's music, you can find it online at: soundcloud.com/hi-potent-c
The following act was Nickie P.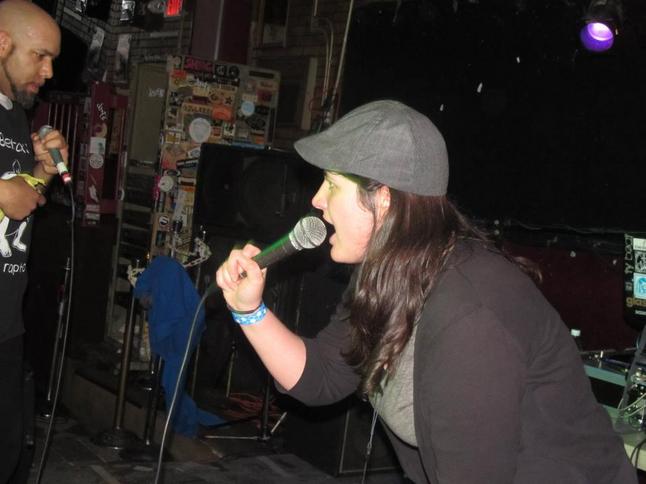 Nickie P., or Nicole Price, is a hip hop artist based out of Ann Arbor.
"When I first started, I always came out as a backpack rapper…but I sing also," said Price. "I identify as I. that's really the best way I can say it…Whatever sounds good to me at the time is what ends up coming out and I can't really put that on anyone else's shoulders but my own."
Price's influences range from Aretha Franklin ("One of my all time, drop dead favorite artists ever, ever, ever," said Price), to Marvin Gaye, Brother Ali, The Romantics, Scott Morgan as well as "my brothers who were in the hip hop group the 7Chakraz."
Price has been making hip hop for about a decade, although she's been involved with music from a very young age, starting with Italian opera. "Hip hop really struck me when I was about 13 and I really started doing it when I was 14," said Price.
She was about 17 or 18 when she first started writing, recording and performing as a hip hop artist. "That's when I really started making music that meant that much to me," said Price. "I can't quit. It means too much to me. I'm gonna keep doing it just out of sheer enjoyment."
If you would like to find out more about Nickie P., you can find her online at Nickiep.com
The next performer was Tru Klassick, born Taylor Michael and raised in Ann Arbor.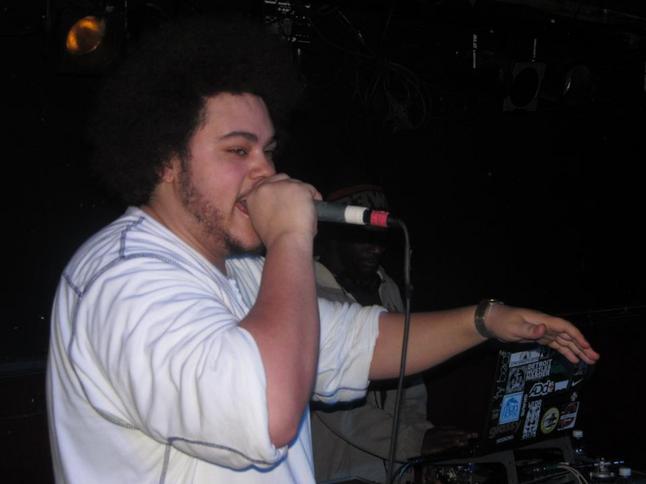 His style is heavily influenced by old school hip hop, utilizing a technical focus to build his music. "I try to make it like, a breath of freshness. When you hear me, you'll be like 'yo, I haven't heard something like this in a long time.' That's what I'm aiming for," said Michael.
His influences range from Earth, Wind & Fire to Bone Thugs & Harmony.
Michael's goal is to create "timeless songs, stuff that can go with the times and try and make people get outside their comfort zone and question what they're told and not just accept what they're told."
He continued by saying, "Look out for more. Expect more. Set high standards. Not even about me, just in life. Set high standards for yourself. What you listen to, to your food, to the people who you hang out with. Expect more for yourself."
Michael released The What's Real Mixtape on December 23rd, 2012 and expects to have a music video released within the next few weeks.
If you would like to hear his music, you can find it online at: https://soundcloud.com/truklassick
The final act of the night was Duke Newcomb.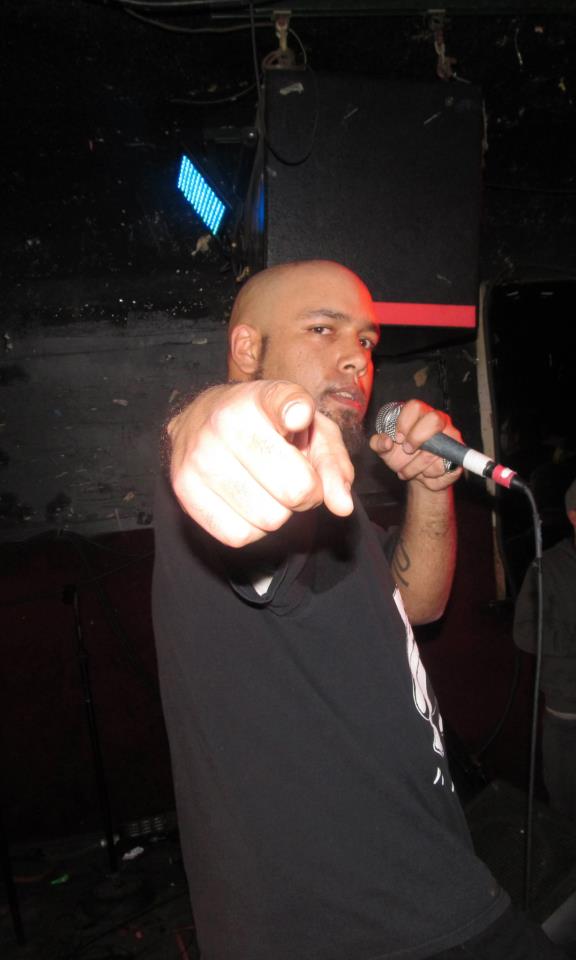 Duke Newcomb was born Harlin Newcomb and raised here in Ann Arbor.
"What I am, what I hope to be, is an inspiration for people who fell off or thought it was over or never thought they could manifest any dreams," said Newcomb.
He has been rapping for approximately 14 years and is heavily inspired by artists like KRS-One and Chuck D.
"At it's pure form, hip hop is the voice of someone who's not supposed to be heard," said Newcomb. "Music is really the voice that can't stop. No matter what, people are going to express creatively. Visual arts, dance, they're going to express what's in their souls, despite heavy oppression."
Newcomb utilizes multi-syllable rhyming patterns and an extensive vocabulary to construct his verses.
His debut project, Ground Zero, is due to be released in the near future.
He concluded by saying, "There is a movement in Ann Arbor right now, and we're always looking to outside sources, but it's right here and kids are laying it down, kids are putting their hearts on the line. We do these shows, and I see people in the crowd and they don't even know how to react, but they know something special is going on."
If you would like to hear Duke Newcomb's music, you can find him online at: https://soundcloud.com/duke-newcomb
Until next time,
Elisha