Posted on
Thu, Aug 30, 2012 : 3:24 p.m.
Fifth annual HomeGrown Festival will entertain and inform with all-Michigan food, drinks, music and fun
By Kim Bayer
The first HomeGrown Festival in 2008 almost floated away when a much-needed rainstorm deluged the field where the tents were set up and the chefs were cooking. Rather than dampening spirits, if anything, the warm summer shower inspired fun as some festival-goers frolicked in the puddles while musicians played from the shelter of a big, striped awning. I know because I was there as one of the organizers who has helped every year, and even that first year, we welcomed what would turn out to be nearly 1,000 people.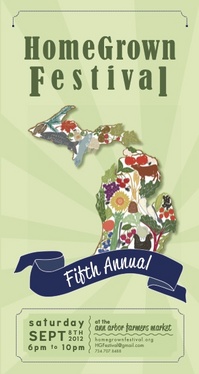 This year's HomeGrown Festival celebrates local food, business and community at the Ann Arbor Farmers' Market on Saturday Sept. 8. Music, dancing, tasty snacks, local libations plus kids' activities and lots of chances to interact and experience the food and drink of Michigan.
This year's HomeGrown Festival brings the same spirit of fun, with music and dancing along with great food and drink, but increases ways to interact with producers and purveyors, and understand the food that grows from Michigan soil and the beverages made here using traditional methods. Of course, one way of interacting is consuming!
- Local libations
Peter Stephens, running the Local Libations tent says, "This year, 10 local companies will feature beer, wine, hard cider, mead, and Kombucha. This will be the first year for Jolly Pumpkin Artisan Ales, Flying Otter Winery, and Superior Lakes Meads. We will have a wide variety of drinks to please every palate — ranging from blueberry mead, ginger beer, port style wine made from locally grown grapes, cherry hard cider, Muscato, and many other great drinks."
- Second annual Homebrew Competition
The HomeGrown Homebrew Competition is being organized this year by local beer connoisseur (and occasional AnnArbor.com contributor) Patti Smith, who says, "To make beer you need many wonderful things like grains, hops, fruits, honey, herbs, oatmeal, or even vegetables. Coincidentally, these are things that Michigan grows or produces. Having brewers use Michigan products to make beer makes their beer better and helps out other growers and businesses."
Homebrewers using all-Michigan ingredients can still enter to win prizes and recognition by dropping off two bottles of home-brew at the Slow Food table at the Wednesday evening Farmers' Market. Contact Patti Smith (teacherpatti at fastmail dot net).
- Kids mural project
The project was created by Rap for Food artist Lucas DiGia, who says the Kids Mural Project "will create a six-foot by six-foot mural of the state of Michigan. The state will be cut into pieces for each participant to draw on and then reassembled by volunteers to create a large mural. We will have books showing native plants and lots of pictures of locally grown produce for the children to use as inspiration. The goal of the activity is to help kids learn about native plants and locally produced food, as well as allow them to contribute to a work of art for all to enjoy for years afterward."
- Food info stops
New this year, and organized by Laura Meisler (and me), Food Info Stops will be staffed by local experts on garlic, honey, heirloom tomatoes, and heirloom seeds — and offer multiple ways to experience and understand the foods of Michigan — where they're grown and how they're produced and even what they taste like.
Local Food Restaurant/Chef Vendors

Food vendors are required to source at least 50 percent, including the main ingredient, of each dish from local farms. And we ask that our chefs prepare affordable small items, from $1-$7. We'll have vegan food, gelato, fermented foods, and roasted meats - all from our own foodshed. The food lineup this year includes:
Arbor Brewing Company

The Brinery

Darcy's Cart

eat

Earthen Jar

Iorio's Gelato

The Lunch Room (vegan)

Pilar's Tamales

San Street

Silvio's Organic Pizza

Sparrow Market

Entertainment

Main stage music starts at 6 p.m. with The Duney Brothers. The Appleseed Collective takes the stage at 7:30, and high energy Universal Xpression closes out the evening. On the acoustic stage we feature the Wannabes and Jack and the Bear.

Come out and enjoy this all-volunteer, made-by-hand, zero-waste Festival for all ages that demonstrates the best of what southeast Michigan has to offer. It's totally delicious in every way.
The Fifth Annual Ann Arbor HomeGrown Festival takes place on Saturday, September 8, from 6 p.m. to 10 p.m. at the Ann Arbor Farmers Market, 315 Detroit Street.
Kim Bayer is a freelance writer and culinary researcher. Email her at kimbayer@gmail.com.