Posted on
Sun, Dec 2, 2012 : 10:52 a.m.
Find a new look at a free fashion show and Lunch and Learn with author Madeline Miller
By Ann Dwyer
COCKTAILS
Dec. 5, 1933 marked the end of Prohibition, so join in on the Repeal Day Celebration Cocktail Class at Live/The Last Word (formerly Live at Pj's/Goodnite Gracie's) on Monday. 7:30 p.m. They're going to dust off some of the lesser known cocktails of that era and talk about how Prohibition impacted global cocktail culture of the time. Prizes awarded for period dress! Class taught by Tammy's Tastings, $35 in advance, $45 at the door. Reserve your space at www.tammystastings.com/shop or by calling 734-276-3215. 102 S. First St., Ann Arbor.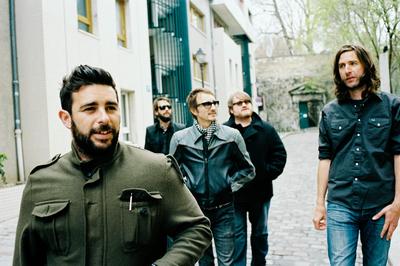 MUSIC
Band of Horses will play the Michigan Theater on Monday. 7:30 p.m. This young indie-oriented rock band band that has built up a bigger and bigger audience in the six years since their debut album. The group's music is a mix of tuneful folk-pop; winsome vocal harmonies; gritty, crunching guitar riffs and some classic-rock influences. $32.50. Buy tickets by calling 800-745-3000, going to any Ticketmaster location or visiting ticketmaster.com.
MUSIC
The Ann Arbor School for the Performing Arts (AA-SPA) Jazz Faculty will hold a Benefit Concert on Monday. 8 p.m. The faculty includes Paul Finkbeiner on trumpet, Kurt Krahnke on the double bass, Jesse Kramer on drums, Glenn Tucker on piano and the Carla Margolis singing the blues. $5 Students; $10 General Admission; $20 for Rows 3-5; $30 for Rows 1-2. 415 N. Fourth Ave., Ann Arbor. 734-769-2999.
FASHION
It won't be your typical Tuesday at the "Refresh Your Look Fashion Show" at the Cavern Club. Doors open at 9 p.m. Swag bags will be given away with Rent the Runway gift cards, Diet Pepsi freebies and much more. There will be an open bar, a DJ, a photographer and entertaining acts. Cocktail attire encouraged but not required. Free. 210 S. First St., Ann Arbor. 734-332-9900.
BOOKS
Lunch and Learn with Madeline Miller the author of "The Song of Achilles" at the Ann Arbor City Club on Tuesday. 11:30 a.m.- 1 p.m. Miller has studied classic texts extensively. "Achilles" is her first novel and a New York Times Bestseller. $25. For reservations and additional information visit www.annarborcityclub.org/lunch-and-learns.html or call 734-662-3279, ext. 1. 1830 Washtenaw Ave., Ann Arbor. 734-662-3279.