Posted on
Mon, Jun 3, 2013 : 12:45 p.m.
Find out who will take the first first-place prize at Karaoke Idol at the Cavern Club
By Ann Dwyer
Sure, karaoke can be a scary concept. But this Friday and Saturday are the very final rounds of Karaoke Idol at the Cavern Club, so they'll only have the best of the best.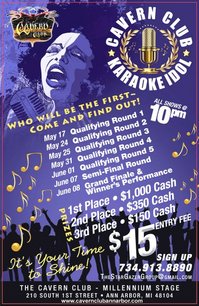 After five rounds, the singers will be battling over a $1,000 cash prize. They will also be vying to be the first first-place champion in this inaugural competition.
The Cavern Club is located in the catacombs of a historic former brewery and mill. The Millennium Club and Gotham City are on the main floor and Circus Bar & Billiards is located on the third floor, so you can make it a one-stop entertainment destination for the weekend.
Fri. & Sat., June 7 & 8, 2013 10 p.m. The Cavern Club is located at 210 S. First St., Ann Arbor. 734-332-9900. For more information, email thestargazergroup@gmail.com.