Posted on
Thu, Mar 3, 2011 : 5:30 a.m.
Five Guys Burgers & Fries offers what it advertises
By Julie Halpert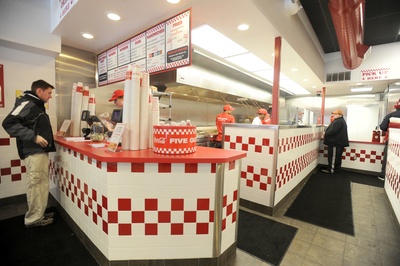 Angela J. Cesere | AnnArbor.com
Ever since it opened in January, Five Guys Burgers and Fries, the latest in a series of hamburger joints to hit the area, has had lines snaking near the door at all hours. The buzz associated with this growing burger empire clearly preceded its arrival. The chain, which started with one store in Arlington, Va. in 1986, has grown to more than 750 locations in over 40 states.

It stands in stark contrast to its predecessor in the space, Shaman Drum Bookshop, and was entirely remodeled. A basic red and white checkerboard motif surrounds the store, along with articles testifying to the restaurant's critical and popular appeal hanging on the wall. There's a regimented system: you order from one line, and then pick it up at an adjoining line when your number is called.
Five Guys has a limited menu, delivering essentially just what it advertises: burgers and fries, along with hot dogs. There's not even a garden burger on the menu. If you're vegetarian, you can order vegetables on a bun or a grilled cheese sandwich.
There are a dozen toppings to choose from, and they're all free, everything from grilled mushrooms to jalapeno peppers. You can order either a "little" size or regular. I opted for the smaller one, and it was ample enough to satisfy. It didn't look much smaller than the regular burger.
RESTAURANT REVIEW
Five Guys Burgers & Fries
311 S. State St.
734-213-3483
Hours: Sunday-Thursday, 11 a.m.-10 p.m.; Friday and Saturday, 11 a.m.-2 a.m.
Plastic: Visa, Mastercard, American Express, Discover.
Liquor: No.
Prices: Inexpensive.
Value: Very good.
Noise level: Loud. It's nearly always crowded and the space is small.
Wheelchair access: Yes.
Just one bite into my cheeseburger made me realize why this place is so popular. The hamburgers — all cooked just one way, on the medium/medium well side — were perfectly seasoned, juicy, tender and delicious. I added cheese, lettuce, tomato, grilled mushrooms, ketchup and mustard to mine. My one complaint was that it was so doused in mustard and ketchup that it saturated the lettuce as well as the fresh bun.
My son, who just opted for light ketchup, cheese and bacon, had a better sandwich, with big chunks of crispy bacon. On our second visit, the burger was sitting while the rest of our order was prepared, so it was cold. And my brother, who prefers his burgers on the pink side, wasn't enamored with the way his was cooked.
You can order your fries regular or Cajun style. I thought the regular fries could use more seasoning and were on the limp side. Seasoning wasn't a problem with the Cajun version, though it seemed like the spices were an afterthought, sprinkled on instead of added during the cooking process. My hot dog, split in two and grilled, was fantastic.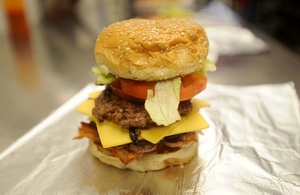 Angela J. Cesere | AnnArbor.com
On our second visit, seeking to avoid the 550-calorie count of the small cheeseburger, I decided to sample the veggie sandwich with cheese and it provided a hearty alternative. The vegetables were fresh and perfectly grilled, surrounded by a fresh bun.
Prices here are reasonable. Our first order — two burgers, drinks and a huge serving of French fries — was only $15.
Service here was actually better when the place was more crowded. On a Sunday afternoon, it was a well oiled machine, with staff turning out orders, assembly-line style, within minutes. It was somewhat slower when we returned, but not substantially. In fact, dare I say, it's as quick as McDonald's. But with burgers far exceeding any fast-food restaurant in quality and taste, Five Guys is clearly filling another niche.