Posted on
Sat, Jul 20, 2013 : 5:41 a.m.
5 things to check out Saturday at the Ann Arbor Art Fair: Sassy (not angry) birds, steampunk MP3 players and more
By Jenn McKee
• The Mega Guide: Full coverage of the 2013 Ann Arbor Art Fair
The Ann Arbor Art Fair offers countless fascinating sights—as well as sounds, tastes, smells and experiences.
Here are a few suggestions for things you might want to check out Saturday—the final day of this year's fair—and add your own in a comment at the end of this post:
• Birds with attitude
"Do you like my birds?" is something you'll hear with regularity outside
Richard Lorenz
's booth on Liberty Street.
Why? Because owls, and other birds with attitude (with colorful, fanciful hats and perches), play a starring role in Lorenz's digital art, and make his tent a fun and colorful virtual aviary.
But that wasn't always the case. Yes, Lorenz has been painting birds for over 20 years, but his previous pieces were far more naturalistic and traditional. ("Lots of ducks," he said.)
"I woke up one morning about a year ago, and I thought, 'I want to paint something fun, while still painting my birds,'" said Lorenz, who originally hails from New Orleans.
U-Birdz is what Lorenz calls his new, more whimsical series, the works of which also feature messages like, "Eloise always said, 'It's better to show your true colors then to let them fade.'"
"The series is about being the bird that you are," said Lorenz. " … It's neat because I get to say profound things in a whimsical way."
Lorenz, a father of 5, hopes that kids are among those receiving the messages. "That's the hardest thing to get them to understand," said Lorenz. " … Just be who you are."
To create his sassy birds, Lorenz first uses a Wacom tablet, "so the painting doesn't exist until it's printed on the canvas."
And though it's Lorenz's first year at the Ann Arbor Art Fair, he's doing very well, sales-wise, and is awed by the scope of the event.
"It's a gem," said Lorenz. "To see some of the best artists working now in one place - that's something you shouldn't take for granted."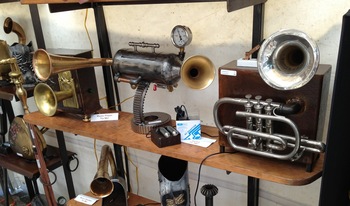 • Wait - that's your iPod dock? Huh?
Deconstructed trumpets, integrated into recycled materials, that plug into your MP3 player?
There's not an app for that, but there's this and other (often functional) steampunk art in Ed Kidera's booth on Washington Street, near the Rackham Building.
Based in Woodbine, Maryland, Kidera has been making the cylindrical, steel bells that line his tent for 22 years, but the steampunk stuff is newer—sort of.
"Actually, there's stuff I made 20 years ago that you'd now call steampunk," said Kidera. "We just didn't know to call it that back then."
Kidera's current interest in steampunk was sparked by a friend asking for help making a "rocket pack."
"He told me about (steampunk), and I thought, 'If he can make a rocket pack, I could make one, too,'" said Kidera. "And it was a lot of fun. I've always liked working with old stuff and making it transferable."
The main sources for his materials? Junkyards, flea markets, and eBay.
"I have piles and piles of stuff," said Kidera.
I don't doubt it.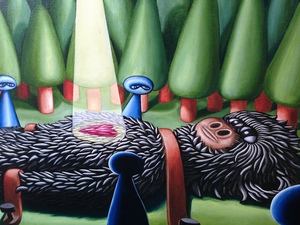 • A slanted view
Looking at Melvin McGee's paintings is like peeking directly into his wild, vivid imagination.
One work, "My Teddy," has a teddy bear lying in bed, holding onto a small man labeled, "Ted"; another has aliens performing surgery on Bigfoot to give him a heart; and yet another has a cartoonish version of the "American Gothic" couple standing in front of a knot of gray, interconnected highways.
"I grew up admiring Gary Larson, Salvador Dali, and M.C. Escher," said McGee, from Green Bay, Wisconsin. "And there's a touch of Dr. Seuss in there, too. It's kind of a combination of all of those."
What's not to like about that?
• Free tarot card and stone readings
I don't take occult things seriously, but I also almost never turn down a free (or at least inexpensive) palm reading or similar offering. For me, it's just a silly, fun thing to do.
And whether you're like me, or you take more stock in such things, free stone readings and tarot card readings are happening in a tent in front of the Necto on Liberty Street. (Tips are welcome but not mandatory.)
In case you were wondering, my cards on Friday indicated that I'm I'm fiercely strong and in control of my present. So there's that.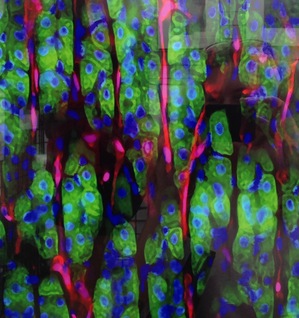 • The art of science
Don't think an image of mouse intestines, or a cerebellum, can be beautiful?
Then you haven't been to the Bioartography booth on East University, which features images captured by the University of Michigan's medical research laboratories' microscopes and scanners.
"Most of the images appear as we see them through the microscope," said cellular and molecular biology grad student Meredith Collins.
Florescent probes, used to make certain elements more easily visible, usually provide the vivid colors, "and we use laser microscopes, which excite the probes at different wavelengths," said Collins.
Money raised by the works help support U-M grad students traveling to conferences.
Jenn McKee is an entertainment reporter for AnnArbor.com. Reach her at jennmckee@annarbor.com or 734-623-2546, and follow her on Twitter @jennmckee.