Posted on
Thu, Jul 18, 2013 : 5:54 a.m.
5 things to check out Thursday at the Ann Arbor Art Fair: Fairy doors, buskers and more
By Jenn McKee
• Related: 5 things to check out Wednesday at the Ann Arbor Art Fair
• The Mega Guide: Full coverage of the 2013 Ann Arbor Art Fair

The Ann Arbor Art Fair offers countless fascinating sights—as well as sounds, tastes, smells and experiences.
Here are a few suggestions for things you might want to check out Thursday—and add your own in a comment at the end of this post: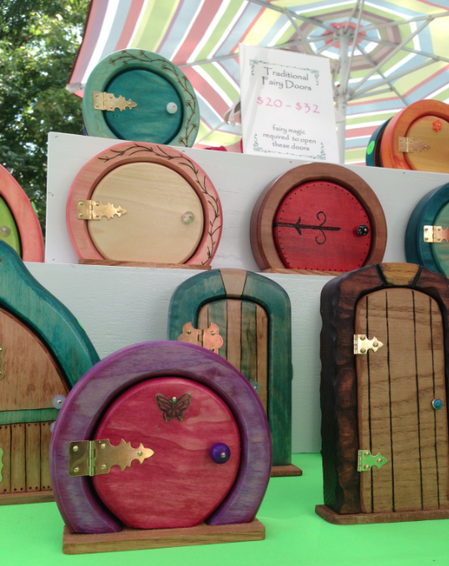 Photo by Jenn McKee | AnnArbor.com
• Fairy door fever
Big crowds were flocking early on Wednesday to Ann Arbor Summer Art Fair artist Bob Simmons' fairy-door booth at State Street and South University.
Simmons has made the doors for 4 years, and sold them for 2; this is his first year at the Art Fair. Some are done in the traditional Irish style—which is to say, the doors don't open, and "only 'fairy magic' can open them"—but Pat Simmons, Bob's wife, said, "So many people asked for doors that open, we started making those. … And if a fairy comes to visit, it indicates good fortune."
How do you know when a fairy has come calling?
"My granddaughter would write a note and leave it in front of the door, on the outside stoop," said Bob Simmons. "The note would be gone the next day, with a note from the fairy in its place. We have four years of correspondence between the fairy and my granddaughter, and she'll receive those notes as a gift one day."
This story almost made me reflexively pull out my own wallet.
• For the kids
If I manage to get one or both of my young daughters out to the fair this year, we'll definitely head to the Street Art Fair's Art Activity Zone (off Washington, between Thayer and Fletcher), where there's face painting, as well as opportunities to make a bubble wand, paper flowers, wings, a wand, a mask, and a mixed-media sculpture made from recycled materials—and it's all in the shade, which only makes it more appealing.
Photo by Jenn McKee | AnnArbor.com
• Spinning your (artful) wheels
Not sure what cocktail to have this evening, or what board game to play?
Well, spin one of the wheel of fortune-like spinners created by Chatanooga, Tenn. artist Beverly Hayden.
She's twice shown work at the Street Art Fair as a photographer; this is her first year participating as a mixed-media artist. Her booth is on the west side of Ingalls Mall, just north of North University.
"I came across an old (spinner) from a carnival, with just black and red wedges on it, and I thought, 'This would be fun to see what other ideas I could put on there,'" said Hayden. "I started with travel brochures, and later expanded to the cocktails and games, but I also do customized ones. It's like a modern-day family quilt."
• Chamber rock
When you faintly hear a string trio playing the Four Tops' "Reach Out (I'll Be There)" and Led Zeppelin's "Kashmir"—seriously, how could you not walk toward it?
The three-person "pied piper" in this instance is Ann Arbor's Horizon Strings Group—composed of violinist Rebecca A. Kaltz, cellist (and new mom) Michelle Kulwicki, and violinist Phoebe Gelzer-Govatos—who will likely be out playing every morning during the Art Fair at Thompson and William (just beyond the fair's boundaries).
"We've been in the area for about 8 years, so we decided to busk this year," said Kaltz.
Check out their hard-rocking bow work here:
• Unexpected "cooling station"
Though it's not listed among the Art Fair's cooling stations, the shaded, tunnel-like strip on Maynard, between Liberty and William, felt like an oasis on Wednesday.
So if you're around that part of the fair during a sauna-like day, pop over to hear the audible (and surprised) gasps of relief from all who enter.
The Ann Arbor Art Fair continues through Saturday. Check out full coverage here.
Jenn McKee is an entertainment reporter for AnnArbor.com. Reach her at jennmckee@annarbor.com or 734-623-2546, and follow her on Twitter @jennmckee.