Posted on
Tue, Jun 4, 2013 : 9:06 a.m.
Five things to see at Cinetopia this weekend
By Daniel Joyaux
Year two of Cinetopia is nearly upon us, and already the festival looks poised to become a major Ann Arbor institution. While I certainly haven't seen all of the 43 films playing at the festival this weekend, I've managed to watch over a dozen of them thanks to catching some last fall in Toronto and being loaned several screener copies by the Cinetopia organizers. Here are a few films you don't want to miss.
"Hannah Arendt"
Sunday, June 9, 6 p.m., Michigan Theater
One of the best films I saw at last year's Toronto International Film Festival, I'm thrilled Cinetopia is bringing this to Ann Arbor. The true story of the German/Jewish philosopher and political theorist, the film specifically dramatizes Arendt's coverage of the 1961 Adolph Eichmann trial for The New Yorker, and the aftermath of her theory on "the banality of evil." The big challenge for German filmmaker Margarethe von Trotta was using a visual medium to deal with an inherently non-visual subject.
The film is essentially about the creation, development, and justification of an important moral theory, and von Trotta described the project as an attempt to "transform thought into a film." She succeeded, and even though the major scenes feature little more than philosophical arguing, the ideas, dramatic dialogue, and powerhouse performance by Barbara Sukowa in the title role sustain an intensity that would normally only accompany more visual subjects. You'd be hard-pressed to find a film that makes you more thoroughly examine the nature of right and wrong.
"Dear Mr. Watterson"
Saturday, June 8, 11:15 AM, Michigan Theater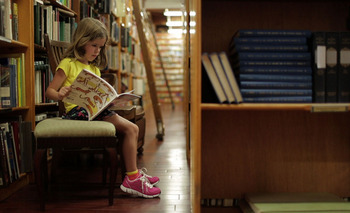 A fun look into the Calvin and Hobbes comic strip, this documentary focuses less on its creation (though there is some of that) and more on the way it permeated so deeply into the lives and imaginations of its fans. Newspaper comics don't get a lot of mainstream analysis and appreciation, but this love letter shows just how powerful and creative the art form can be at its very best. Watterson himself doesn't participate, but many of the cartoonists he inspired tell the stories of how they first encountered that unforgettable boy and his stuffed tiger. And be sure to stay through the final credits for a great bonus scene.
"180 Seconds"
Friday, June 7, 1:30 p.m., Michigan Theater
One of the wonderful things about film festivals is the ability to see things that might otherwise be off radar, and this certainly applies. A stylish and kinetic heist film from Columbia, this is two parts "Reservoir Dogs," one part "City of God," and one part "Y Tu Mama Tambien." The story isn't very original, but the color palate, Latin hip-hop soundtrack, and vibrant editing style all blend to make this an exciting film-going experience.
"The Revisionaries"
Friday, June 7, 8 p.m., Angell Hall Auditorium A
A documentary that is equal parts hilarious and terrifying, this film tells the story of the Texas State Board of Education's 2010 fight over how evolution will be addressed in textbooks. Telling the story through footage of the proceedings and interview testimonies by major figures on each side of the debate, this is a crucially relevant story about the politicized troubles of the American educational system. Board chairman (and young-Earth creationist) Don McElroy is the film's most memorable figure, an endearing and likable dentist who sings bible songs to his patients as he drills into their teeth. If only summer popcorn flicks had villains this good.
Robert Altman: American Maverick Conversation
Saturday, June 8, 2:00 PM, UM Department of Screen Arts & Cultures Hatcher Graduate Library, Gallery, Room 100
One of the major programs at Cinetopia this year is the Robert Altman Symposium, organized in conjunction with the University of Michigan Department of Screen Arts & Cultures. The symposium has several events throughout the weekend (see the Cinetopia website for full details) including screenings of Nashville and three other Altman films, but this discussion promises to be the best bet for an unforgettable experience. Altman's widow, Kathryn, will be joined by some of his close collaborators and major scholars to offer their personal recollections of the legendary director's career and legacy.
Five Films I'm Excited to Check Out:
"Body Fat Index of Love" - Recommended by Michigan Theater Executive Director Russ Collins, this romantic comedy involves Finland's world-famous Wife Carrying Contest. Yes, that's a thing.
"Let My People Go" - A favorite of festival director Amanda Bynum, this comedy chronicles a Parisian Jew's first Passover in Finland. (Yeah Finland, represent!)
"Blancanieves" - Critically lauded at Toronto last fall, this contemporary silent film retells the Snow White story in 1920's Spain.
"Twenty Feet From Stardom" - A documentary about the crucial history backup singers have played in pop music, the film features interviews by Mick Jagger, Bruce Springsteen, and others.
"A Tribute to Ron Asheton Featuring Iggy and the Stooges" - The opening night film chronicles the Stooges' 2010 performance at the Michigan Theater to honor their fallen comrade. I was at the show, and if the film is even half as good, you don't want to miss it.
Daniel Joyaux is a film and pop culture critic living in Ann Arbor. You can read more of his work at thirdmanmovies.blogspot.com and follow him on Twitter @thirdmanmovies for frequent updates about Cinetopia.