Posted on
Mon, Apr 23, 2012 : 5:59 a.m.
Ann Arbor movie 'The Five Year Engagement' poised for respectable box-office take
By Jenn McKee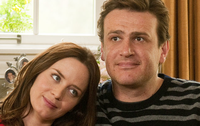 Universal Pictures
"The Five Year Engagement"—the high-profile romantic comedy both shot in and set in Ann Arbor—opens April 27 alongside three other films: an action movie called "Safe"; an
Edgar Allen Poe
thriller "The Raven"; and the kids' movie "Pirates! Band of Misfits."
"Five Year" is the only romantic comedy in the pack, and the next big hitter of that genre isn't scheduled to arrive in theaters until "What to Expect When You're Expecting" comes out on May 18. That may bode well for the movie's performance at the box office.
Even so, a logjam of 7 new movies released over two weekends (April 27 and May 4) may overwhelm moviegoers.
"It's good for no one when there's that much new stuff," said Jeff Bock, a box office analyst with the Los Angeles-based Exhibitor Relations Co. " … But Jason Segel has a niche audience, and ('Five Year') should hold its own through May."
The movie stars Segel and Emily Blunt as a couple struggling to get to the altar, and one of the film's producers is ultra-successful Judd Apatow. It was filmed primarily in the Ann Arbor area last year, and is largely set in Ann Arbor as well—unlike most of the other recent high-profile movie shoots in the area, which mostly had Ann Arbor stand in for other locales. Local audiences got a sneak preview of the movie Friday night in a special benefit screening for 826michigan.
Bock is guessing that "Five Year" has the potential to score a box office gross similar to "Forgetting Sarah Marshall"—around 60 million—after a six week run in theaters.
"Jason Segel has a good following, and ('Five Year') is right in his audience's wheelhouse," said Bock. "The newest posters and commercials are all saying, 'From the producers of "Bridesmaids,"' so they're clearly hoping for a boost from that, too. … The R rated comedy is is still in vogue, and pushing the envelope with the comedy is definitely what the audience will come in expecting."
Check out past coverage of "The Five Year Engagement"
Jenn McKee is the entertainment digital journalist for AnnArbor.com. Reach her at jennmckee@annarbor.com or 734-623-2546, and follow her on Twitter @jennmckee.