Posted on
Wed, May 25, 2011 : 5:55 a.m.
'Five Year Engagement' filming appears to be headed downtown this week
By Jenn McKee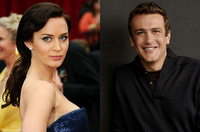 Drunken Pig Productions, LLC — the film company that's currently shooting the Jason Segel/Emily Blunt romantic comedy "Five Year Engagement," according to the Michigan Film Office website — has filed several applications for traffic detours or lane closures with the city of Ann Arbor for the later part of this week, and the early part of next week, indicating that filming is likely to be happening soon in the downtown Ann Arbor area.
Parking for the production team's trucks on South Ashley, between William and Washington streets, was requested from today at 3 p.m. to Friday at 12 p.m. On Thursday, between 11 a.m. and 9 p.m., the team's trucks will be parked on North University, between Thayer and Fletcher. And on Thursday (beginning at 4 p.m.) and Friday (ending at 6 a.m.), South Main St., between Liberty and Washington, will be closed for filming, as will two alleys between Main and Ashley, and Liberty Street between Main and Ashley.
Plus, during the morning hours of Tuesday, May 31, the production team apparently plans to shoot exterior shots of Gratzi and The Chop House on South Main Street.
The bigger news, however, is that on this same day, next Tuesday, from 5 a.m. to midnight, Ashley Street will be closed from William to Washington as planned "Engagement" filming takes place at Old Town Tavern, Gratzi, and The Chop House. West Liberty, between Main and Ashley, will also likely have some closures for exterior filming late in the day.
Last week, the "Engagement" team filmed at the Frank Lloyd Wright-designed Palmer House, and some discussion on Twitter suggests that "Engagement" filming at the University of Michigan's East Hall, at 530 Church St., may be scheduled for June 2-6 — but that is, as yet, unconfirmed.
Jenn McKee is the entertainment digital journalist for AnnArbor.com. Reach her at jennmckee@annarbor.com or 734-623-2546, and follow her on Twitter @jennmckee.