Posted on
Sat, Apr 21, 2012 : 2:07 a.m.
Ann Arbor gets sneak peek at locally filmed 'The Five Year Engagement'
By Jenn McKee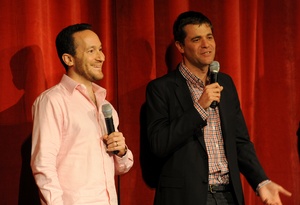 Angela J. Cesere | AnnArbor.com
When 1,100 patrons crowded the
Michigan Theater
's main auditorium on Friday night, to get an early glimpse of the filmed-mostly-in-Ann-Arbor comedy "The Five Year Engagement," they exhibited a level of engagement unlikely to be matched when the movie opens nationally on April 27.
There were cheers and applause, for instance, when Emily Blunt's character received mail from the University of Michigan; and yet another round of cheers when Zingerman's Deli—where Jason Segel's character works—makes its first appearance. There was mumbling and whispering as characters who were running around downtown Ann Arbor at night were suddenly also running around downtown Ypsilanti; and a mention of Zingerman's City Goat cheese scored a laugh.
Director Nicholas Stoller and producer Rodney Rothman clearly appreciated the close attention paid by Friday night's crowd. As they took the stage, following the screening, the first thing Stoller said was, "I feel we should apologize for referencing a pickle that's not actually served at Zingerman's."
The movie tells the story of Tom (Segel), a chef, and Violet (Blunt), an aspiring psychology professor, who fall in love and get engaged in San Francisco. When Violet gets an irresistible career opportunity at the University of Michigan, the couple postpone their wedding and move to Ann Arbor. But as Violet gets closer to her dream, Tom gets further and further away from his, making the couple's way to the altar fraught with delays and heartache.
Friday night's advance screening at the Michigan Theater was a fundraiser for 826michigan, a local, nonprofit writing center for kids.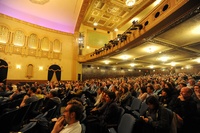 Angela J. Cesere | AnnArbor.com
When asked by an audience member if the filmmakers would consider shooting another movie in Michigan, Stoller answered, "We loved shooting in Michigan. Everything about it was awesome. It was a great experience, and it's a beautiful state that provides a lot of different landscapes. So hopefully the tax credit will remain in some way. It certainly helps."
"Nick picked Ann Arbor for this movie for a creative reason, which is, his wife (Francesca Delbanco) and her family are from here," said Rothman. "So it was really intended to be a love letter to someplace that he really likes to come and visit. And my wife is also from Michigan, and went to University of Michigan and went to law school here. So we love Michigan. We'd love to come back here and make more movies."
The pair also addressed why they chose Ann Arbor's Frank Lloyd Wright-designed Palmer House as a set for the film. (It stands in for the house of Rhys Ifans, who plays Blunt's psychology professor.)
Zingerman's co-founder Paul Saginaw, on stage with Stoller and Rothman, took part in a conversation about the role that Zingerman's played in the film. (Warning: this video contains adult language.)
When asked about material that got cut in post-production, Stoller said, "We shot a whole 10-minute sequence, actually, that we cut out where, after they have that all-night fight, Emily feels really bad, and she invites Jason out, they end up going out to dinner, and she finds out that he has no savings, and they get into a big argument there. And then she feels bad, and she ends up lending him money to open a restaurant which then explodes. That was a whole sequence that—we shot all of it, including the exploding restaurant. And it felt repetitive, so we cut it."
One of the movie's funniest scenes involves two characters having an adult conversation while, at the request of a young girl, using the voices of Elmo and Cookie Monster. Stoller discussed the genesis of the scene during Friday night's Q&A.
The filmmakers also highlighted what they enjoyed about Ann Arbor during the "Five Year" shoot.
Concluding their remarks, Rothman noted that Friday night's event "was, for us, an amazing screening of the movie. … I literally want everyone here to just spread out across the country and sit in theaters playing this movie."
"Also, I really appreciated the City Goat laugh," Stoller added. "That will be the first and last time we get a laugh off that. And it did not go unnoticed."
Jenn McKee is the entertainment digital journalist for AnnArbor.com. Reach her at jennmckee@annarbor.com or 734-623-2546, and follow her on Twitter