Posted on
Fri, Jun 3, 2011 : 1:25 p.m.
'Five Year Engagement' prepping for evening shoot in downtown Ypsilanti
By Tom Perkins
Tom Perkins | For AnnArbor.com
The winter weather that hit downtown Ann Arbor recently moved east and is hovering over Ypsilanti's Pearl and Washington Streets today.
Mid-morning, "snow flakes" were falling in an effort to transform the area into a "winter wonderland" for the filming of the Jason Segel/Emily Blunt romantic comedy "Five Year Engagement."
"Snow banks" made of chicken wire and wood that were covered with a "snow blanket" lined the edges of the street, and a crew member sprayed flakes over the tree-lined Washington Street.
"Ground up dinosaur bones," joked one crew member, before explaining that it was really ground up paper. He declined to explain how the paper was processed to resemble snow flakes, calling it a trade secret, but said only two factories in the world make the flakes and it was imported from England.
Businesses remained open throughout the day, and a casting call was scheduled for 3 p.m. at a South Huron Street stick Victorian home owned by longtime Ypsilanti resident and property owner Joe Lawrence. The crews are expected to move to downtown Ypsilanti around 9 p.m.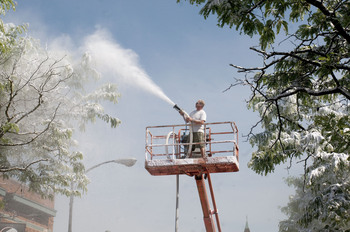 Tom Perkins | For AnnArbor.com
The winter weather was welcomed by several downtown businesses.
Erin Dion
, an employee at
Beezy's Cafe
, said everyone is having a good time with the snow.
The film crew has been in and out of Beezy's buying coffee and food, Dion said, but she has yet to spot any stars. Aside from lights in the windows at the cafe, no other special preparations are planned.
All the talk at the cafe revolved around the filming, and Dion said the filming can't do anything but positive things for Ypsilanti.
"Everything about it is fabulous," she said. "It's fantastic, not just to have more people down here and talking about the movie, but to show off our absolutely stunning community by a means that the majority of our culture holds in such high esteem. Ypsilanti is a great town and, maybe, hopefully, this will help show off how beautiful it is."
AM 1700 owner and city council member Brian Robb's storefront got a blast of "snow" mid-morning. He said he heard there are plans to work the neighboring Deja Vu marquee into the film, so he was hopeful the AM 1700 storefront might also show up on the silver screen.
"It's going to have great effect on the area," he said. "It's a big self-esteem booster that Hollywood is in Ypsilanti."